5 Motivational Tips From a Peloton Instructor That Can Help You Tackle That Unfinished Project
We
independently
select these products—if you buy from one of our links, we may earn a commission. All prices were accurate at the time of publishing.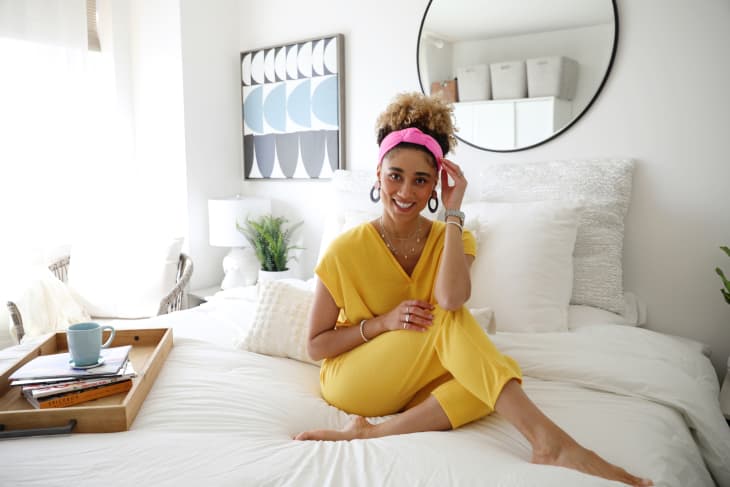 Maybe you don't feel like finishing that wallpaper project you started yesterday, and that's okay. But days can turn into weeks, weeks turn into months and… well, before you know it, you can't even remember what inspired you to start the project in the first place. But sometimes, all you need is a little extra willpower to finish that task you swore you would complete — and fitness instructors know a thing or two about motivation.
For Ally Love, Peloton instructor and founder of fitness and lifestyle website Love Squad, working out is her job — and sometimes, she doesn't want to do it (Pelo instructors, they're just like us!). "I get up and I'm like, hm I don't feel like this doing this today," Love told Apartment Therapy. "I'm in that boat many times, I'm only human." But she has plenty of tricks up her sleeve to overcome that mental wall and get what she needs to get done, despite the uphill climb (pun intended).
I sat down with Love via Zoom — in her recently redecorated bedroom, no less, through her partnership with Lowe's — to find out what the cycling instructor does to motivate herself when she's not motivating others on the bike.
1. First thing's first: lose the snooze.
Okay, so this one might have you thinking, "what does have to do with completing an unfinished project?" But truth be told, if you put off the ideal time you should be getting up in the morning, it could throw off your whole day and leave you with less time than you already had. Not to mention it's a good way to practice committing to something — in this case, a daily one. "I don't press snooze," Love said. "That does not make me feel good about doing anything, by putting it off, by pressing snooze or staying in bed."
So next time you're tempted to hit snooze the second your alarm goes off, remember why you set it in the first place — and how following through with that one act can set the tone for the rest of the day.
2. Put it in the calendar.
Creating an invite or physically marking it on the cal can help hold yourself accountable because you're carving out a designated time to do the task in advance. "I pencil my workouts in, I pencil my meditation in, I pencil my thinking about thinking in," Love shared. "Once it's on my calendar, then it's posed to me whether I decided to do it or not." Plus, a little reminder can go a long way so you don't simply forget.
3. Get dressed for what you want to do.
We've all had days where we stay in our PJs from morning 'til night. But if you're trying to ramp yourself up to tackle a to-do item that already has your interest wading, get dressed for the occasion. "If I don't want to work out, I still put on my workout clothes; If I don't want to organize the room, I get up and I put on my organizing clothes," Love said. "We're setting the scene. I get everything together to do it. I just put on my clothes to do it." For a paint project, for example, that means putting on that old t-shirt and leggings splattered in paint from your last attempt. Dress for the job you want done.
4. Watch someone else do it.
To get motivated for a workout, Love turns to Instagram to see others do what she aspires to conjure up the energy for — and that advice can apply to home projects, too. "If we had to do a project of organizing, I'll just turn on a video of someone else doing it, and that inspires me and motivates me. It's a visual stimulant."
Not only can watching videos provide helpful tips for the task you're preparing for, but it can serve as entertainment that gets you excited to work on your own home project.
While pep talks are meant to hype you up to do something, Love said that it can often do the opposite because it makes you think about it more than you already are. Her advice: don't think about it, just do it without question. Easier said than done, but avoiding any additional ruminating can help and, to quote Love, "removes the excuses."