I Just Got a Peloton—Here Are 7 Things I Learned Along the Way
We independently select these products—if you buy from one of our links, we may earn a commission. All prices were accurate at the time of publishing.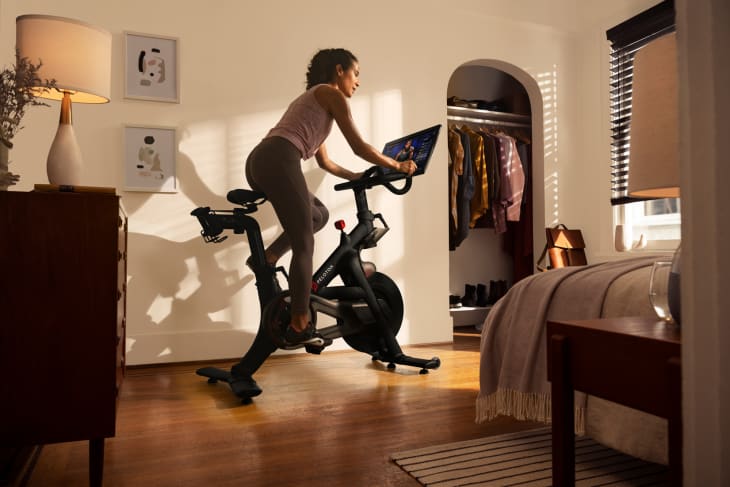 If taking group fitness classes served as a major pillar of your workout schedule, the past few months have likely been a major learning curve in finding alternate routines that are just as motivating. I know the feeling: For years, I looked forward to my regular spin classes, because everything from the instructor's presence, to their music selection, to the overall vibe in the room, would contribute to my mood for hours after the class ended. And when gyms and group fitness studios shut down in March due to coronavirus safety precautions, I had to find another plan.
One of the easiest—and, admittedly, one of the most expensive—options I found in my research was the Peloton bike, a top-of-the-line at-home spin bike with an interactive touch screen that mimicked studio classes from home. It seemed pretty straightforward, and as the months went on, I learned of more and more friends who had taken the plunge to get a Peloton of their own. They all raved about the experience, and while I could have perhaps invested in a lower-priced or even DIY spin bike option, I decided to join them.
Follow Topics for more like this
Follow for more stories like this
I'm part of a growing cohort, too—just taking a look at the thousands of people who sign into classes daily serves as proof. "Over three million people trust us with their physical, mental and emotional fitness and we take that seriously. It's why every part of Peloton is built around creating a memorable member experience," the company said in a statement to Apartment Therapy. They added that they "always welcome hearing from our members because it helps us grow and create the content that motivates and empowers members to be the best version of themselves."
Like any major purchase, there are a few things to take into consideration before you decide if hitting the "confirm purchase" button is right for you. I did plenty of research on comparable spin bikes, and even calculated how many classes I'd want to take per month to really feel like I was benefitting from taking the plunge. The fact that the company recently lowered the price of its original bike helped a lot, too—I opted for that one rather than the newer, Bike+.
Once my bike arrived, it was almost instantly apparent that it was the right choice for me, but there were a few points along the way that served as helpful feedback for an even more seamless process. Here are seven things I wish I had researched a little more diligently in the weeks before buying my Peloton:
It's helpful to double-check your budget and carve room for the investment specifically, no matter how you plan on paying for the bike
A Peloton is a pretty solid investment, and while the company recently dropped the price of its standard bike, you can still pay upwards of $2,000 for one (plus the $40 monthly membership to access its classes). You should always double-check your finances to make sure you're able to take on a lengthy commitment like this—some payment plans stretch out over the course of years, and while you can certainly use the bike without the class membership, that is part of the fun.
Everywhere you look on Peloton's website, you'll find information about the payment plan it offers through a third-party creditor called Affirm. Qualifying for a loan is dependent on a soft credit check that Affirm conducts independently; the company provides more information on how they determine a person's eligibility on their website. In a statement, an Affirm spokesperson told Apartment Therapy that they also determine each loan on a case-by-case basis given that "part of responsible lending means evaluating every loan individually based on a person's specific financial circumstances."
There is also a chance you may need to pay some of the total cost upfront, which the Peloton site notes in fine print on its website. "In the vast majority of cases, the loans we extend don't include a downpayment. But in the cases where they do, that downpayment is laid out clearly and transparently in advance of a consumer agreeing to a loan, and the terms of the loan never change," the Affirm spokesperson said, adding that "Affirm never charges late or hidden fees" for any of their loans.
Whether you decide to finance all of the bike or some of the bike through Affirm, or simply pay for the bike in full with either a debit or credit card, it's worth making sure you have the space to do so in your budget. (For full transparency, I paid for my bike through a combination of Affirm financing and my own funds.)
Really think about how you want to arrange your space before your bike is delivered
You're going to need to carve a substantial amount of floor space for your new bike, so if you have a garage in which you can simply turn into a home gym, great! (If you have a home gym, can I move in?) If not, you may have to get creative, because trust me when I say this thing is BIG.
There are a number of factors to keep in mind as you move things around. The bike measures approximately two feet by four feet in total, so you'll want to create floor space that is wider and longer than that to allow for movement around the bike. (The company sells a mat that is three feet by six feet, which are the parameters I aimed for. ) Budget for more space than you think you need, and move furniture or decor back once the bike is in place. It's also worth prioritizing a flat, even surface over carpet or a rug to minimize wobbling if you can.
It might also be important to you that the bike is relatively out of the way when you're not using it: I had to rearrange my bedroom furniture to free up a far corner by my window after I realized the first space I cleared wasn't that conducive to my walk flow; thankfully the bike is on casters, but moving it is still something of a workout on its own. (It's over 120 pounds!)
Set up your Peloton account (and have your WiFi password handy) before the bike arrives
The company gives you complimentary access to its slate of classes once you buy the bike and only begins charging you for membership once you log in on the actual equipment. I didn't try out any of the floor classes—they have everything from strength to yoga to barre—during this window. But now I see how helpful it would have been to familiarize myself with the app and the instructors (whom I'll get to in a second) during that down period. There are also classes that require no equipment, so you don't need to wait for your bike or treadmill to do so—and the fact that you can stream the app from either the bike or your phone to your television means you can complete a workout wherever you have the space to do so.
Once the new piece of equipment does show up at your doorstep, you'll need your login info and your WiFi password handy so the delivery people walk you through bike setup. Minimizing their wait time in your home can help you maintain proper social distancing. For peace of mind, the company sends multiple emails outlining its COVID-era precautions.
I also made sure to tip the delivery people who navigated two flights of stairs in my walk-up apartment building—again, did I mention that thing is heavy?
Invest in the right kind of mat for your floor—it does more than catch all your bike sweat
Think back to your spin classes of yore: Chances are the studios you went to featured a cushioned, rubberized floor of some kind. Not only does this protect the floor and the bike from wear and tear, it minimizes the sound emanating from the bike and stabilizes the equipment on a wobbly floor.
I bought a mat when I ordered my bike (the company sells standalone mats for $59, and accessories packages for one or more riders). My apartment's floors are old and very uneven, though, so I was worried the sturdy but relatively thin mat wouldn't do enough to muffle my ride from my downstairs neighbor. Making sure to adjust the bike's stabilizers to account for any uneven flooring helps with this but sometimes some floors are too warped, and might need a little extra help.
Ultimately, my paranoia won out and I bought a $27 puzzle mat made of 1/2 inch EVA foam from Amazon to layer under my mat and really cushion the floor. I'd rather be an overly-conscientious neighbor than disrupt someone's Saturday morning lie-in!
Don't overdo it, or skip your rest days
There are plenty of ways the Peloton app motivates you, including giving you badges for hitting certain milestones, such as working out for two or more weeks in a row, or working out consistently for a certain number of days in a row. This is both helpful and motivating, and I've definitely worked just a little bit harder in order to achieve a new badge or milestone.
But rest days are also important features in any well-rounded workout routine. It might be tempting to go hard every day, especially because there's virtually no commute time standing between you and a sweat session. Be sure to mix up the kinds of classes you take in order to give certain muscles a break, too. Some of these reminders are built-in: Instructors will often remind you that it's OK to take things a little slower in their rides, and they're open about when they're sore too—because they really are just like us!
On the plus side: Following along with a gentle stretch session to rehab your muscles absolutely counts as a workout in Peloton's book, and you can always queue up one of the app's meditations before you go to bed. You'll still maintain your streak while listening to your body.
If you need to, hide your output and the leaderboard
The bike's interactive touchscreen will allow you to minimize any metrics you don't want to see for the duration of your ride (though they will be on a summary screen after you finish your class). This is helpful if you're the kind of person who feels a need to be at the top of the leaderboard (me), and gets discouraged if you do less than your personal best (also me). For the record, that's entirely OK—what matters for every workout is you did what you needed to in the moment.
Because I am in recovery for an eating disorder, I'm sensitive to details like calorie output and would rather not see them whenever I can. For that reason, I often start my rides by making sure that both the outputs and the leaderboard are hidden, and just try to lean into having fun. By staying mindful of my triggers, checking in with my support systems, and turning off the visual trackers, I've so far been able to keep my recovery in line.
The instructors are just as motivating as everyone says—and maybe even more
I took my first class the day my bike was delivered; immediately after the session was over, I texted my friend, "I think this is what I had been missing?!" It's no secret that exercise triggers your body into producing mood-boosting endorphins, but suddenly accessing them after almost eight months of lockdown felt like a revelation.
Over time, I've tried a few instructors, and quickly tapped into some of my favorites. Many of the teachers motivate you throughout the ride, which is not uncommon in the group fitness space. But some instructors will hit you emotionally in different ways. It was only when I told my actual therapist, "That spin class felt like… therapy," that I realized how crucial these classes were already becoming for my self-care.