The Best Personal Humidifiers That'll Help You Breathe Easier This Winter
We independently select these products—if you buy from one of our links, we may earn a commission. All prices were accurate at the time of publishing.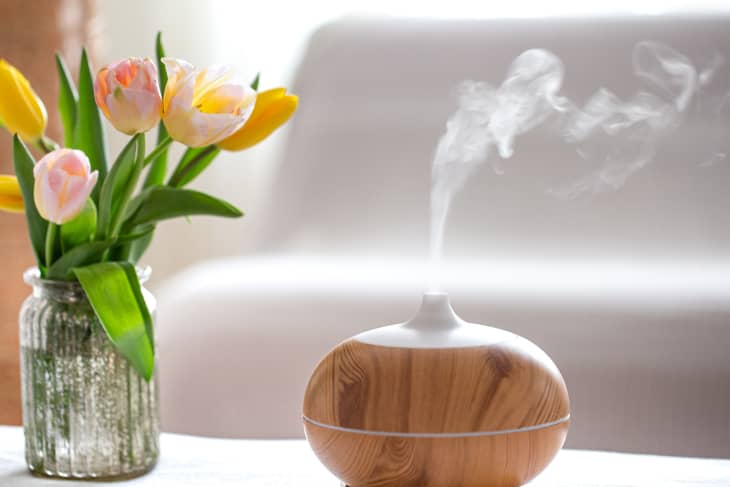 Winter is almost here, and your skin is probably in the midst of a bitter protest against the dry, cold air. Chapped lips, dry skin, and overall redness are all the telltale signs of very unhappy cold-weather skin, although dry skin can be a year-round battle depending on location, indoor climate control, or just genetics. When lathering up on moisture isn't enough (and moving to a tropical climate isn't feasible), there's an inexpensive, effective strategy we love: a personal humidifier. Beyond adding moisture to the air around you, humidifiers can also help ease congestion and coughing, making them perfect in cold and flu season, or even for relieving some seasonal allergy symptoms.
Humidifiers come in two varieties: warm mist and cool mist. Warm mist humidifiers heat up the water used and release hot steam that kills off bacteria and provides the highest level of moisture saturation. Cool mist is considered the safer option, especially in households with children. These models don't use heat, meaning there's no risk of burns from spilled hot water. They are also especially helpful when fighting congestion.
While large-scale humidifiers are useful for home, personal humidifiers are definitely more convenient and have the added benefit of a smaller footprint. You can keep one on your desk during the day, or place it on your nightstand when you sleep. There are also USB-charged models that can be used in your car and even packed on carry-ons for trips. No matter what your needs are, we've found the best personal humidifiers so you can soothe your dry skin anytime, anywhere.
Sarah M. Vazquez also contributed to reporting.