This Nifty Doggy Door Is Rental Home-Friendly — And My Dog Loves It
We
independently
select these products—if you buy from one of our links, we may earn a commission. All prices were accurate at the time of publishing.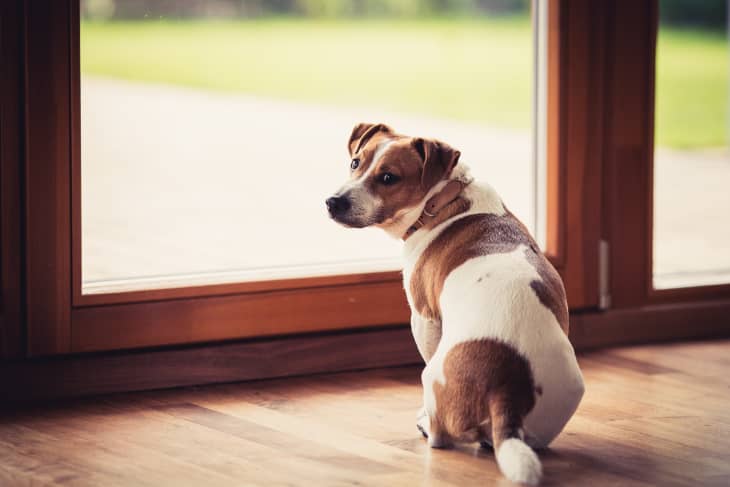 I've lived in apartments and condos with no backyard for years, but the one thing my 14-year-old dog Charlie has always required is a balcony. He loves to sit outside, no matter the weather, which means he paws at the glass sliding door constantly, either to come inside or to get out. He started this habit years ago, and at first we didn't mind opening and closing the door for him, especially since he tends to spend a ton of time outside, either snoozing or people-watching.
It gets tricky, however, once the weather gets a little more extreme. I wish he spoke English, because as many times as I tell Charlie that it's hot and he won't like sitting outside like he usually does, he simply does not listen. Charlie is a Chow Chow mix, and a telltale trait in Chows is their stubbornness — so when I say he will paw at the door for hours, I mean it. 
The last straw was this past winter when he started pawing at the door around two in the morning. My husband and I had recently moved and were figuring out what to set the thermostat at overnight, and poor Charlie was hot and wanted to cool off. We eventually got our at-home temp situated, but the time had come to give our pup access to his beloved balcony of his own accord.
We're renters, so we needed to find a way to install a doggy door that wouldn't require a fancy setup, and dreams came true when we found the PetSafe sliding glass pet door on Amazon. It is essentially a glass door extender with a dog door on the bottom, and it is exactly what we needed. It comes in one piece, was super easy to install, and Charlie learned how to use it in minutes. 
The pet door fits inside the existing sliding door tracks, so it will be a breeze to remove with no harm done to the glass door. It also comes with a latch kit so you can fully lock the sliding door, and the dog door itself has a cover as well, in case you want to keep your pup inside. There are magnets on the bottom of the flap, too, that help it stay closed, which is great for keeping cold or hot air out, though Charlie sometimes gets lazy and doesn't want to nudge it open. (We're working on it!) 
Charlie can now sit on our balcony whenever he likes, which I know he loves, and it's a win for me, too. No more getting up to let him in and out — he's an independent dog who comes and goes as he pleases. And as a senior pup who knows what he wants, I wouldn't have it any other way.