This Cube Pillow Is Here to Solve Your Side-Sleeper Problems
We independently select these products—if you buy from one of our links, we may earn a commission. All prices were accurate at the time of publishing.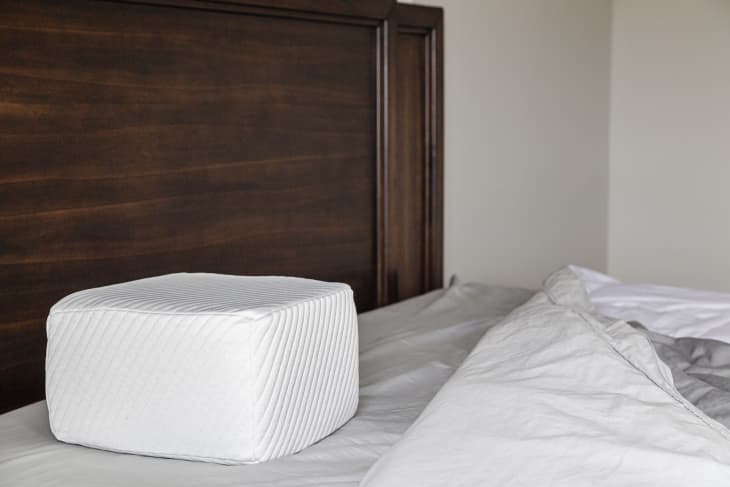 We all know that when you snooze, you can oftentimes lose out on valuable opportunities, but on the flip side, not getting quality sleep can lead to some pretty hefty losses as well. Unfortunately, catching an ample amount of ZZZs is still a major struggle for the nearly one-third of Americans who don't get enough sleep every night. Here to assist side-sleepers everywhere with getting those recommended seven to eight hours of nightly shuteye is the PillowCube, the self-professed "bed for your head."
This hip to be square Kickstarter project is meant to deliver the most comfortable sleeping position for a specific segment of the sleeping population. Aside from side-sleepers, among those who could benefit from the pillow are people with big heads (PillowCube's words, not ours), travelers and pregnant people.
Follow Topics for more like this
Follow for more stories like this
The PillowCube is hypoallergenic, anti-microbial, and made and of high-rebound foam to maximize head support. According to PillowCube creator Jay Davis, the purpose of the cube extends far beyond keeping the upper body comfortable during sleep. It's also helps with spinal alignment, sleep apnea, acid problems, circulation, and eliminating feelings of loneliness (although the latter is not guaranteed).
To accommodate the differences in bodies, PillowCube is available in two sizes: 7-inch cube for people with broad shoulders and a 5-inch cube that accommodates those with narrow shoulders. Additionally, the cube is easy to pack and ship. Users can simply decompress it with a compression bag, which then converts it into a travel pillow. 
The Kickstarter project has surpassed its goal, and is still accepting pledges. PillowCubes start at $50 for the 5-inch and $55 for the 7-inch, and are expected to ship in October 2019.