Planting a Tree in Honor of My Mom Was the Ultimate Housewarming Ritual
We independently select these products—if you buy from one of our links, we may earn a commission. All prices were accurate at the time of publishing.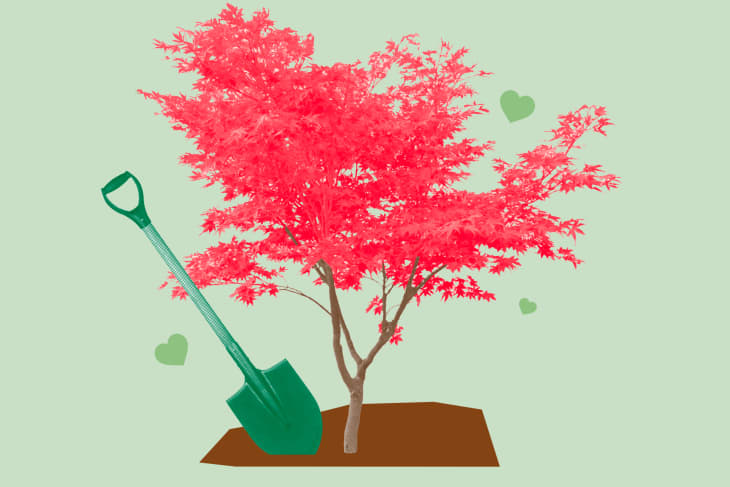 As a longtime renter, for years I dreamed of having a yard to enjoy. The idea of having an outdoor space to use for hosting and downtime appealed to me, of course, but I had other big plans in mind. I wanted to put down roots somewhere so that I could plant something special in the yard in honor of my late mother, who passed away when I was a little girl.
I was so committed to this idea that when we began house-hunting and visiting properties, I instantly ruled out any home that didn't have any green space to offer. Funny enough, the house we ultimately fell in love with and made an offer on was recently flipped and had the opposite problem — there was zero greenery in the yard and what little grass we had was overrun with weeds. My husband and I weren't discouraged at all because we loved everything else about the place. We signed on knowing we'd either have to DIY our landscaping vision or hire someone to do it for us. We were up for the challenge, especially because it meant we'd have a chance to be thoughtful and intentional about each plant we placed in our new yard — starting with one for my mom.
Because I was so young when she passed away, I don't remember as much about my mother as I'd like to, but there are certain memories we shared that have always played on repeat in my mind. One of them is of the long spring drives we would take together through the hills of West Virginia, where she was raised. We admired the natural beauty along the way. Rhododendrons are the state flower and she would always point out their beautiful blooms — they were her absolute favorite.
Since my mother was so fond of rhododendron bushes, I'd always planned to plant one in my front yard in her honor. But when it came time to start shopping for one to bring home, I did a little more research on the different types of species and learned a rhododendron bush wouldn't bloom for very long in our hardier northeastern climate. (We live in New Jersey.) My husband and I started visiting nurseries in late spring. Many of the rhododendron bushes we saw had already reached their peak bloom and some of the flowers were turning brown. Since I believe that my mother's spirit sticks with me always, I didn't necessarily want anything planted in her honor to appear to fade away so quickly.
It was time for a change of plans. What could make a bigger statement in our yard? A tree, I thought. I pivoted and began my search for a small tree that would thrive in our tiny southeast-facing front yard, which gets blasted by the sun for a good part of the day. Bonus points if it had year-round interest, though bright, colorful foliage would be a big win, too. Anxious to enjoy the tree, I knew we'd want to find a more mature one, which meant it would be an investment, and I had to be sure it would also survive in our USDA hardiness zone.
That's when I discovered the Japanese maple (Acer palmatum) family, a woody plant species that's native to Japan, Korea, China, eastern Mongolia, and southeast Russia but does well here in the northeastern United States. There are hundreds of deciduous shrubs or small trees within that family to choose from, many of which seemed to fit our needs and already be dominant in our neighborhood.
Ultimately, I used the PictureThis plant finder app on my phone to help me identify a type of compact and airy Japanese maple I saw and loved around the corner at a home nearby — the bloodgood. Its standout burgundy red foliage was a real scene stealer, and its leaves turn bright scarlet red each fall. I was officially sold on planting one in our yard and I'm convinced my mother would have loved it too.
I tracked down one for sale at a local nursery, paid it a visit to be sure it was in good health, then scheduled a delivery for the following weekend. We spent about $350 on the tree and the delivery, which was a more affordable price tag than I expected for our little pandemic project. I chose a spot in front of our home directly outside of my favorite window, so that whenever I'd take a moment of peace and reflection, I'd have a beautiful reminder of my mother's love.
In preparation for our new tree's arrival, we dug a big hole about twice the size of the root ball and turned and fertilized the soil. The day it was delivered, it took three of us (my husband and my dad helped, too) to lift it up and place the new tree neatly inside its new home. Trees don't always adapt well to their new soil or environment, so rather than buy a memorial plaque or name it after my mother then have to watch it struggle or waste away, I decided to wait and see how well it adjusted first.
It's been two years since we planted our memorial tree and she's growing and getting stronger every season. We call her "Norgina Tree," after my mom, and now I'm comfortable shopping around for the perfect plaque to place at her base. Since the pandemic began about two months after we moved into the house, we never had a formal housewarming, but oddly enough, planting this very special tree to watch over us and our new home felt like all the blessing we needed to move forward in it together.