What the Plants in Listing Photos Say About a Home, According to Experts
We independently select these products—if you buy from one of our links, we may earn a commission. All prices were accurate at the time of publishing.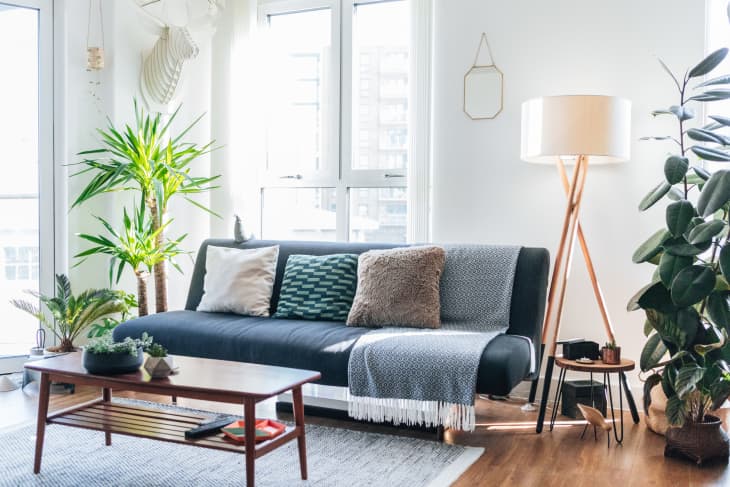 When it comes time to put your home on the market, there is often a flurry of things that need to be done in a short amount of time: getting things in order for the real estate agent, phone calls with the bank, and so much paperwork. With all of these responsibilities, it can be difficult to spend time focusing on the state of the humble abode you're trying to sell.
Follow Topics for more like this
Follow for more stories like this
Home stagers and real estate agents will typically help guide sellers through the process of de-personalizing and staging their homes. Removing family photos from the walls and any evidence of pets are some of the first steps. Deciding what to do about houseplants, however, can be trickier. Plants lend liveliness to a home, but is there such a thing as too many plants in an open house? Not enough? Certain species you shouldn't put on display?
We asked a real estate agent and a gardening expert for their advice on plants in listing photos and open houses. They had a resounding takeaway: the plants in a listing photo send a clear message about how a house has been treated.
"A drooping plant shows a sloppiness or lack of care in the home," says Kristi Ambrosetti, a Manhattan-based real estate agent with Sotheby's International Realty. "If the seller can't take time to remove a drooping plant, have they taken the time to care for the not-so-obvious spots in the home?" 
For this reason, sellers should remove any unsightly plants from the home before the photographer comes to take photos — and definitely before any open houses. 
Conversely, having a gorgeous high-maintenance plant may send the opposite message.
"The fiddle leaf fig, although popular and quite beautiful, is temperamental about its living conditions," says Rachel Norkelun, a landscaper from Long Island, New York. "I can see why, since its native environment is a literal rainforest."
If you do have one of these and you've managed to not just keep it alive, but also keep it thriving, it's a great idea to showcase this plant while the photographer is around. 
Unfortunately, plants can be finicky, and it's not always easy to prioritize the aesthetic of a space if plant health has to come first. But when it's time for the photographer to come by the house, it might be beneficial to rearrange the plants a little bit — even if it's just for a day. 
"I like to stick to decorative items in threes," Ambrosetti says. "You could vary size, height, and plant type in a coordinate cluster. More than this could feel overwhelming or even distracting." 
Alternatively, homeowners could stick to low-maintenance plants that easily thrive in a variety of spots in a home, so tours will showcase a beautiful space — and healthy plants.
"Honestly, you cannot kill a pothos plant," Norkelun says. "It can go pretty long periods without water, can take a shady spot or full-sun, and my favorite part is that it's so easy to propagate." 
Norkelun also suggests going with a mother-in-law's tongue for folks who may not have the time to take care of high-maintenance plants. "This one also loves a shady spot, but can take full-sun," the landscaper says. "I swear it could live in a closet."
Opting to display one of these varieties, even if you don't own plants already, can add life and color to a basic room.
"A personal secret in marketing real estate images is adding green life to the photograph without it becoming an obvious wooing effect on the buyer," Ambrosetti says. "Plants have a real-life effect on the softness of a space, or the vibrancy where it is otherwise flat."