This Incredibly Versatile Cleaning Find That Doubles as an Under-Sink Organizer
We independently select these products—if you buy from one of our links, we may earn a commission. All prices were accurate at the time of publishing.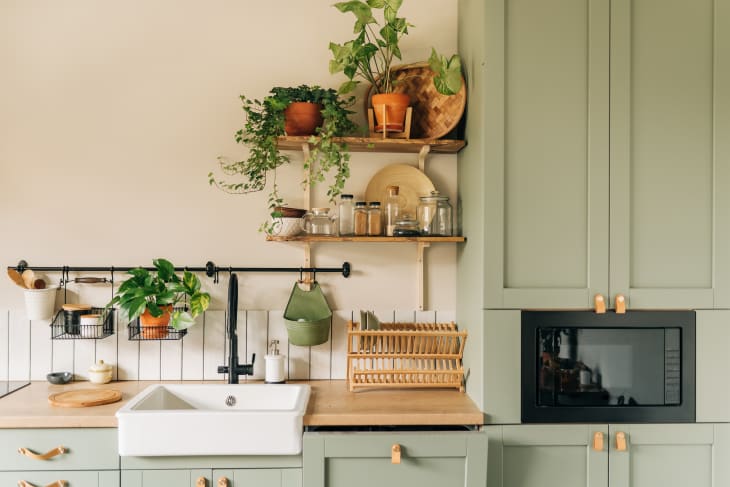 The older I get, the more I believe that being a professional at something has a lot to do with simply having the right tools and knowing when to use them. This doesn't mean I think I can pick up a nail gun and start shingling roofs — it just means that your household tools can be more useful when you make them more readily available to you. One area where I wish I did a better job organizing and keeping well stocked? My kitchen cleaning supplies.
Follow Topics for more like this
Follow for more stories like this
My cleaning supplies are currently stashed away in different cabinets and closets, and to be honest, I couldn't tell you which things are where. This has led me to accidentally buy multiples of products when I "lost" the original, and run out of stuff I swore I had just bought. The solution would be to store my sprays, wipes, and scrubbing brushes in an organizer so that I a) know where everything is, and b) can quickly grab what I need without rummaging around. What I need is this storage caddy that you can grab on Amazon for just $26.
There are tons of reasons to love this storage caddy, but they all boil down to one essential aspect: thoughtfulness. Whoever made this considered every detail carefully and included plenty of customization options so you can adjust it to meet your needs exactly. The first major plus is the device's shape, which goes around plumbing so it fits under your kitchen or bathroom sink easily. It also includes two removable — and movable — parts (a divider and a small hanging bin) that let you set the caddy up for different storage uses.
If you're storing a lot of large items that all stand up on their own — such as tubs, bottles, and boxes — you can take out the plastic divider and fill up the main storage bin. But, if you need to corral a bunch of small things — sponges, toilet bowl tablets, and squeezable tubes, for example — then you can insert the divider to create an internal bin that keeps those items organized. Maybe the most brilliant features are the two metal rods that hold spray bottles by their handles. This lets you maximize your storage space and prevents the bottles from falling over when they're near empty. These rods also hold the hanging bin, which can be mounted inside a cabinet door and is the perfect size for small brushes.
Finally, I can't help but applaud the decision to add knobs to both ends of the main handle. The knobs let you comfortably slide the caddy out from under your sink so you can either grab what you need or pick up the whole thing and take it with you to whatever spot needs cleaning. Even though this caddy will spend most of its days tucked away inside a dark cabinet, being able to quickly carry out your toolkit — like a real cleaning professional — is a nice option.
Amazon reviewers are also very pleased with this product. Many described it as having the perfect amount of space for all their cleaning supplies, and one shopper commented that it's often sold out and was happy to find it back in stock. So, if you're ready to get your tools in order, grab one while you still can — I know I'm going to!