This Classic Christmas Plant Is Even More Popular in 2021, According to Pinterest
We independently select these products—if you buy from one of our links, we may earn a commission. All prices were accurate at the time of publishing.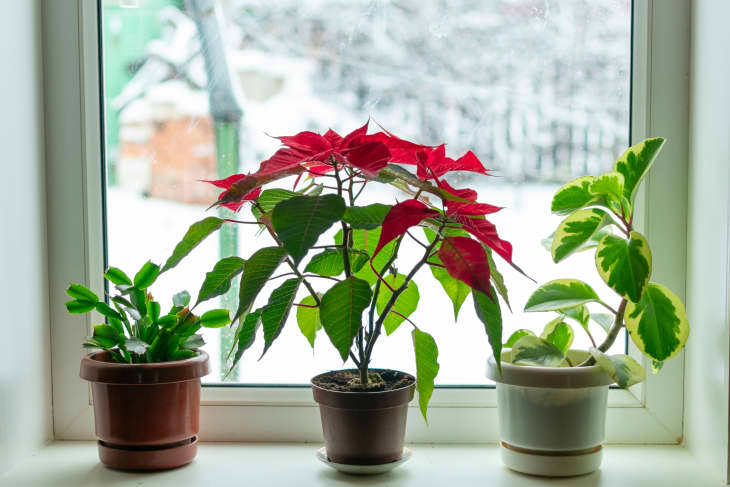 Festive holiday flowers are a dynamic, often affordable way to infuse a little seasonal spirit into your indoor and/or outdoor decor scheme during December. And while there are no shortage of house plants commonly associated with the holiday season — including, of course, poinsettias, amaryllis, begonia plants, red roses, red hypericum, guzmania, azaleas, as well as pine cones and firs, it turns out that when it comes to the 2021 holiday season, green thumbs are all about the classics.
Follow Topics for more like this
Follow for more stories like this
The flower experts at Direct2Florist wanted to scope out this year's holiday plant trends, looking at data from Pinterest to discover which Christmas flowers have seen the biggest increase in interest throughout 2021. Perhaps unsurprisingly — depending on how you feel about them — poinsettias saw a massive spike in trending searches… a 985 percent spike, to be exact.
Wendy Rea, a business manager at the U.K.-based flower company, shared why it's not a huge surprise to see so much interest in the perennial holiday favorite. "It's not a surprise to see poinsettia trending so much, but the enormous 985 percent interest in Pinterest shows just how popular this red-petaled plant is at Christmas. Apart from the vibrant colors and star-shape, one of the reasons poinsettia feels so festive is that it pairs beautifully with gold and green, so it's very easy to work them into any theme. An indispensable part of the season."
Poinsettias weren't the only festive plant to drum up plenty of interest this year. Amaryllis, with its vibrant tropical blooms, saw a spike of 326 percent on Pinterest boards. "Amaryllis have immense red and white blooms, which means they pair very naturally in traditional Christmas color schemes," noted Rea. "They make for an easy way to bring a splash of color to the home, and because they bloom throughout December, they can make for excellent Christmas gifts, too. We're likely seeing interest grow as a counter to classic poinsettia flowers, for people looking for something similar but a bit different."
Other popular plants this year included begonia, which had a 95 percent spike in searches, red roses, with a 17 percent increase, and red hypericum, which had a 10 percent increase. Of course, any of these versatile options can be included as part of your holiday decor, whether you're making a DIY holiday table centerpiece with church candles and your greenery of choice, or adding fresh roses to your Christmas tree for an unexpected holiday surprise. 'Tis the season, after all.