This Is the Color You Should Paint Your Front Door Next, According to HGTV Experts
We independently select these products—if you buy from one of our links, we may earn a commission. All prices were accurate at the time of publishing.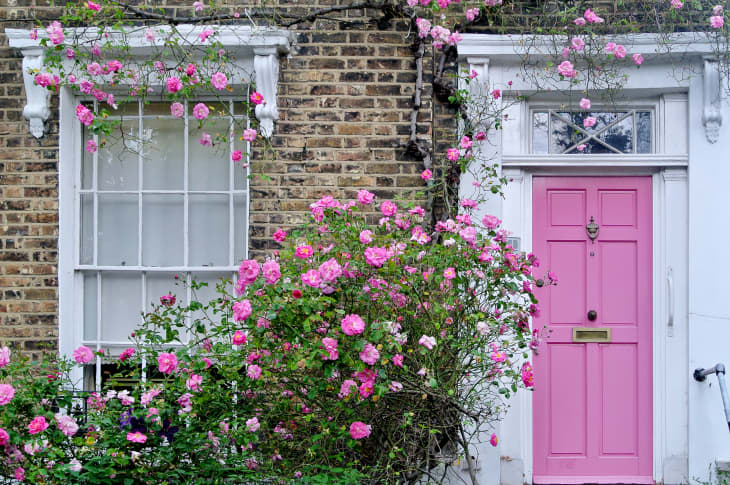 It's amazing what a fresh coat of paint on a front door can do for a house's exterior. Not only does the color choice and design showcase the personality of those who live inside the walls, but it also add a lot of curb appeal for little cost when trying to get the property off the market. While you can pick whatever color your heart desires, there are certain shades that are trending — and HGTV stars Leslie Davis and Lyndsay Lamb, who spruce up unmarketable homes for a living, have the insider intel.
The twin sisters host HGTV's series "Unsellable Homes" — which is coming back for its second season on Tuesday, March 30 — and know a thing or two about door colors that are spiking in popularity right now. And it turns out, the overarching theme is something that makes sense considering this past year: moody.
"What I see more and more are dark doors — even a black door, [or] using a really dark charcoal," Lamb told Apartment Therapy. "I always encourage our clients, express yourself through the door. It's really not a hard thing to change."
Whether it's a close family member or a potential buyer, the first thing a guest often notices when approaching a home is the front door, so it's important to make the first impression, well, impressionable. "It kind of sets the tone for your guests that are coming over," Lyndsay continued. "What are they going to find inside? Who are you? What's your style? Just express yourself for it, so just play with your door."
With all that being said, the twins emphasized that you should choose the color of your front door based on what you're drawn to, regardless of what's in right now. For example, the pink door hype may have come and gone, but if that's what you want to go with, paint the door the pinkest of pinks.
If you're trying to sell your home, though, you might want to go with a neutral so it speaks to everyone. But personally, I'm a sucker for a bold door.
Unsellable Homes season two premieres on Tuesday, March 30 at 9 p.m. ET/PT on HGTV.