I Tried "Postage Stamp" Vacuuming and It Saved My Life as a Dog Mom
We independently select these products—if you buy from one of our links, we may earn a commission. All prices were accurate at the time of publishing.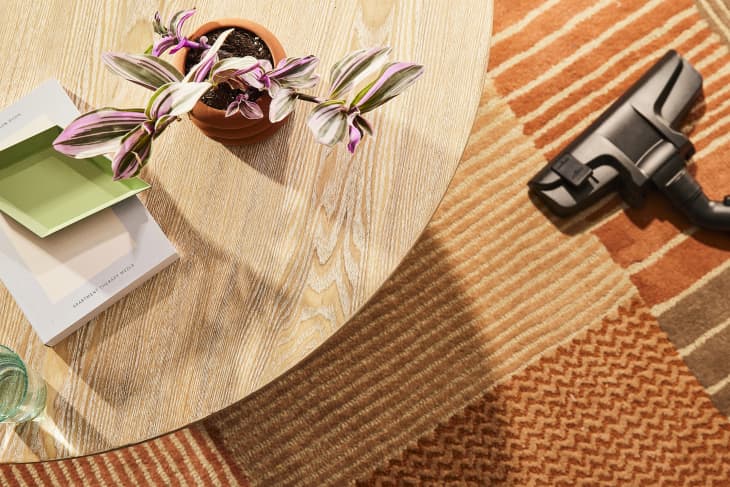 Chicago, like countless other cities nationwide, recently experienced a brutal heatwave. The Windy City is no stranger to extreme weather conditions, but this particular stretch of 100-plus degrees tested my resilience. Everyone in my household responds a little differently to extreme heat. My husband, logical and undeterred, pops open a pint of ice cream and cranks up the air conditioning. I succumb to constant napping and cancel all my plans. And our dog Rodeo sheds nonstop. 
When Rodeo came into my life three years ago, the fur collection on my rugs, couch, and clothes was a shock to my system. A typical corgi, Rodeo has a double coat with both soft and coarse layers. Depending on the time of year, her shedding oscillates between terrible and incomprehensible. Needless to say, we're vacuuming a lot. 
When I find a method that works for sucking up all that fur, I've got to share it with all my fellow pet parents constantly covered in their furry friends' glitter. 
I recently came across a method of cleaning called "postage stamp" vacuuming, and I'm here to say — it's been a game-changer for my household. The method means you vacuum only the most accessible spaces of your home in the most expedient way possible. Let me take a step back and walk you through my typical vacuuming routine, which will illuminate how and why the postage stamp method has been transformative and, critically, time-saving. 
I'm an all-or-nothing type of cleaner. For instance, if I notice the bathroom sink needs a scrub down, I wind up in a deep clean dive, disinfecting every surface in the bathroom. In the past, this approach was never a challenge for me, especially when I lived alone in a one-bedroom apartment and was rarely home to make a mess. But my curious corgi who loves to hide treats in the couch cushions, roll all over the carpets, and snuggle up on our pillows in the early morning hours has disrupted my neat and tidy lifestyle.
My husband and I tag team vacuuming duties multiple times a week. Ryan works through our basement while I tackle the main floor. But this full sweep is time-consuming and frankly unnecessary. This is where the postage stamp method comes in handy — we vacuum only the most easily reachable spots for a quicker clean.
Now, my husband and I target Rodeo's high-traffic spots: our main living room/entertaining area, our basement rug where we play fetch, and our kitchen where crumbs and kibble often go rogue. We learn to live with the stray fur here and there throughout the rest of the house but keep these notable spots as tidy as possible for as long as possible. This keeps us sane and also ensures our home is presentable if an unexpected guest turns up. The faster turnaround time has also been helpful for our pup whose arch nemesis is the vacuum cleaner. The less time she spends shrieking at our Dyson, the better for everyone (especially our neighbors!). If you've got your hands full with your pet's shedding situation, give the postage stamp method a shot and spend the time you saved for what matters most … cuddles!