Why Having a Fireplace Isn't Actually The Dream You Think It Is
We independently select these products—if you buy from one of our links, we may earn a commission. All prices were accurate at the time of publishing.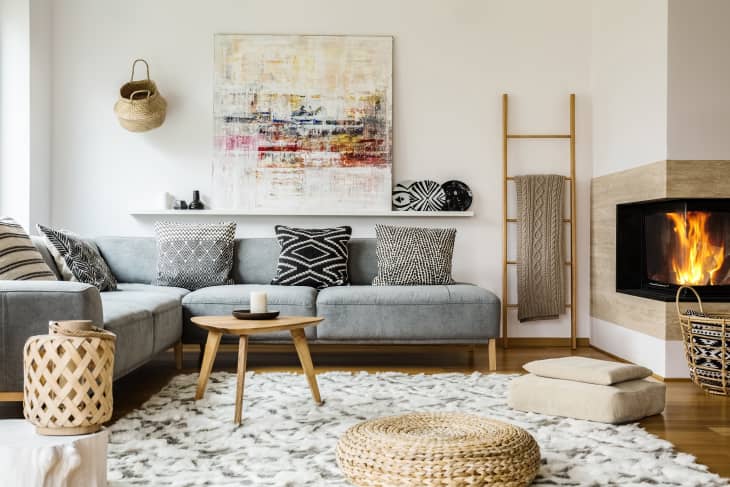 As autumn approaches and temperatures drop, cozying up to a crackling fireplace sounds pretty divine. It's not hard to see why a fireplace is on a lot of homeowners' wishlists. Humans have gazed upon a blazing fire for millennia, after all.
"Fireplaces remind us of a world before technology," says Arlene Reed of Warburg Realty in New York City. "They remind us of cold winter nights sitting with friends and family. There's nothing like the sound of a roaring fire in the fireplace with the wood cracking and the wonderful smell."
Follow Topics for more like this
Follow for more stories like this
A fireplace can add beauty, character, and drama to almost any space, creating what Reed calls an "irreplaceable atmosphere." 
But before you get too carried with fantasies of romantic nights snuggling in front of a fire with a glass of wine, know this: Many homeowners admit the realities of owning a fireplace rarely meet their expectations. Here, just a few fleshed-out reasons experts say you might want to reconsider your fireplace dreams:
They're not environmentally-friendly
Although Reed still meets a lot of buyers who are interested in a fireplace, she notes that her younger clients are increasingly concerned about the environmental effects.
According to Chuck Roydhouse, president of the Chimney Safety Institute of America, the efficiency rating of a standard wood-burning fireplace is, at best, around 20 percent. This means that 80 percent of the heat the wood produces goes up the chimney and out of the home.
And with that smoke comes dangerous pollutants. Even a small amount of smoke from a wood-burning fireplace can cause air quality problems. Reed notes that some cities have actually banned new wood-burning fireplaces, too, because they contribute to air pollution.
Roydhouse suggests that if you're worried about pollution, there are better options than traditional open fireplaces like gas-fueled inserts or a EPA-certified wood burning stove. For example, a 2008 article from Scientific American recommends a wood pellet-burning fireplace or insert as better options, too.
However, know that even gas fireplaces can release carbon monoxide, nitrogen dioxide, and other dangerous particulates, says Marla Mock, vice president of operations for Aire Serv, a heating and cooling-focused site owned by parent-company Neighborly. While all of these can be harmful to humans in large doses, they especially pose a health risk for children, pregnant women, the elderly, and those with respiratory issues, like allergies or asthma.
They offer poor return on investment
Just like a pool or a hot tub, when it comes to a fireplace, you have to consider how much use you'll actually get out of it. Although spending leisurely nights by the fireplace with a mug of hot cocoa sounds great in theory, life tends to get in the way. 
When you start to add up the costs associated with installing and maintaining a fireplace, and compare that to the number of times per year you'll actually use it, it starts to seem like a big expense with little reward.
"Depending on the way your fireplace is designed, its maintenance can require a lot of work and money, including top-sealing dampers, chimney balloons and regular cleaning," says Matthias Alleckna, an energy industry analyst with Energy Rates in Canada.
Don't forget about the cost of firewood and fire tools either.
They can be a pain to take care of, too
Apart from air-quality issues, fireplaces bring a whole slew of other safety risks into your home including (but not limited to) an accidental fire spread, smoke inhalation, burns, and carbon monoxide leaks. Because of this, they need to be diligently maintained, says Roydhouse. He recommends using a CSIA-certified technician who is not only an expert in maintenance but also is well-versed in potential safety hazards (e.g. ensuring the unit isn't too close to combustibles).
Additionally, you'll have to spend a good amount of time yourself keeping an eye on the fire as well. Because fires can re-spark, you'll have to wait until the ashes have cooled before you can go to bed. Cate Griffing, founder of West Magnolia Charm, a paint-focused blog, previously shared with Apartment Therapy that though she desperately wanted a fireplace in her home like the one she had growing up, she didn't realize that she, now, would have to be the one who attended to it. Additionally, her dog ended up being afraid of the fire, too, so she didn't even get to use it all that often!
More great Real Estate reads: