This All-in-One Charging Station Eliminates Cord Clutter Once and for All
We
independently
select these products—if you buy from one of our links, we may earn a commission. All prices were accurate at the time of publishing.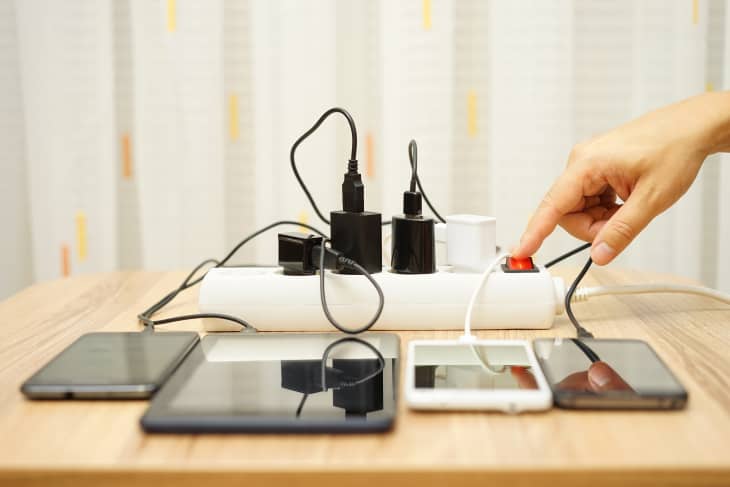 As much as I'd like my family to limit screen time, I have accumulated a lot of devices. Between my phone, the quasi-phone my kids have to call parents between houses, tablets for work and play, and chargeable headphones, we have a lot of devices that need charging. I used to stick chargers all over the house, near places I thought we might need them, but I kept losing track and people kept forgetting to use them. Things would often be left out and run out of battery. I had to find a solution, and luckily I did! This bamboo charging station solved my problem.
Quick Overview
Why I Love Prosumer's Choice Natural Bamboo Charging Station Rack
It's an all-in-one charging station.
It minimizes cord clutter.
It has space for five chargers.
It has removable dividers so you can rearrange to slot sizes.
It's available in seven finishes.
Why I Love Prosumer's Choice Natural Bamboo Charging Station Rack
The Prosumer's Choice Natural Bamboo Charging Station Rack has space for five chargers. You can put a regular surge protector inside so any charger works — no need to upgrade or change your current plug situation. The surge protector is the only thing plugged into a wall, so you don't have to take up every spare outlet in your home with chargers. 
Because the covers for our iPads are thicker than most, I was glad this station has removable dividers so I can have wider slots for iPads and headphones and thinner ones for phones and earbuds. It also has an anti-slip bottom so it doesn't slide off the shelf when a zealous kid reaches for their iPad. 
The light-colored bamboo wood looks nice and fits in with my current decor. It does come in other finishes, however, so you can select one to best match your space. I appreciate displaying it in my living room without the unsightly cords wiggling all over the place. I can coil up the surge protector or device charger cord so I have the right amount of slack out of the station to plug in the device without getting tangled or mixed up.
It's fairly low-profile, and if we didn't have the huge iPad handles, it would clear the shelves and fit in most of my bookshelves. As is, I store it on the top of a rack in my entryway where we often stash school papers and mail before sorting. Having one location for all electronics makes it easy for the kids to remember to put their electronics here to charge. It also makes tracking who's turned in their iPad at the end of the day easier, so I don't have to go hunt it down before it dies.