7 "Quality Time" Gifts to Give Dads This Father's Day
We independently select these products—if you buy from one of our links, we may earn a commission. All prices were accurate at the time of publishing.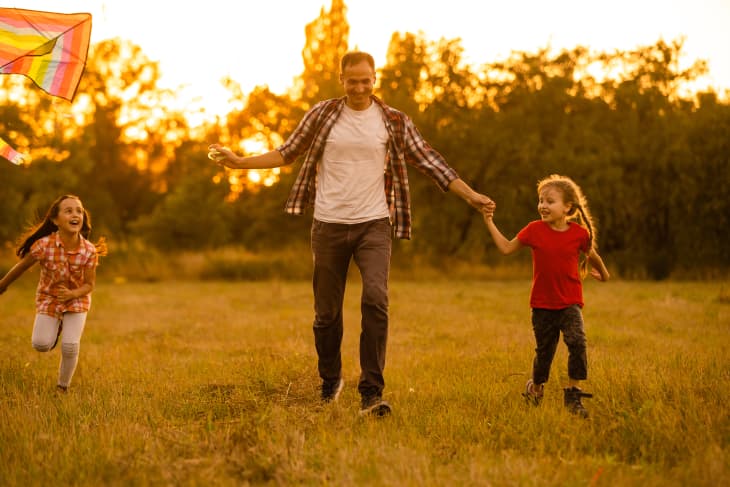 Every time a holiday rolls around, my sisters text our group chat with the same question: "What are you getting for dad?" Panic ensues. A book he may already have read? Novelty socks? A … lawnmower? It's not that we don't want to get him a present he will love, it's just that, historically, it's so hard to know what that is. 
Unlike me, who made a bulleted and categorized wish list each Christmas season growing up (yes, I am the youngest child what makes you ask), my dad will rarely mention some concrete thing he would like to have, let alone write it down. And, just like the way he enthusiastically says, "It's delicious!!" before he's even tasted something, his reactions to gifts are so consistently exuberant I can never tell when I've actually hit it out of the park. 
And yes, of course, I ask him what he would like. His answer? Just time with you. So this year, I'm listening. After talking with friends and colleagues about ways they would spend quality time with the father figures in their lives, here are some intangible (and, bonus points: last-minute friendly) ideas for "quality time" gifts to give any dad. 
Let them teach you something.
There's an unspoken checklist of things a dad could teach you: how to change a tire, how to tie a tie, or negotiate a salary. But dads are not a masculine monolith! They know lots of other things. My dad is an avid gardener and I once overwatered a cactus, so I'm hoping to book some time with him in the garden to learn his green thumbed tips and tricks. (That being said, I do also need to learn how to change a tire.) 
Dads and old tales may be kind of a meme, with a vague "don't get him started" punchline, but dads really have excellent stories. Ever seen "Big Fish"? You may get the same story you've heard two dozen times, and even that is a chance to solidify it in your roster of family lore. But if you can, try asking for a tale you've never heard before — and then listen closely. 
Without fail, every time we drive down a certain road in Massachusetts, my dad will point out a house he once lived in, which is now a Dunkin' Donuts.  I'm not sure if he realizes he's said it so many times, but I actually love it. Revisiting places your dad cares about is an endless fountain of possibility: The town where he grew up? His college campus? His old summer camp? His favorite bookstore? Pick a spot and ask him to show you around. 
Watch their favorite movie. 
My dad loves zombie movies. I hate body horror. I will not be traumatizing myself for the sake of a good gift! But he also loves long, old black-and-white films and niche documentaries and slapstick comedies that I likely wouldn't watch without him. Whether going to the theater to see a movie he's been talking about, hanging out in the living room and giving him free reign of the remote control, or watching the same film remotely from different places, sharing a movie night is a simple, meaningful way to bond over something he loves. 
Growing up I relished bring-your-kid-to-work day because it meant a) taking the train into the city and b) getting to wear my new back-to-school wardrobe before classes had started back up. If your dad has a job or routine where you can tag along for the day, spend the day by his side and get to know how he spends it. At this point I'm unfortunately past the point of busting out my best back-to-school outfit to join him in the office, but I really enjoy hearing my dad talk about what he does at work — and these days I can (kind of, almost) understand it. 
Cars are often venues for the best conversations and comfortable silences. Whether you opt to take a long, cross-country road trip or simply a scenic drive across town, taking your dad for a drive is a simple way to spend some quality one-on-one time. Looking for a soundtrack? Try the Daily Dad Jokes podcast or turn on that beloved cassette that's been stuck in the player for years anyway. My dad's go-to knee-slapper is a CD called "Townie Tunes" which currently has a glowing two-star review entitled "Funny if you are from Boston."
Laugh at their dad jokes.  
Last year for Father's Day, my sister and I took my dad out for breakfast at a local diner. But the real present was: Beforehand, we agreed to laugh heartily at every joke he cracked. He is hilarious but he has been working with the same audience of daughters for a few decades, so he may catch a few more groans than he used to. Folks, he ate it up! And we had a great time, too — something about laughing and endorphins and making someone you love happy. The omelet was subpar but the breakfast was excellent.