3 Questions to Ask Before Buying a House Built Between 2020 and 2022
We independently select these products—if you buy from one of our links, we may earn a commission. All prices were accurate at the time of publishing.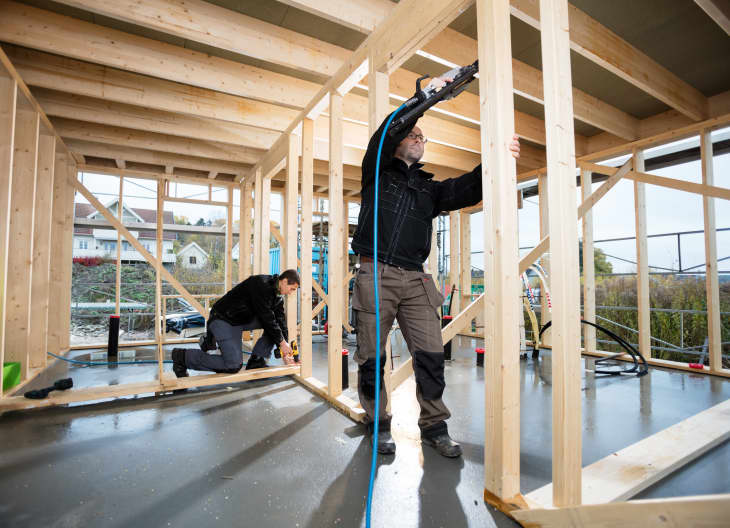 Videos making the rounds on social media are warning homebuyers to steer clear of homes built between 2020 and 2022, suggesting that supply chain issues and labor shortages have led to lower-quality construction.
Follow Topics for more like this
Follow for more stories like this
In reality, real estate experts say these claims are likely a bit overblown, since homes built between 2020 and 2022 still have to go through the same rigorous inspection processes as any other houses. 
Though builders may have had to make cosmetic substitutions — things like cabinets, flooring, and appliances — they can't skimp on the materials that make up the structural elements of a house, such as lumber, plywood, pipes, and wires. Homebuilding is a highly regulated industry, so builders can't just slap some flimsy pieces together and call it a house.
"Unfortunately, sometimes a specific situation is turned into a generalized statement," says Kristina ODonnell, a real estate agent in Collegeville, Pennsylvania.
Even so, if you're contemplating a new build and you're worried about the construction, be sure to ask these questions before signing on the dotted line.
What's the builder's reputation?
Whether you're buying a new build that's part of a subdivision or buying land and splurging on a custom design, be sure to do plenty of research on the person or company building the house. As with any service provider, not all builders are created equal, says ODonnell.
Search online, talk to local real estate agents, speak with people living in the neighborhood, and check the Better Business Bureau to get a sense of the builder's reputation.
Beyond that, make sure you hire your own real estate agent to help you navigate the complex new-build homebuying process. This person, known as a buyer's agent, is there to help ensure you make the best decision possible when buying a home. From their years of experience, education, and training, they can help you assess whether a new build is right for you (and, if a builder has a bad reputation, they've probably heard about it through the grapevine).
"Builders have listing agents and that listing agent has a fiduciary responsibility to that builder, which means the builders themselves take priority," says Scott Bergmann, a real estate agent in Omaha, Nebraska. "A buyer should always use their own buyer's agent when doing a new construction build."
What did the inspector find?
During the homebuying craze of the last two years, some homebuyers opted to skip inspections in order to secure a home with lots of competition. But home inspections provide hugely helpful information about the home's inner workings and many components — and the findings from one may even prompt you to decide not to buy the place after all.
Especially if you're concerned about potential construction issues with a new build, then you should absolutely spend the money to get a professional inspection (or several).
"A buyer should certainly get their new home inspected," says home inspector Welmoed Sisson. "We recommend having three inspections on new construction: one just prior to the installation of the drywall, one just before closing, and one prior to the one-year warranty walk-through."
And if it will make you feel any better, Sisson adds that most of the inspections her team has done over the past two years have been on new construction and they "haven't really seen any evidence of quality issues."
What are the local rules and regulations?
Personal inspections aside, you can take heart knowing that local code enforcement agencies have your back when it comes to new construction. These agencies, typically run by the city or county where the home is located, adopt rules and regulations to ensure that buildings within their jurisdiction are safe. Most cities and counties adopt a set of building rules called the International Building Code, or ICC, which is updated regularly.
Builders have to get permits from the city or country for all new construction (and they're supposed to for many renovation projects, too). Then, once they complete the work, the city follows up on the permits and sends out its own inspector to ensure the work is all up to code. So, you can rest easy knowing an official has checked up on your home's construction quality (and, if you're still not convinced, you can always call your city's code enforcement or building inspection department and ask about the specific property you want to buy).
"Everyone still has a building code to stick to, so even if you recently built or purchased a new home and the experience was tough, you still have a safe home to live in that was regulated by city inspectors," says Jason Cummings, a Denver real estate broker who specializes in new-home construction.