7 Important Questions to Ask Yourself Before a Long-Distance Move
We independently select these products—if you buy from one of our links, we may earn a commission. All prices were accurate at the time of publishing.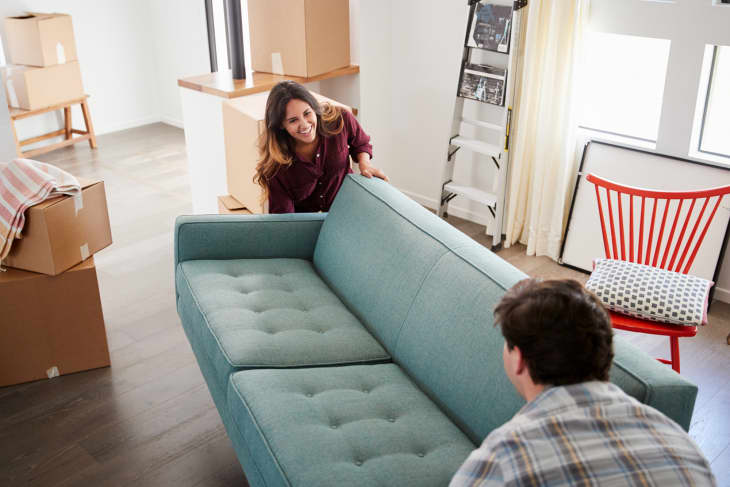 I won't sugarcoat it: Moving across the country is exhausting and expensive, and, no matter your mode for getting from one state to the other, not exactly great for the environment. I recently moved from Missouri to New York City, and something I asked myself every day in the early stages of planning my move was: Should I try to bring furniture with me to the city, or should I fly there and fill in my place with big-box items — or better yet, Facebook Marketplace and stoop sale finds — once I get there? 
The environmental implications, the fact that a lot of furniture is on backorder right now, and the thought of driving a U-Haul through the city were stressors for me. So, I set out to create the decision-making guide I wish I had before I started packing and planning a move, with a list of questions and answers (from the experts) to help you decide whether to bring large furniture with you or buy new once you get there. 
Feel free to use this as a choose-your-own-adventure-style guide and skip around to your most pressing concerns — or read the full thing to weigh all the issues.
How soon do you want to be settled?
If time is the biggest factor in your decision, unfortunately, there's bad news either way. Professional moving companies are ultra-busy due the current real estate market, where it feels like everyone is moving. "We have seen an uptick in U.S. moves due to many people having the opportunity to work remotely," Michele Brescia, president and CEO of ARC Relocation Services says.
You might have to wait that long — or longer — for new furniture to ship, too. "Like many others in the industry, we're seeing products go on backorder, and their dates for availability are continuously being pushed back," says Jesse Bodine, founder of the furniture company Scout & Nimble.
Bodine says a mix of factors determine exactly how long it'll take the item you added to cart to get to you: where you're located, whether the item is available or on backorder, where the item is being manufactured, the carrier used to ship the item, and whether the item is being shipped from a warehouse.
What can fit into your new space?
"There are so many things to consider when making a long-distance move. If you are going overseas or moving into a high cost of living area in a major city, for example, certain furniture may not fit due to the smaller housing sizes. But, buying new furniture can be expensive," Brescia says. "We see many people prioritizing the pieces that are the sturdiest, most sentimental or purposeful for them, really factoring in the logistics to get them to the new location and then the overall fit with the new space." 
If you're moving to an old apartment building with stairs as the only option for getting to the upper floors, Brescia advises checking with landlords and property managers about the building's dimensions. "Be very thoughtful about what will fit in the stairwell, and what could physically be lifted up the stairs," she says. 
She also says that some of ARC's clients who relocate frequently for work "will buy inexpensive furniture from move to move — such as IKEA style — stylish, but easy to sell/give away before the next move."
Do you have heirloom furniture you'd like to keep? 
If you have furniture with sentimental value (or just furniture that's in good condition that you don't want to part with), hiring professional movers or booking a drive-it-yourself truck or moving pod are your best bets. 
Are you looking to make a change, style-wise?
If your move is related to starting a new chapter, you might want to make a life and style change at the same time, in which case, packing up belongings you no longer want would be a waste of time, and you can pick out new furniture once you arrive and know what'll fit and match with space. 
"Invest in the larger pieces for the living space, like a sofa or accent chairs — these are going to get a lot of use, so it's important that there's quality and comfort there," suggests Bodine. 
Do you have a tight budget?
The answer here is probably something you won't want to hear: Moving is expensive no matter what. According to Moving.com, the ​​average cost of a long-distance move is $4,890, which varies based upon how much furniture you have to move and where you're moving. There are some things you can do to cut costs on moving day: Pack your belongings yourself and have them ready to go for movers, borrow boxes from a friend who's recently moved, and move during the off-season (October to April).
But much like with the fashion industry, the cheapest option for finding something that will work immediately might be to buy new from a big-box brand. For example, if you want to ship a 40" TV from Iowa City, Iowa, to New York City, it'll cost you about $65 for postage alone to mail it via UPS Ground, and you'll still have to pay for a packing fee, packaging materials, plus the large box, whereas you might be able to buy a new TV from Amazon for close to the total of mailing your old one.
Do you want someone else to do the heavy lifting?
If you want to do as little lifting, driving, or maneuvering furniture as possible, consider this: You could hire a full-service moving company with professionals who've moved lots of sofas and pianos before to carry your things. You could also have furniture delivered to your address by ordering new. (But no guarantees on getting it up any stairs or placed exactly where you want it in your new pad.) 
You could also save some extra dough by doing the lifting or driving yourself. Renting a 10-foot U-Haul (for a studio or one-bedroom's worth of furniture) from Charlotte, North Carolina, to Denver, Colorado, for example, will cost you approximately $876 versus the full-service moving fee, which would be around $3,000 to $4,000. A compromise between the two is a moving pod that you pack yourself, which will cost around $2,096 from the Queen City to the Mile High City, according to UPack.com, and a professional will drive it and drop it off for you.
What are the environmental implications of your long-distance move?
Switching up where you live will undoubtedly take a toll on the environment. It's worth taking this into account when deciding what to leave behind and what to take with you.
"Moving and continuing to use a large piece of furniture would, in most if not all cases, result in lower emissions than disposing of it and buying something new, taking into consideration that new furniture also must be transported to be sold, and its production generates additional emissions," says Robert Daguillard, a spokesperson for the U.S. Environmental Protection Agency.
Colleen Hetzel, who researches and implements waste reduction for the Minnesota Pollution Control Agency, citing research on consumption-related emissions, adds: "Transportation does have a large impact on GHGe [greenhouse gas emissions],  but when a moving truck drives across the country (or even regionally or locally) you need to remember that it isn't transporting one item at a time. Most often people are renting either an entire truck for all of their belongings or it is being shipped with other people's belongings (think carpooling for your housewares). This would reduce the impact. You also have to remember that new furniture will also be shipped from where it is being built to get to the household. There is a strong possibility that it wasn't made local."
And finally, to help you cut down on emissions during your move, Erin Barnes-Driscoll of the MPCA says plan ahead, plan ahead, plan ahead. "Too often, people wait until the last minute to organize and pack, then are under the gun to either get rid of stuff fast (unfortunately, that's often via the trash) or pack and move things that they wouldn't have kept otherwise," she says. "Having a plan in place can result in less stuff to transport (and potentially less weight and emissions), and less waste produced."