Quick Tip #2: How To Cover Up Scratches on Wooden Furniture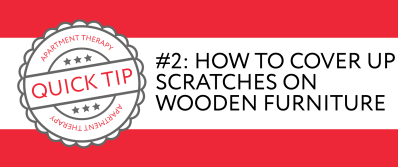 Every well-run home is teeming with tricks and shortcuts to keep it humming along. We're sharing our best quick tips — for cleaning, organizing and repairing stuff at home — to save you time and money. Click through for today's helpful hint, and links to tons more...
Use a WALNUT! Just rub a shelled walnut on the damaged area, and watch in amazement as the dings, scrapes and scratches all begin to darken and disappear.
MORE HELP
Our Sites:
Around the Web: