Quick Tip #41: How to Clean & Polish Stainless Steel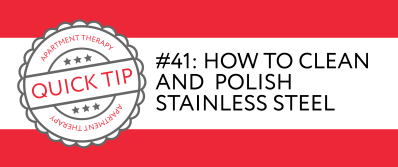 Every well-run home is teeming with tricks and shortcuts to keep it humming along. We're sharing our best quick tips — for cleaning, organizing and repairing stuff at home — to save you time and money. Click through for today's helpful hint, and links to tons more...
Use OLIVE OIL! Before buff and polish, take a few minutes and clean your sinks, fixtures or furniture with whatever dish soap you have laying around. After things are clean allow the surface to dry completely. Apply a small amount of oil to a soft cloth and use a bit of elbow grease to push the oil around in the super small grooves of the metal. It helps distribute the slick stuff and gives everything a nice smooth coating. You'll feel the texture change as things smooth out. Then, flip the towel and re-buff the surface with the clean side. It will pick up any extra oil so it doesn't dull the surface.
MORE HELP
Our Sites:
Around the Web: