3 Former House Flippers Reveal Why They Quit Flipping
We
independently
select these products—if you buy from one of our links, we may earn a commission. All prices were accurate at the time of publishing.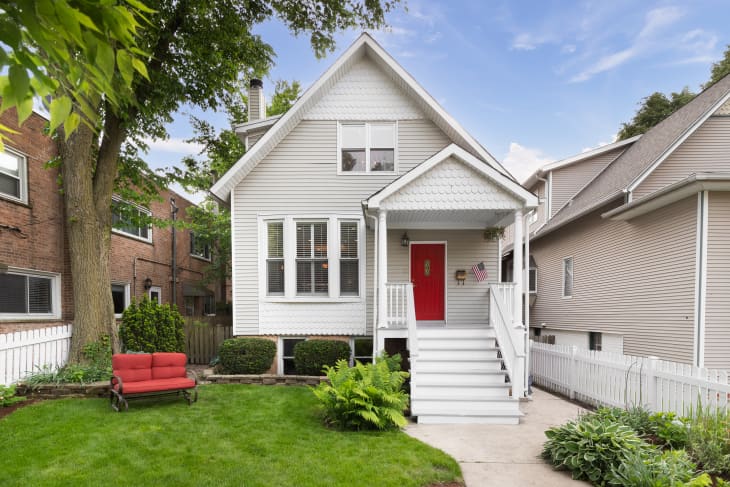 Flipping houses is all fun and dollar signs on TV. From watching regular people who strike gold flipping houses into Magnolia-worthy renos to those who create their dream home out of a diamond in the rough, who hasn't wondered if they should get in on the game?
It seems too good to be true, right? You buy a house for a fraction of what it could be worth, fix it up with a bit of elbow grease, put it on the market, witness a bidding war, and turn your massive profits into your next project. Buy, renovate, repeat. Before you know it, you've quit your day job and you're on the path to a home reno empire. 
Except it's not always that easy. For every house flipper who finds the path to entrepreneurship, another loses money — or at least their patience — in the deal. I talked to three former flippers about their experience, the problems they encountered, and what drove them to quit house flipping.
DIY isn't as easy as it seems.
Melanie Allen, who runs the blog Partners in Fire, went in bright eyed and excited about the opportunity to buy a house in need of a little (or a lot of) love, fix it up with her own two hands, then turn around and sell it for a profit. She bought houses both in Georgia and Pennsylvania before realizing that DIY is a unique skill set that isn't as easy as picking up a hammer.
"I was one of those idealistic folks who saw everyone talking about how great flipping houses is — and I wanted in!" she says. "Unfortunately, getting into the field wasn't as easy as the experts made it seem. You need capital and good credit to start, and I didn't have much of either. Still, I found a way by purchasing a fixer upper. But I quickly learned if you don't have the skills to DIY yourself, it can get very expensive, and I didn't have the extra capital to pay contractors to do all the necessary work."
When your house flipping equation relies on doing the work yourself, throwing in the extra costs associated with a contractor can skew the profit margin. Allen did walk away with a profit, but whether it was worth the headache is the question.
Good contractors are hard to find.
Ask anyone who's attempted a home renovation recently and they'll all tell the same story: contractors are in high demand right now. You always have to do your due diligence to find a contractor who's both efficient and reputable. But Andrew Herrig, of the blog Wealthy Nickel, found himself particularly frustrated trying to successfully flip a house in the current climate.
"My wife and I are current real estate investors and former flippers. We've flipped at least 7 to 8 homes over the last several years, but, thanks to 2021, we are no longer flipping. We have found that, especially now, it is difficult to find quality contractors, and materials are especially hard to source. It has become too challenging to make a profit on a flip."
When lead times are long, materials are expensive, and contractors are costly, your investment goes up in more ways than one. You spend more time sourcing skilled people to work with and you spend more on them — and that can lead to the question, "Is this really worth it?"
A beautiful renovation is only part of the equation.
A good eye and a sense of what buyers want aesthetically will draw people into a real estate listing online, for sure. But that's not everything. You still need to understand the market and know when a fixer-upper is priced low because it's not in an area that will interest your target buyer.
Chris Alexakis found himself in a situation where he hadn't done adequate research on the local market and, while his flip looked great, it wasn't what buyers wanted. He says, "Although I'm experienced with trade work, I stopped flipping houses because I only have the bare minimum knowledge of real estate. I bought and renovated a property in a location that isn't seeing a hot market and, while the renovation I did with my team restored the property's aesthetics and functionality, selling it took a while simply because of its location."
You can't assume that jumping on a good deal and renovating it to Instagram-worthy perfection is enough. You need to do the legwork to understand whether the finished product will actually fetch the price you need to justify your investment.
There are a few other things to consider before trying to flip.
Lastly, there are several other pieces of the flipping puzzle that could make you second guess whether it makes sense for you. Make sure you can confidently answer these questions before you take the plunge. 
Do you have time to manage this project? With ordering supplies and scheduling contractors comes hours and hours of management. This can be tough to fit in with a full-time job, particularly since most contractors work during 9 to 5 hours. 
Do you have the capital to hold this home throughout the renovation and selling process? Paying your own living expenses and another mortgage isn't cheap. Are you willing to make this sacrifice in your budget?
Are you familiar with the problems that can arise with older homes and the permits required for renovations? These time-consuming factors can add up in terms of both cost and logistics. You need to prepare for the worst, just in case.
Are the houses in your market actually fixer-uppers, or just homes in need of minor cosmetic updates? It's worth considering whether you're helping a home become move-in ready for a new family, or you're taking perfectly acceptable housing stock away from buyers with smaller budgets.
However, if after these tales, you're still feeling the itch to try your hand at a flip, make sure you've done your due diligence. If you know what you're getting into, you could find yourself on the winning end of a success story.