Why the First Thing I Installed After Buying My House Was a Rainbow Flag
We independently select these products—if you buy from one of our links, we may earn a commission. All prices were accurate at the time of publishing.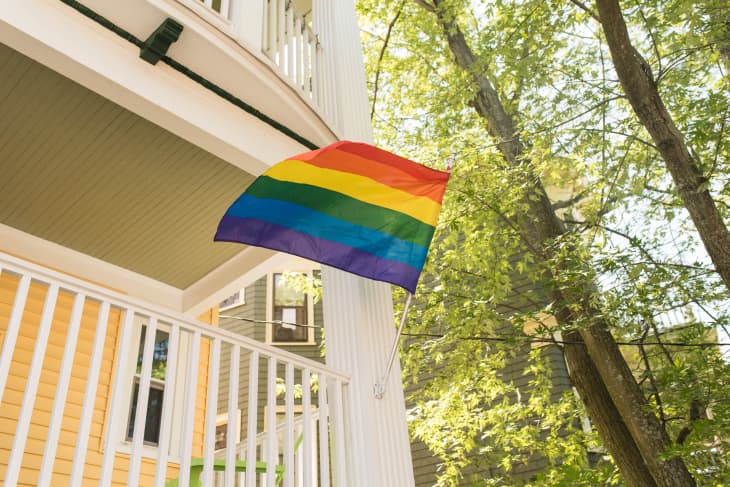 When my partner and I closed on our dream home, the very first thing we did was place an order for a flagpole and a rainbow Pride flag. Thanks to some speedy shipping, the day after we moved in—before we had planted flowers, hung curtains, or even fully unpacked—we drilled into the porch and hung our first Pride flag on the house. 
Since I came out 18 years ago, I have lived in neighborhoods where I knew it wouldn't be safe to fly a Pride flag, neighborhoods where I would hear homophobic slurs hurled at me and others. I spent a decade living in New York City and working at LGBTQ nonprofits, and I was well aware of the number of hate crimes that occurred in the city—and in the neighborhoods where I lived. When my partner and I purchased a house in conservative outer Brooklyn, we surely didn't feel safe putting a rainbow flag on our house. Instead, I placed a rainbow Adirondack chair in the backyard behind our six-foot privacy fence. I still worried that the neighbors whose upstairs windows peered into our tiny yard would see the rainbow chair and target us.
But when we decided to leave the city and move to Portland, Ore., living in a progressive neighborhood was a requirement for us. While touring houses, my partner and I intentionally took note of the number of rainbow flags and liberal political signs we saw. In the end, there were many reasons we purchased the house we did—like how it met the needs of my dogs—but it was important how safe and welcoming the community felt for my LGBTQ family. 
Ever since the day we hung our flag, we've received nothing but positive responses from neighbors. On several occasions, people have stopped to talk to me about how important diversity is, and how glad they are to see our Pride flag. Sometimes the positive interactions don't even involve me. While gardening, I've overheard countless conversations between parents or grandparents explaining to their kids about what our rainbow flag means. On a few occasions, I've even heard children correcting adults about its meaning, explaining to them rainbow flags aren't just about "gay" people, but represent the whole LGBTQ community. The youth of today are pretty amazing, and they're a big part of why we immediately put a flag up—and why I wish we felt we could do it in past neighborhoods. 
In 2020, it's easy to think that it's totally safe to be out as LGBTQ. Unfortunately, that isn't always the case. LGBTQ youth are still 120 times more likely to be unsafe at home and experience homelessness than their heterosexual and cisgender peers. Moving into a neighborhood and putting up a rainbow flag isn't about my need to flaunt or even celebrate my queerness. For me, flying a rainbow flag from my house is about celebrating my community, creating opportunities for conversation, and most of all, showcasing visibility. My flag offers hope to the people passing by who might not feel safe to come out—yet.