This Is the Single Most Renter-Friendly Thing You Can Buy at IKEA, According to an IKEA Employee
We independently select these products—if you buy from one of our links, we may earn a commission. All prices were accurate at the time of publishing.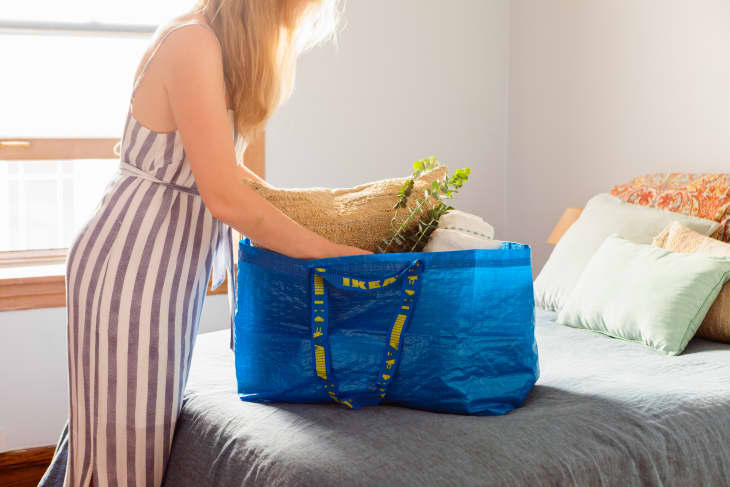 The amount of IKEA products I've lugged into all of my apartments over the years is almost criminal. Light fixtures, little adhesive hooks, bookshelves, a bed frame, wardrobes… at one point, one of my homes in Chicago was almost entirely outfitted with IKEA goodies. I can't get enough, but it's with good reason.
Follow Topics for more like this
Follow for more stories like this
IKEA is a renter's paradise. It's reasonably priced, you can get everything you need in one store, and you generally can put everything together at home—which, as confusing as that is sometimes, means your new entertainment center can easily fit up your third-floor walk-up stairs, around a tight corner, and through your narrow doorway.
Plus, many IKEA products are multitaskers in disguise. That's why IKEA hacks became such a thing. Think: Spice racks repurposed to display books or a plastic bag holder that instead contains errant rolls of wrapping paper.
In an effort to find the one item at the store that's most perfect for renters, we went straight to the source: IKEA itself. The company's design spokesperson, Janice Simonsen, loves this item so much that she has multiple of her own. It's a deceptively simple product called the RÅSKOG cart. Essentially, it's a three-shelf utility cart on wheels, and can be used in probably about a thousand different ways.
"It's perfect for a number of reasons," Simonsen says. "It's mobile, so it moves around a small space easily. It comes in four beautiful colors and can be used in virtually every room in an apartment. For example, it could be a toiletry cart in the bathroom, a towel and mini pantry in the kitchen, or it can hold office and art supplies by a work space. It can even be a nightstand in the bedroom."
I'm inclined to agree with Simonsen. I've got a blue one of my own. Mine is stuffed to the gills with skeins of yarn, standing upright so none of them roll out. (That's, of course, in addition to a small set of drawers from IKEA that are also stuffed with yarn—because as every crafter knows, you can never have too much of your favorite material.)
Simonsen says she just bought a new one in white. She plans to put it to use in her kitchen because it matches her remodel. She has a gray one, too, that she'll be using in a rental property. Its biggest advantage for renters is its flexibility.
"The middle shelf is adjustable, so it can be adapted to the particular storage needs," Simonsen continues.
It's also an affordable, malleable purchase at $29.99. You can make it work for you—and feel good about the return of your security deposit when you move out.
"Nothing needs to be attached to a wall, so [there are] no issues with rental restrictions," Simonsen says.
Now that I've started to embroider, I see another one in my apartment in the near future to hold all those supplies. This time, though, I might opt for the last of the four colors: a sleek black.