Take it From Me: What First-Time Buyers Should Know About Fixer Uppers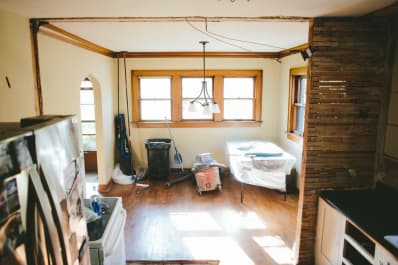 (Image credit: Rebekah & Graeme)
When you're a first-time home buyer growing dizzier by the minute walking through dreamy homes outside of your budget, it's only natural to consider adding a home that needs a little "TLC" to your short list. Know this, though: fixer uppers come with some special considerations, especially for first-time homebuyers.
Two years ago when my husband and I decided to take the plunge and buy our first home, we settled on a fixer upper. As is often the case with such listings, we were sucked in by two major pros: the central location situated between our favorite local beach and the historic downtown district of Charleston, South Carolina, and the price tag — the latter of which was easily tens of thousands of dollars less than anything else we had looked at in the area, with more square footage to boot.
Do we regret our decision? Not at all. In fact, we're fortunate to be a sort of fixer upper fairytale in that we are currently selling our house for over $100,000 more than we paid for it without having done any major renovations outside of painting (a whole lotta paintin').
In retrospect, though, there are several things we wish we would have known or given more thought to prior to getting our feet wet with a fixer-upper.
1. Your home-buying budget will go farther, but your budget thereafter will likely take a hit
If you're not afraid of putting in some sweat equity, a fixer upper presents the first-time homebuyer an opportunity to buy more house for their buck or buy a home in an area they may be priced out of with new construction or a less repair-intensive home. This was certainly the case with us. Where other potential homebuyers had scoffed at our humble kitchen straight out of the '60s and the previous owner's obvious abundance of affection for fruit-filled wallpaper, we saw it as a welcome trade-off if it meant scoring a house mere miles from the Atlantic Ocean.
But — and this is a big one — the money we saved upfront by securing a lower mortgage payment essentially just got circulated back into the house every month for home repairs and projects. Within the first week of living here, the hot water heater died. Several cold showers later, we reluctantly dragged ourselves to Lowe's to plunk down the $500 it cost for a replacement. If the first unpleasant problem that pops up in your fixer upper is a structural issue, expect your budget to take a major hit.
2. You'll need to beef up your DIY savvy
When you buy a fixer upper, you know home improvements are on the horizon. The name is kind of a dead giveaway, right? Let's say when you're sizing up the house that you notice you'll need to replace the flooring. "No prob," you might think. "I've seen super-cheap flooring at the local big box store." Here's the rub, though: that flooring only costs $1 per square foot if you install it yourself. If you have it installed by the store or a pro — which I highly recommend in some instances — that cost could spike up to $5, $6, $7 dollars per square foot. Not so cost-effective now, eh? If you're not a fan of DIY or getting your hands dirty with home repairs, a fixer upper may be far less affordable than you think.
3. You may have to pay for two inspections (and probably should anyway)
When you buy a fixer upper, it's no surprise when the home inspector comes back with a laundry list of issues. If you plan to negotiate with the seller at all about these issues, you should have your home inspector return to ensure that all requested repairs were completed to the specified upon degree. This also protects you from any last minute surprises that may have popped up since the first inspection or possibly slipped through the proverbial cracks. Many home inspectors offer this service at a deeply discounted rate, and it pays for itself with peace of mind.
4. Location is everything
I wouldn't necessarily say that we knew we were making such a smart move strategically when we bought our house. We just knew that we really loved the area and saw its potential. Ultimately, it was the perfect storm of luck for us, because our neighborhood went from "transitional" to the trendy new area for hip young families shortly after we bought it at a bargain price. The moral of the story here is that you should always try to buy a fixer upper in an area with healthy market growth. If you can't find a fixer upper in a neighborhood that is already established and highly sought after, look for the next potential hot spot. Is it in a good school district? Close to public transit and parks? Are any local attractions nearby? Depending on the answers, you could be stumbling upon a profit-making venture or right into a money pit.
5. There are loans that can help you transform your fixer upper
You know what I wish my husband and I had looked into prior to purchasing our home? A renovation loan. Through one of these specialized programs, we could have financed the purchase of our fixer upper itself as well as the cost of renovations through a single mortgage. Had we gone this route — and, believe me, I often wish we had — we likely would have looked into the Limited 203(k) loan program, which would have given us up to $35,000 on top of our mortgage to make improvements. That nice little chunk of change would have brought my dreams of new flooring throughout our home to fruition.
If you're eye-balling a fixer upper that requires more expansive repairs, the standard 203(k) loan could be the ticket. It covers such issues as structural alterations, plumbing replacement and other large-scale projects.