9 Things Real Estate Agents Say About What It's Really Like to Own a Brownstone
We independently select these products—if you buy from one of our links, we may earn a commission. All prices were accurate at the time of publishing.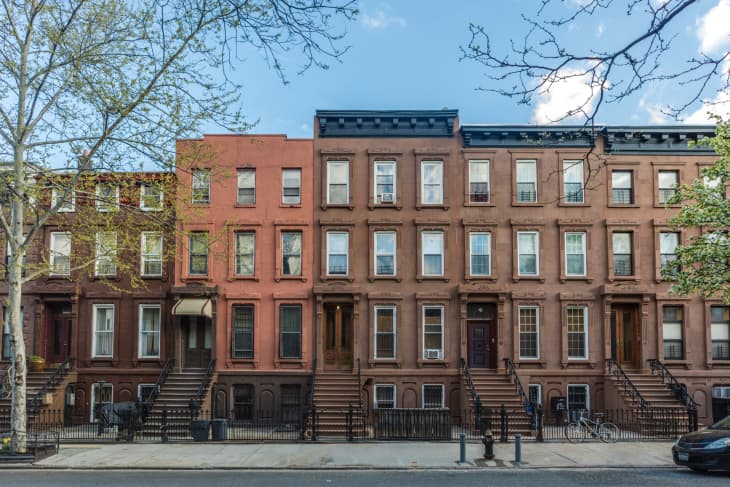 How many city dwellers have made their way back from an evening out, strolling down a tree-lined block surrounded by towering brownstones, and peeping in the lit windows thinking, "One day, I'm going to live in one of those. I'll have a tiled vestibule and four floors all my own." A brownstone is the ultimate urban dream. 
Follow Topics for more like this
Follow for more stories like this
"Originally built for middle-class families in the early 19th century, brownstones — or rowhouses featuring elegant brown sandstone facades — have become one of the most aspirational residence types in New York City real estate," says architect Eugene Colberg of Colberg Architecture.
Carolyn Gagnon, a licensed real estate salesperson with Compass in New York City, believes that city residents gravitate toward brownstones to maintain their city lifestyle while finding space, privacy, and outdoor living. "Space is an incredible asset," she says. "Brownstones provide this privacy people crave, both within the levels of the home and outdoor space."
But like any historic home, buying a brownstone isn't always for the faint of heart. Four real estate experts shared their nine tips, strategies, and warnings to make sure you go into the process with clear eyes. 
Not All Brownstones Are in NYC… But a Lot of Them Are
While brownstones aren't limited to New York, the majority of homes that are technically brownstones are located within the five boroughs. Strictly defined, a brownstone is a townhome constructed from a particular brown sandstone, a kind commonly seen in New York. However, there are also significant brownstone neighborhoods found in Philadelphia, Boston, and other cities across the Northeast.
They're Often Part of a Historic District
You've probably seen historic plaques on homes or landmark signs designating a particular  neighborhood as a historic district. Ian Katz, a licensed associate real estate broker with Compass in New York City, explains, "These 100-to-200 year old residential neighborhoods have a long history, and typically feature properties spanning the notable brownstone construction period between the late 1800s and the first World War." 
There's a good chance a brownstone home falls into one of these areas — which is great when you consider the neighborhood is committed to the preservation of these homes. But there can be a downside. 
"This designation can add a layer of complication. Meaning, every design proposal must go through the Landmark Preservation Commission," says Gagnon. New exterior renovations are nearly impossible unless they fit with the historic standards. This is a positive in terms of protecting the historic brownstone facades, but it could be frustrating if you want to make a practical update and it doesn't fit the century-old standards.
Renovations May Require Permits and Landmark Boards
Your first step in navigating historic district designations is building a team that has experience in the neighborhood. Gagnon suggests finding an attorney, lender, insurance broker, and licensed and trusted real estate agent who all have worked in that area on historic properties. 
"Having this team's protection will ensure a thorough background process where any open permits, legal designation, liens, or violations will be brought to light," she says. Gagnon also advises finding a renovation partner who can identify infrastructure deficiencies and has experience in navigating permits and landmark boards.
With a historically designated property, Colberg explains that your application for permits and changes invites the landmark board to discuss whether your proposal contributes or detracts from the neighborhood's character and history. "They will ensure that however you are touching this property is respectful and contextual to the neighborhood," he says. "Your licensed architect can help you navigate the universe of regulations — which often includes a list of pre-approved colors that mimic the original colors, window manufacturers, stone types on the sidewalks, and other factors."
Historic Homes Come with Historic Layouts
As someone who personally owned, renovated, and lived in a Brooklyn brownstone for five years with her family, Marie Bromberg, a licensed real estate salesperson with Compass, knows the ins and outs of brownstone living. Bromberg says, "Many new buyers often forget that 'historic' means old, and sometimes this means the home has a layout that might not easily work with modern-day needs." She explains that often historic brownstones may have the kitchen on the ground floor rather than the parlor floor, or the two top floors may share just one bathroom. There may be tiny nurseries that seem more like closets to modern buyers.
The quirks aren't always loveably odd, however. Bromberg recalls one story where a friend excitedly showed her the home he just bought. He opened a door in the recently converted attic, and pointed out another door further back in the room, but access to the door was blocked by pipes and large mechanicals. She says, "He thought it was 'neat' that there was a door in a house that was completely inaccessible, leading to a room of who knows what. I told him, this wasn't good news, and he should immediately look into that." 
Updating Electrical and Plumbing Is Critical
Old houses come with old electrical and plumbing, and this can be prohibitively expensive to renovate — but also critically necessary. "It is important to get this checked out, as electrical fires or gas leaks due to old appliances is very much a danger and hazard," says Bromberg.
You Don't Have to Own Alone
Love the idea of a brownstone but not sure you're up for the cost, time, and effort that goes into the renovation (and the mortgage)? Tate Kelly, a licensed associate real estate broker with Compass, notes that there are many brownstones that have been turned into multifamily buildings. "Finding a multifamily property that they can co-purchase with friends or family and where each party has their own unit is an option," says Kelly. He also notes that some buyers may want to purchase an entire brownstone, then rent out units within it to help offset the monthly costs. "I am seeing that more and more often these days, especially with the younger generation," he says.
You May Have to Settle for Settled Floors
Living in a brownstone means getting used to items rolling away from you…and rolling…and rolling. That's the reality of uneven floors. "Sloping floors are common from decades of settlement, especially in neighborhoods like Park Slope and others where the pitching of streets is very noticeable," Katz says.
Vintage Heating Is Commonplace
"Older heating systems — boiler-based and sometimes even heating oil-based — are common, unless a home has been recently modernized," Katz adds. While the heating may still be functional, this should also be on your list of items to have inspected during the buying process.
No HOA Is a Good Opportunity to Build Up Your Repair Budget
If you're going from a condo building to your own brownstone, you may be delighted to say goodbye to your HOA. It's actually a great opportunity to begin building your repair budget.
"Many clients come to me excited at first about the lower monthly charges in comparison to condo common charges and taxes or co-op maintenance with apartments," Katz says. "Then a discussion is immediately warranted to help the client understand that capital improvement projects and upkeep costs are now their responsibility." Plus, they now are in charge of larger utility costs, interior and exterior maintenance costs, and all repairs. 
He adds, "Also the brownstone itself can spall and crack, and the restoration service of a local expert company will be needed from time to time to preserve that wonderful facade."