3 Things Real Estate Agents Always Say About Craftsman Homes
We independently select these products—if you buy from one of our links, we may earn a commission. All prices were accurate at the time of publishing.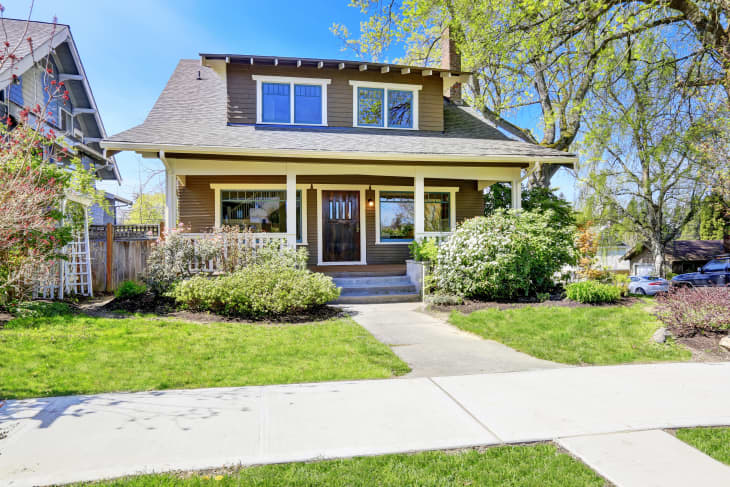 A Craftsman home is easy to spot: a big porch with columns, architecture that showcases the beauty of natural materials, a gable roof with exposed beams, large windows, and typically, wood siding. These story-and-a-half high homes are gorgeous and often historical. They were built as part of the Arts and Crafts movement from the 1900s through the early 1930s, meant to highlight the value of building and designing with local materials.
Follow Topics for more like this
Follow for more stories like this
"Not only do Craftsmans represent a time capsule for a particular neighborhood, but they generally represent good craftsmanship. The materials used to build a house originally have stood the test of time," says Yawar Charlie, director of the estates division for Compass Real Estate's Aaron Kirman Group.
"Craftsmans, by their design nature, always have certain things: a wonderful sweeping porch, beams that are exposed in the ceilings, a dining room usually with a wood and glass hutch to display dishes, a separated kitchen, a wonderfully long wooden hallway, and small closets. These things can always be adjusted and changed, but the true Craftsman nature lies in its bones, the front façade of the house, the porch, the exposed beams, the beautiful hardwood floors throughout. These things are timeless."
These houses, though beautiful, also come with some caveats. Your porch may be gorgeous, but it will take some extra work. If you're looking to buy a Craftsman home, watch out for these three things real estate agents think you should know before you purchase.
That Beautiful Porch Will Require Maintenance
I love a good porch — one you can sit on for hours in a rocking chair, watching the wind blow the leaves in the trees just past where you're sitting. Luckily, they're an iconic feature of Craftsman homes. But if you've ever had a big porch, you know it can take some maintenance. You'll need to sweep it regularly throughout the year to get rid of leaves and dirt, and you'll have to shovel snow off it in the winter to make sure the wood doesn't rot. And just because your porch is covered, that doesn't mean you can put any old piece of furniture out there. Make sure you're using all-weather pieces, or else they'll become damaged.
The Floor Plans Can Be Confusing
It's important to know that Craftsman homes weren't all cookie-cutter builds, explains Jenny Usaj, owner of Usaj Realty. Sometimes you'll find "strange layouts that are not functional or the best use of square footage," she says. That could be in part due to updates made by owners (like trying to squeeze in a bathroom where there's not really space for one), or it could just be the original design, since Craftsman homes can have asymmetrical layouts. You might hit your head sometimes, too. Most Craftsman homes are a story and a half high, and the top floor tends to have low ceilings and unique angles from dormered spaces.
Your Electrical and Plumbing Might Need Updating
As with any older home, make sure to thoroughly check the electrical system. If it's the original one, Usaj says, it may need replacing. Watch for sparking outlets, blown fuses, flickering lights, and anything else that could spell electrical trouble. Check the plumbing as well — you could have lead pipes from the original build that need replacing.