What Makes a Home a Craftsman? Here's How to Tell
We independently select these products—if you buy from one of our links, we may earn a commission. All prices were accurate at the time of publishing.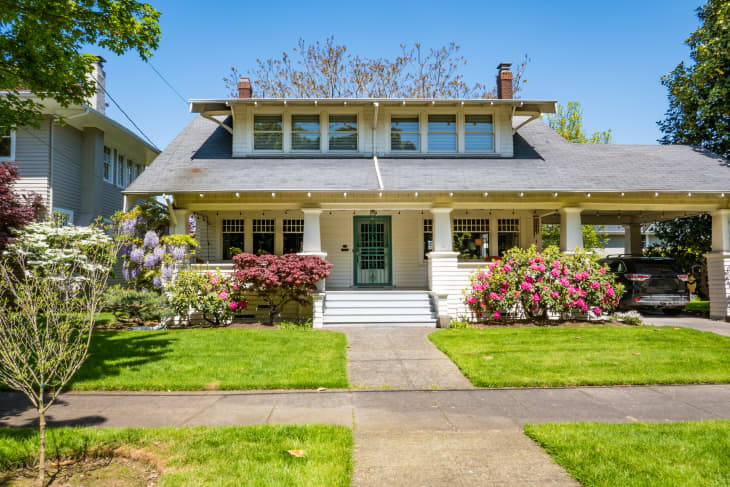 Americans' infatuation with the classic Craftsman home goes back more than a century, but their enduring design remains just as popular today. According to a Trulia survey, Americans, especially the 18-to-34 set, prefer Craftsman-style homes more than any other. 
Follow Topics for more like this
Follow for more stories like this
It's easy to see the timeless appeal in their design, which favors symmetry, assimilation with nature, and the work of artisans. The aesthetic took hold in the mid- to late- 19th century, valuing workmanship over machine-made goods that became the norm during the Industrial Revolution. 
Architect and furniture designer Gustav Stickley championed the Arts & Crafts design philosophy in Craftsman magazine, first published in 1901. The aesthetic style made its way to residential design as Stickley featured home design plans that helped Craftsman homes proliferate among the middle class. They made their way throughout the United States but sprouted in greater numbers in Southern California and the Midwest, where the look influenced Frank Lloyd Wright's Prairie style. 
How can you tell if a house is a Craftsman?
Craftsman-style homes celebrate horizontal lines, with wide porches and broad rooms, unlike their Victorian predecessors whose features aim for maximum height. In contrast to the Victorian charmers that blaze in bright pink or purple, Craftsman homes generally come in earthy colors such as beige or moss green, making it easier to blend in with nature. Large covered porches and double-hung windows lend an airy feel and are a fitting design for warmer climates. A Craftsman roof, meanwhile, typically features large overhanging eaves.
Stone, wood, and other natural materials make up the home, where you'll often find exposed beams and rafters highlighting the work that went into making the structure. The design's functionality can be glimpsed in the open floor plan, which typically has a fireplace at the center of the living room, along with reading nooks and built-in bookshelves.
What is the difference between a bungalow and a Craftsman?
While the terms bungalow and Craftsman are often used interchangeably, the bungalow is one type of Craftsman home, as well as a style in its own right. The word "bungalow" — said to have originated in Bengal — means "house in the Bengal style." The word was initially used to describe thatched-roof dwellings built by native labor for English settlers but came to mean private single-family dwellings with wide verandas and deep eaves. Bungalows typically contain one or one-and-half stories with a room under the low-pitched overhanging roof. 
"The building type developed into one of the most frequently adapted house forms in the world — it is the most popular residential style in American architecture (rivaled only by the ranch house) —and it is probably the only type of dwelling known, by name and form, on every continent of the world," writes Robert M. Craig in Bungalows in the United States. 
As a Craftsman home style, it took hold in Southern California while the Craftsman Prairie style gained popularity further east. Architects Charles and Henry Greene popularized bungalows in this area, especially in Pasadena, which even has a leafy residential area known as Bungalow Heaven listed in the National Register of Historic Places. 
But the bungalow term broadened over time, according to Arts and Crafts Homes. "What really happened during the bungalow building boom is that the bungalow was no longer a pure structural type, but a broader house style."