The Surprising Thing Real Estate Experts Want You to Know About Paint Color Trends
We
independently
select these products—if you buy from one of our links, we may earn a commission. All prices were accurate at the time of publishing.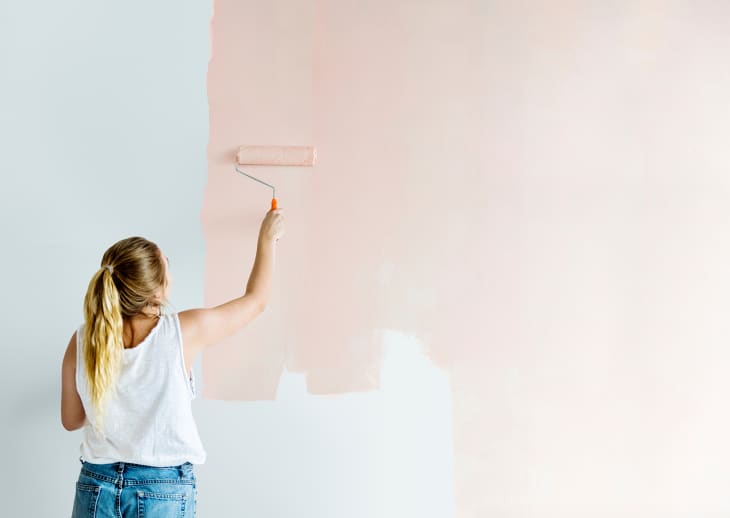 The faded, matte eggshell walls of your grandparents' home are a thing of the past. These days, home paint colors come in every shade from robin's egg blue to velveteen green, and every month, there seems to be a new hot paint color hitting the market, with posts of vibrant and unusual kitchens, bathrooms, and bedrooms going viral. But even if three of your neighbors on your block are painting their kitchens millennial pink, should you pursue whatever colors are trending near you?
In Los Angeles, Natalie Ebel of paint company Backdrop notes that locals love colors like Disco Nap, a light acid yellow, and 36 Hours in Marrakesh, a warm, earthy pink. "[Southern California is ready to] embrace a more adventurous, vibrant color palette," she says. She predicts that marigold will be the hot new paint color to take over. 
Some experts, on the other hand, believe in bucking paint trends. Don Kaufman of Donald Kaufman Color notes that "The last place a homeowner should look [for paint color ideas] is trends because every person in the world sees color differently. Not just because of the biology of the eye, but because of different cultures, languages, the environment." 
So is there a better way to choose colors than whatever you're seeing a lot of on Instagram on TikTok? Kaufman suggests you start thinking about the architecture of your home and how you use it. If there's a room you use more frequently than others, like your kitchen, you might want to choose more neutral, calming tones to ensure peace of mind. But a guest room that only gets used once a year when your cousin comes to crash? That can be the room where you get a little creative. 
Both paint companies emphasized that their number one bestseller is, you guessed it, white. At Backdrop, the number one bestseller, both in their HQ location of Los Angeles and nationwide is Supermoon, which Ebel describes as a pure white. Without any cool or warm undertones, Supermoon is able to emphasize the natural color of the landscape outside, whether it be from terracotta roofs, the Japanese maple outside your window, or a bright accent door. 
Kaufman, in fact, advises that homeowners stick to white and focus the rest of their attention on bringing more of that natural light in by installing more windows. He also noted that there's a lighting innovation — we won't call it a trend— to be aware of: tubes. Solar tubes are alternatives to skylights, installed with a metal tube that extends through your roof. The sunlight moves through the tube and into your home using a reflective sheet metal that acts as a mirror. 
You might be wonder how paint colors affect the value of your home on the market — wouldn't an on-trend color help your home stand out in a sea of other homes for sale? Not so much, says real estate agent Nicole Beauchamp, with Engel & Völkers. "I find especially strong colors and accent walls can feel more overwhelming for a prospective buyer. When very strong colors are used, [the buyer's perception] is that the colors will be difficult to change." Buyers want to be able to see themselves — and their things — in your home, and nothing helps inspire their memory more than a neutral palette. If they have, for instance, a collection of vintage baby blue sofas for the living room, the last thing they'll want to contend with is a ruby red wall.
Ultimately, of course, the decision comes down to your own personal style and preference. If white walls don't reflect you and don't bring you joy, follow your heart and you'll be following the hottest trend of all: the one you set.