What the Word "Modern" Actually Means in a Real Estate Listing
We independently select these products—if you buy from one of our links, we may earn a commission. All prices were accurate at the time of publishing.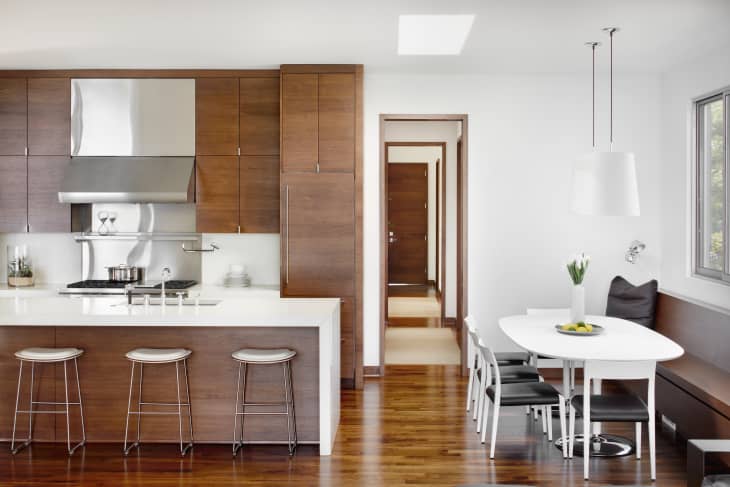 Raise your hand if this has happened to you: You read a real estate listing for a "cozy" apartment and think, "Ooh! I'd love to live in a quaint and comfortable home!" But when it comes time to see the space, you realize it's just uncomfortably small.
Follow Topics for more like this
Follow for more stories like this
Real estate is full of full of jargon. Often, positive-sounding words are just euphemisms for less-than-desirable characteristics. One of the more surprising ones? "Modern." Used liberally by real estate agents, this term does not always mean updated, new, and renovated—or evocative of Frank Lloyd Wright or "Mad Men." In fact, it's more likely a tad outdated or builder grade.
For starters, "modern" is intentionally vague and can mean wildly different things in different homes. For example, in a historically significant home, "modern" may imply that the home's historical integrity has been preserved, but that its systems (plumbing, electric, etc.) have been brought up to date, according to Mary Hall Mayer of Warburg Realty in New York City.
"But if a listing says, 'All appliances are modern,' what would that really convey to buyers?" asks Mayer. "Appliances that are 15 years old or two years old? Listing copy has to be more specific and detailed."
The term has different meanings to different buyers, says Paul Maranger and Christian Vernast of Sotheby's International Realty Canada. Therefore, expectations of "modern" can disconnect with reality. For example, Maranger and Vernast point out that the words "bright and modern kitchen" may translate into a 1985 European-style kitchen, as it's technically still usable for current needs.
"Modern" could also mean devoid of character and charm, says Charles Narwold of REAL New York. Often, they'll feel more like a hotel than home sweet home.
"I generally find that when it comes to new development rental buildings, 'modern' can often mean cookie-cutter," says Narwold. "A lot of these buildings are thrown up very quickly, and as a result, the apartments/buildings themselves aren't all that unique."
The moral of the story? If you want to live in a soulful home, not just a house, "modern" may not be the way to go.
More great Real Estate reads: