4 Home Remodeling Trends Contractors Secretly Hate
We
independently
select these products—if you buy from one of our links, we may earn a commission. All prices were accurate at the time of publishing.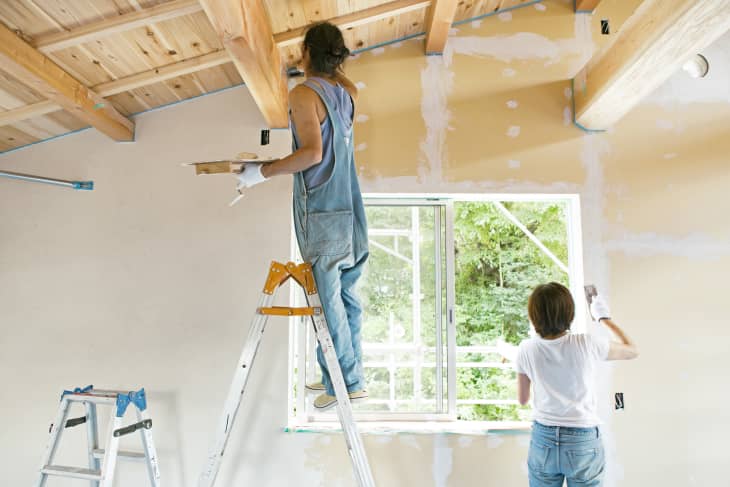 If you're planning any home upgrades in 2023, you might be considering incorporating some of the trends that designers say will be big this year, like warm minimalism and pink and red marble touches. Or you might have something totally different in mind that suits your own personal style — also a win!
Individuality is something design pros they want to see more of in the coming years, in both decor and other more lasting home features. So what if a certain paint shade won't exactly appeal to everyone with a pre-qualified loan? As long as the goal is to make your home reflect your tastes, updates are often for the better. 
But just because you welcome certain trends doesn't mean that contractors don't have opinions on how you go about implementing them. In fact, since many projects end up being a collaboration between these experts and clients, their thoughts can push you toward better results while saving you money along the way. 
"Renovating your home is a deeply emotional and invasive process where clients get to explore what they really love and hate about their existing spaces," says Gabriela Narvaez, founder and general contractor of Guild Properties. "My job is to not only create the spaces themselves, but to guide the client through the process in a gentle and loving way, so that any overwhelming feelings are minimized."
To keep nerves from getting out of control, and to get some insight into ideas that contractors would rather avoid, I asked three members of Matriarchy Build — a woman-owned business that has a national network of home reno professionals — to share which trends they secretly hate and why those trends can complicate the challenging world of before-and-afters. Read on to get the tea.
Working with a Contractor for an IKEA Kitchen
Narvaez knows that IKEA kitchens are popular, and has nothing against the budget-friendly brand in general — after all, many IKEA kitchen remodels can go head-to-head with high-end spaces. The issue surrounding IKEA kitchens has more to do with circumstances than anything else. 
"What clients don't realize about going this route to save money is that the labor and time associated with managing all the aspects of an IKEA kitchen — ordering, handling supply problems or things that are severely backordered, storing them, and assembly — gets really time consuming," she says. That can make those once-cost-effective cabinets climb in total price.
That said, you can totally make this work — it just might take some extra planning. To remedy any worst-case scenarios involving product delays, Narvaez recommends mix-and-matching items from the company with other sources or discussing timelines with the installers. Sometimes they'll be OK with dividing the project into pieces to work around shipping schedules; you might also be able to serve as your own general contractor and manage subcontractors (like plumbers, electricians, tilers, and more) to achieve the same.
If you have a place to keep the cabinets, the best option might be to plan and order your them well in advance of your project's start date. And assembling the cabinets yourself before a pro installs them could save you some extra money — just be sure to communicate beforehand so your pro knows what to expect when they show up for the job.
Cutting Corners on a Flip
Let's say you want to get into the home flipping business, and you bought your first property. You have a crew, a timeline, and a budget, but you're also new to the game. So, of course, things are bound to get bumpy and you may be tempted to ask pros to cut corners. In that case, leave Monica Miraglilo, founder and CEO of Girlbuild, out of it.
"As a contractor, I oversee all work being done on projects, and I was once hired to rehab a home," she remembers. "The owner wanted to do the project for pennies while cutting corners. I feel like if you want to rehab a home, you need to take it to the studs so you have a clean slate. That way it's more cost effective and the entire project moves faster. Needless to say, it took forever to do and then he realized he had to rip the entire place apart anyway. He wasted a lot of time and money!"
When you hire a contractor for this type of work, let them bring on their own crew, as Miraglilo would have wanted. It's also a good idea to set realistic timelines alongside a healthy budget, and — this shouldn't have to be said — to not ask other people to put their reputations on the line for you. "The number one conversation to have should be around a plan to follow," Miraglilo says. "That way you don't waste time or money, and you can avoid mistakes. It allows your contractor to deliver a solid product efficiently."
Painting an Existing Vanity
It is a truth universally acknowledged that a home in need of renovation must have a vanity in "good enough" condition. And many successful bathroom redos involve painting over a vanity to give it a whole new look — something that's often a viable option. But this is a project Narvaez turns down if the vanity is made of MDF rather than solid wood.
"What people don't understand is that painting over low-quality MDF panels and doors is that the paint will inevitably chip and peel in no time, which then becomes the installers' problem," she says. "But this is obviously not an issue when the material they want to reuse is high quality, like solid wood."
If sustainability is important to you, as well as shaving a few bucks off the final bill, consider upcycling a solid wood vanity from a thrift shop, consignment store, or Facebook Marketplace. Just be sure to chat the details over with your contractor first. "Sometimes reusing old vanities is not cost effective at all," Narvaez notes. "It's all about educating the client with the reality of the situation and giving them options that they can be comfortable with."
Ripping out Natural Stone
Trends come and go, and one of the materials Beth Pointer, the owner of Done Construction, sees in the "go" pile often is natural stone countertops. Personally, she wishes that clients would find another way to give their home more of an of-the-moment look. 
"That came from the earth and almost always won't be able to be reused," she says, noting she feels particularly bad about it when clients decide to rip it out of a home that's been recently flipped. 
Instead of dumping natural stone in the trash, consider ways to incorporate it into a design. Considering how quickly home trends cycle these days — remember spray foam decor? — your home's flavor of natural stone could resurface as an "it" material in no time. And until then, there are plenty of ways to update around large features like countertops so that you can refresh the look of your space without dropping tons of money.