What's the Difference Between a Renovation and a Remodel?
We
independently
select these products—if you buy from one of our links, we may earn a commission. All prices were accurate at the time of publishing.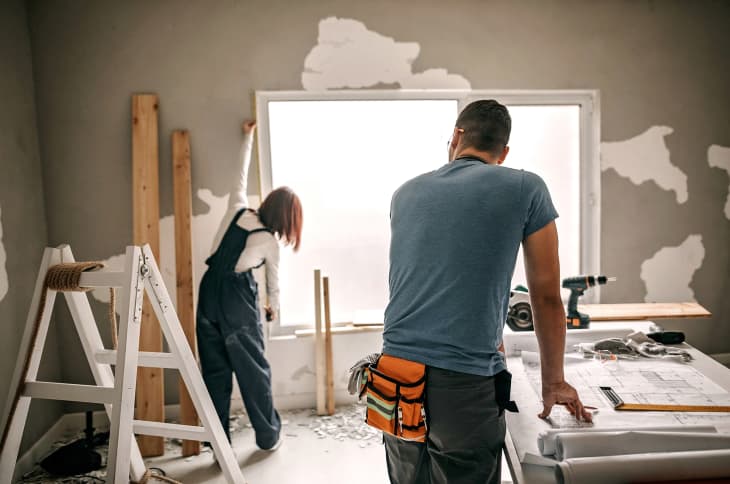 When my kids were young, I had a specific wish list of things I wanted in a house, including things like a first-floor laundry room and a flat yard where the kids could play. We managed to find a perfect-fit house that checked all but one of my boxes — but it usually doesn't work out that way. Most homeowners have to do at least a few renovating or remodeling projects to create their dream home, whether they're small (painting a wall) or large (gutting an entire kitchen). 
In today's limited market, you may have to stay or move into a house that doesn't suit all of your needs or requires customization. If so, you're probably considering hiring a contractor or doing a few DIY projects to renovate or remodel your house. Although these are familiar terms, what exactly is the difference between a renovation and a remodel — or are they the same? Below, experts weigh in on how renovating compares to remodeling, and how to decide between the two when determining what your home needs.
According to interior design expert Mariya Snisar, there are distinct differences between a home renovation and a remodel. It boils down to the depth of the project, and renovating a space involves making cosmetic changes.
"The focus of a renovation is to enhance the aesthetic appeal and functionality of a room without altering its fundamental structure or layout," says Snisar. She also notes that renovation projects are a popular choice to give your space a fresh look without the extensive time and financial commitment associated with a full-scale remodel. 
Examples of Renovation Projects You Might Take on at Home
Painting walls
Adding trim or molding
Replacing flooring
Refacing cabinets
Updating fixtures
Upgrading appliances
Refinishing flooring
Changing a door
Swapping out door or cabinet knobs and hardware
As opposed to a renovation, a remodel is a more extensive process, says Snisar. "It often entails significant changes to the layout or structure of a room or even an entire property," she says.
Remodeling is a comprehensive approach that allows a homeowner to have a more personalized space, producing a custom result. The end product is often a more impactful and dramatic transformation than simply swapping out paint colors during a renovation. 
Examples of Remodeling Projects You Might Take on at Home
Tearing down walls
Installing dormers
Adding an HVAC unit
Reconfiguring a room's floor plan
Building outdoor spaces, such as a patio or deck
Creating several rooms out of a large space
Kitchen and bathroom expansions
Finishing a basement
Replacing windows
Building an addition or adding a story
How to Choose Between a Renovation or Remodeling Project
Designer Elizabeth Vergara relies on renovations and remodels in her NYC-based design firm. She thinks that you should take both your finances and your overall goals into consideration when deciding between the two project types.
"If you're envisioning small changes to elevate your space, a renovation is a great option," she says. "However, if you're ready to embark on a major project and have the funds to do so, a remodel is the way to go."
Snisar agrees that if you're looking for a significant change, a remodel is the answer. "If you're seeking a transformation that goes beyond surface-level changes, a remodel might be the right choice," she advises.
According to Snisar, other considerations should be the structural integrity of your home and how much control you'd like to have. If you like the existing layout and want to update the aesthetics, she suggests planning a renovation. However, if you need to maximize your space, address structural issues, or improve functionality, a remodel will better suit your needs. 
Also, it's essential to consider the long-term benefits when deciding what type of project to begin. "A remodel can potentially increase the value of your home more significantly compared to a renovation," says Snisar.
Of course, you should factor your budget and timeline into the decision, as well. It's also important to consider whether the project is realistically within your DIY wheelhouse or whether you need to hire a professional. "Skilled contractors or designers bring a wealth of expertise to the project to guarantee efficiency, safety, and high standards," Snisar says, noting that professionals will ensure your project meets building codes (with which they're very familiar).

Ready to make the plunge into a renovation project or a full remodel? Follow these steps to ensure your home project stays on track.