These Are the Pros and Cons of Renting a Moving Container
We
independently
select these products—if you buy from one of our links, we may earn a commission. All prices were accurate at the time of publishing.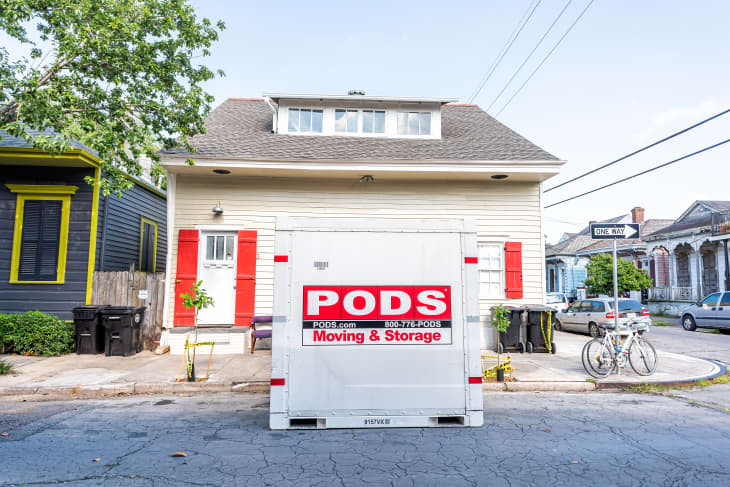 Moving can be a stressful and time-consuming endeavor. Even if you delegate the heavy lifting to professional movers, you still have the added strain of getting everything packed up and ready to go on a specific moving day — which can be difficult to plan given your schedule and the movers' availability. Moving containers, on the other hand, offer a flexible solution that doesn't involve driving a clunky rental truck or bribing friends with pizza and/or beer. 
The Advantages and Disadvantages of Moving Containers
Could one of those shed-like structures that you've seen sitting in a driveway or near a curb save you from moving day stress? Let's take a look at some of the pros and cons of moving containers, as well as get some advice about how best to use one from a moving and storage industry expert.
Pro: You Can Pack at Your Leisure
The major advantage of a portable storage unit is that you have it for a much longer duration — monthly rentals are common — than movers or a rental truck. Andrea, a Long Island resident, says using a moving container for her out-of-state move allowed her to get everything organized at a much slower speed than she would if she were on a moving truck's schedule. "Packing is the worst," she says. (I agree.)
Kelley, a resident of Portland, Oregon, works out of town for extended periods of time and will sometimes give up her apartment while she's away. She's rented a moving container a couple of times to make the temporary move less of a hassle. "It's great having it sit outside your door so you can load it up at will and then bring it back to you whenever you want," she says. 
Pro: They're Great for Temporary Storage
Moving containers aren't only for actual moves. Lisa, a Northport, New York, resident, hired a moving container that sat outside her family's house while an addition was being built. She liked that they could load it up themselves without having to hire a moving company, plus they could access all of their stuff at any time during the renovation without having to drive to a storage facility. "It was pricey, but worth it for the convenience," she says. 
Pro: They Keep Your Stuff Secure — and Close By
Moving containers revolutionized the industry by bringing the storage units to you, rather than you driving to them. They lock securely, so you won't have to worry about someone breaking in. They're also sturdy enough to withstand strong winds, so you won't have any "Wizard of Oz"-type issues where your container takes flight with all your stuff inside.
Pro: They're Great for Contactless Moves
The moving container industry may not have been preparing for a global pandemic, but its business model turned out to be ideal in the age of social distancing. No movers need to come into your house or touch your stuff, and the container gets loaded and unloaded by a truck and driver. Feel free to wave as they drive off, but that's as close as you'll need to get to another human on moving day.
Moving containers can save you money, particularly if you go with one of the smaller ones and you don't need to rent it for longer than a month. But if your stuff requires a larger container, you need to rent it for a longer period of time, or if you're moving far away, that's where the rental and transportation costs will start to rise. And since you're doing most of the work yourself, you might not be happy with this option.
"It was pricey to move [the moving container] to another state," Kelley says, "But honestly, I bet movers would have been just as bad." Andrea agrees that the cost of her moving container was the one drawback to her otherwise smooth out-of-state move. 
Con: They're a Bit Obvious
Moving containers can put a temporary damper on your home's curb appeal. Plus, if you're not willing to announce to the neighborhood what you're up to, moving containers probably aren't for you. If you decide to rent one, be sure that you also schedule its timely departure. One moving container customer noted that it took a month to schedule a pickup at the new house after she had moved in. Remember to get all loading and unloading dates on the books when you first set up the rental.
Con: You Do the Heavy Lifting
The beauty of a moving container is that you do it on your own at your own pace, but if you're not willing or able to put in some sweat equity, then it's not the right choice. Moving container companies can refer you to professional packing and loading companies if you need assistance filling your container, but those services come at an additional cost. 
Con: They're Not Ideal for City Moves
Parking is already at a premium for city dwellers, so unless you can get a permit for a moving container on the street, you'll need another plan. However, Red Rover Moving and Storage Solutions, a company founded by Peter Warhurst, the original creator of PODS, is once again disrupting the moving industry with fetchable storage that's perfect for city folks. Red Rover offers easy-to-drive trucks that have moving containers attached. You pick up the truck, fill it up the container, and drive it all away for the ultimate DIY move. 
Remember This Tip When Renting a Moving Container
It's fair to say that Warhurst knows a thing or two about storage containers, so when he offers moving advice, I'd put down the bubble wrap and packing tape and pay attention.
"The biggest fault I've seen over time is [customers] don't really fill the container," he says. 
Moving containers are meant to be filled from floor to ceiling. "Turn the mattresses up, take pillows and cushions and seat bottoms and shove them in any crack and crevice you can find," he says. "It really does fill the container and it stops stuff from moving."
This, Warhurst explains, is "absolutely the biggest thing" for securing your things when they're finally on the move.