I Found Something Even Better Than Hooks to Store My Reusable Bags
We
independently
select these products—if you buy from one of our links, we may earn a commission. All prices were accurate at the time of publishing.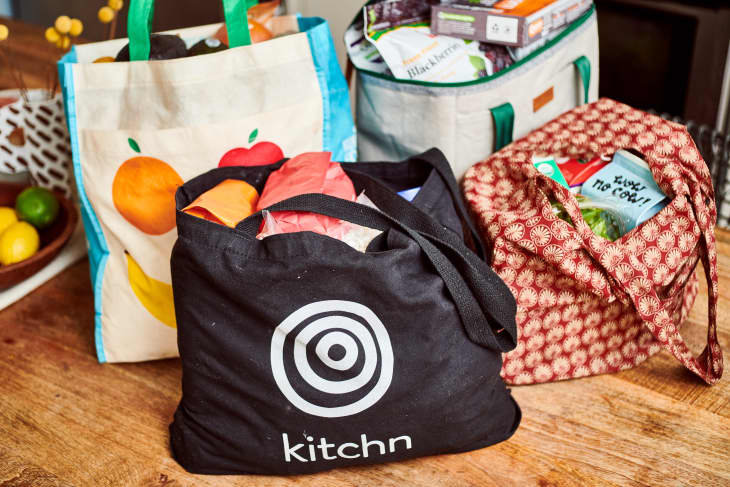 I write a ton about cleaning and organizing, but that certainly does not mean I have all the answers. But I do pay attention to organizing strategies — and just might get a touch more excited about innovative storage solutions than the average person. What I'm talking about is lidless storage bins set on their sides on a shelf or on top of a garage storage bin.
One of my recent storage puzzles is related to my collection of reusable bags. I have a robust collection because, I admit it, I have a bag problem. Not only do I fall for any useful and cute travel bag, but I simply cannot resist a practical yet charming canvas bag (have you seen Trader Joe's new pickle and waffle bags?!) or cooler bag. Anyway, my family had our bag stash hanging on a large hook in the garage. Some of the bags were hung individually, and some were stuffed inside others.
What's It Like To Have Many Reusable Bags
But none of the bags were easy to grab. Any time I needed one, I'd wrestle and reach and get so frustrated. I recently discovered a super practical solution using items I already had on hand. It allows me to reach exactly the bag I want in an instant, with zero shuffling or grumbling. And it's one of those storage solutions that's visually pleasing, too.
The answer to the question of how to make a collection of reusable bags orderly and accessible lies in lidless storage bins set on their sides on a shelf or, in my case, on top of our garage storage cabinets. Folding rather than hanging the bags allows easy access to each individual bag without having to get tangled up in them.
Tips on Folding and Filing Your Bags in Bins
Purge before you store. No sense in storing bags you never use!
Tuck straps into each bag before folding.
Fold the bags into the same size and shape, as much possible.
Stack small bags on top of each other.
Fold larger bags, such as cooler bags, in half and insert vertically into bins.
Remember to wash your reusable bags periodically.
Taking a little time to set this up will make your life SO much easier in the long run — especially when you're running out the door in a hurry.