This $30 Home Depot Closet Hack Is the Best Small Space Idea I've Seen Recently
We independently select these products—if you buy from one of our links, we may earn a commission. All prices were accurate at the time of publishing.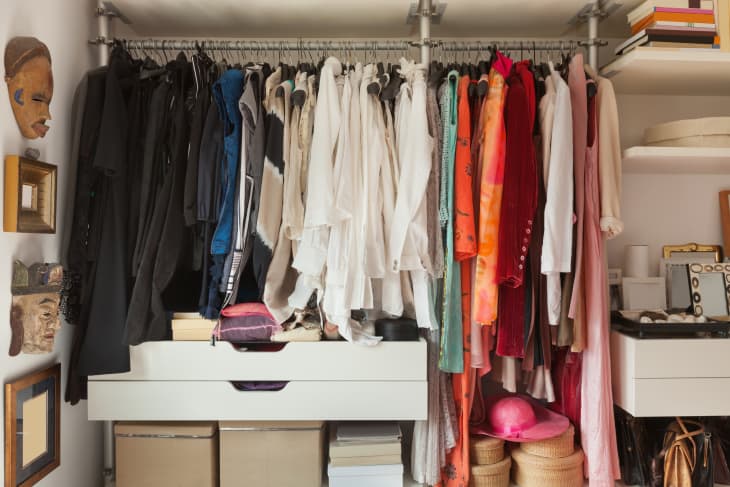 You know that scene in movies when a lead character has to pack for some glamorous, last-minute trip, and in the background, it looks like a dump truck has unloaded heaps of clothes on their bed? Well, that's me (minus the glamorous trip part). Luckily, Instagrammer Sara Charlesworth from Chalk White Arrow gave us a super-smart, budget-friendly idea for packing and #OOTD planing: an extra rail hung over her bedroom closet. 
Follow Topics for more like this
Follow for more stories like this
The brass rail in Charlesworth's home is actually a modest pipe from The Home Depot similar to this style and paired with 1-inch ends found online as well as brackets for mounting. You could also try a curtain rod and mounting hardware, if you're looking for something a little bit wider that spans the width of a larger closet. For something a little more decorative, Pepe & Carols make other rail options you can shop. Whether you go the DIY route or opt for something a little more readymade, a rod above your closet provides additional hanging space for "laying out" your clothing for the next day or trip packing. Depending on the closet's height (and your own), you could even use the rail as a handy space to hang your clothes as you steam them.
Aesthetically speaking, a rod installed in this spot adds a bit of shine to a room and draws the eye upward, an age-old small space hack for when you have shorter ceilings. If you're really tight on closet space or don't have a closet at all, this area could give you a tiny bit of hanging room as well, though without doors to conceal your pieces, you'll have to be pretty discerning about what you chose to hang in this spot.
Another thing I love about Charlesworth's idea has to be its ease and affordability. In under an hour and for less than $30, you've got an elegant, functional closet addition. It has me thinking, where else might a rail be of use around the house? Scouring Charlesworth's swoon-worthy Instagram page, I spotted some more ideas: She used a similar rail in the kitchen and paired it with S-hooks for easy access to cooking essentials.
I'm going to give this hack a try, and hopefully, my days of chaotic packing will come to an end. Who knows? You may see me strolling the streets in Paris in the chicest, wrinkle-free, and weather-appropriate ensemble someday soon. At the very least, my bedroom will have a little extra sparkle and shine.