The Chic, Portable Clothing Steamer My Friends Always "Borrow" (Bonus: AT Readers Get an Exclusive Discount)
We independently select these products—if you buy from one of our links, we may earn a commission. All prices were accurate at the time of publishing.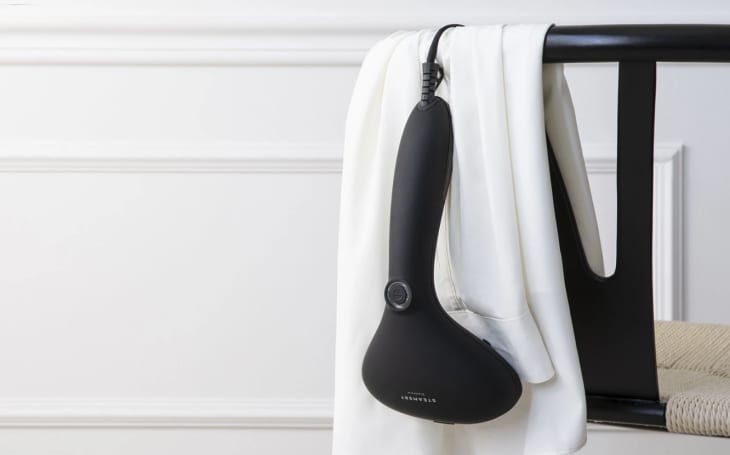 Let me start by saying (admitting, really) that even though I've been legally an adult for a decade, I only started taking good care of my clothing and linens this year. If you've been following my foray into wearing and maintaining high-quality clothing, you know it's largely guided by my fashion producer housemate, so it goes without saying that we've had a number of steamers lying around the house during our time together. That said, they've all been upsettingly industrial looking and clunky, which wasn't going to fly for much longer in our small apartment. Since they're one of the most used essentials in our home, steamers are often left out and thus seen, so it's imperative that even our laundry devices both look good and do their jobs.
I first saw STEAMERY Stockholm's Cirrus No. 2 steamer during one of my regular scrolls through my favorite online marketplace (shout out, GOODEE). Draped over the back of a chair, it seemed purposeful in its display, and the matte surface looked like it would be easy to handle. So, I put it to the test. First impression: This steamer is almost too good looking to store away (even though it does come with its own waterproof carrying case). It's also soft to the touch, discreetly ergonomic and comfortable to hold, and simple to use. What really makes all the difference, though, is its superlative functionality.
Follow Topics for more like this
Follow for more stories like this
Imagine a steaming session that doesn't involve spitting or sputtering, surprise burns to your hands and arms, or loss of steam altogether if your device is angled even slightly in the wrong direction. The Cirrus No. 2 produces even, consistent steam in less than a minute and has an auto shut-off feature that's triggered when it's set down — no need to turn it off and on each time you adjust your garment. Plus, it fits 90 mL of water, which is more than enough to tackle an entire load of delicates.
Even though the Cirrus No. 2 boasts a full-sized steamer head with generous liquid capacity, it's also designed with travel in mind. Even when I put mine away without fully emptying it, I've yet to experience even a single rogue droplet when I store it in its bag and break it out to use again. And when it comes to safety, getting the job done, and toting it around, I trust this steamer more than any other I've tried. (I'll always advocate shopping GOODEE first, especially since AT readers get an exclusive 10 percent discount with code ApartmentTherapy10, but if you've already got a digital cart going at Amazon or Food52, the Cirrus is also available there, too.)
I use the Cirrus to de-wrinkle clothing, loosen stains for easy laundering, disinfect surfaces, and clean mirrors. It's the easiest way to get linen, silk, and other hard-to-clean textiles looking and feeling fresh again without dry cleaning. And since I leave the steamer out in the open for all to see, I only have myself to blame when my friends and family constantly want to "borrow" it. It's a seriously versatile tool, to say the least — and my equally picky housemate agrees.

Buy: STEAMERY Stockholm Cirrus No. 2, $130