Sarah Paulson's 500-Square-Foot Malibu Home Reminds Her of a Book Nook
We
independently
select these products—if you buy from one of our links, we may earn a commission. All prices were accurate at the time of publishing.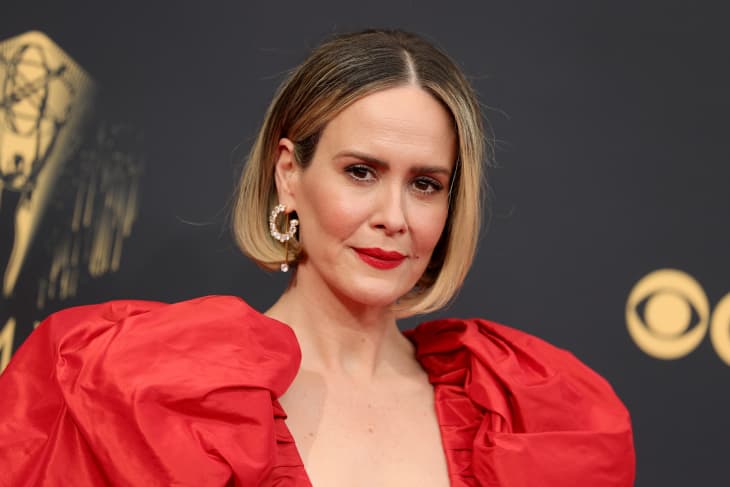 In a recent tour with Architectural Digest, Paulson shared a peek inside her 500-square-foot beach getaway in Malibu, California. Although the actress has a residence in Los Angeles, purchasing the home was a result of a cheerful walk near the beach with her dog. 
"The cliffs and the water and the light were so beautiful, and my dog went bananas," she told AD. "The ocean never called to me. I'm the person who's afraid there's a shark in my bathtub. But the beach was stunning. How did I live here for so many years and not understand the beauty of the coastline?"
Deeming her a "brilliant genius," Paulson tapped interior designer Amy Kehoe for decorating the home, and you'll quickly notice that the store that Kehoe co-founded, Nickey Kehoe, furnishes many things in Paulson's home. Jeff Spiegel of Heartwood Construction + Design also assisted with the home's cozy transformation.
While touring her bathroom, Paulson shared some handy advice for decorating: you should always be surrounded by your favorite color. And it's apparent in her bedroom, bathroom, and patio. There's hints of a royal, eggplant purple (Paulson calls it aubergine) throughout the small space, including the Idarica Gazzoni wallpaper. 
"Sometimes I like going hard with color and depth in a small space," she said to AD. "I think the texture of it and everything just makes things feel kind of womb like and cozy which, if you ask me, that is a lovely feeling for a bedroom."
"It feels like being in a little book nook or something with beautiful touches," she added.
As Paulson showed off her living room, she introduced the space by noting that it is "really tiny" and shared that the room's sofa – decorated with a handwoven fabric by Pat McGann — was created just for the home's small size. 
"This sofa [is] also custom made for the space because, as I said, everything is so incredibly small here," Paulson said. "There was no sofa on the market that I liked well enough to serve my Malibu getaway."
According to Paulson, her illuminated kitchen is her favorite spot in the three-room home, calling it "airy, open, and light." She also mentioned her obsession with the kitchen's marble countertops, and after the video pans to show the veining's hint of seafoam green… it's clear why. Throughout the kitchen, there are golden accents in the wall sconces, drawer knobs, faucet, and picture frames.
After calling the controversial sliding barn door a "dreaded" choice, Paulson said that she swapped out a traditional door for a curtain from Nickey Kehoe. Her bedroom, in which every single thing serves "a very specific purpose," is nicknamed a "ship's cabin" for its tight, quaint size. 
Paulson's bathroom is filled with floor-to-ceiling pink tiles. Arguably, the Italian rock crystal sconces are a literal and metaphorical way to light up the bathroom and complement the room's calming ambiance.
As if the rest of her home wasn't cozy enough, Paulson's charming patio is a place for her to sip tea and unwind. While entering the backyard, the ivy-covered wall automatically catches attention and was conveniently already there once she moved in. There's even an outdoor shower to wash your feet after a nearby walk to the beach.
Compared to a one-bedroom apartment in New York City, the star surely has fit a lot into her small space. Between her choice for a bold, regal shade of purple and intentional purchases for fitting furniture, it's no wonder that Paulson's home is as beloved as her personality.