Some People Don't Want Heirlooms, but I Spent $1,000 to Keep One
We
independently
select these products—if you buy from one of our links, we may earn a commission. All prices were accurate at the time of publishing.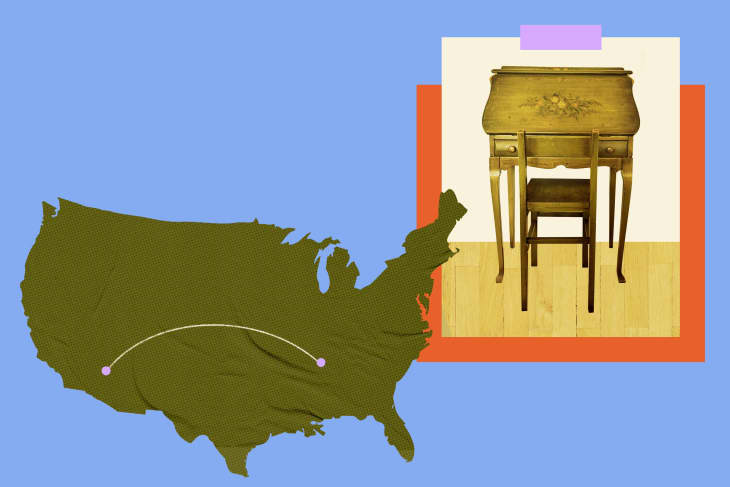 Recluttering is a celebration of your stuff — stuff that you just want to hold on to, stuff that makes you happy, stuff that makes you feel nostalgic for a moment, a memory, or a loved one. We're sharing stories from people about their collections, heirlooms, and more. Head here to read them all!
Our dining room is filled with the heft and history of a solid wood dining table that was custom made for my grandparents and brought across the country from California to Georgia when I got married. 
The wood gleams, even though the high-gloss varnish is beginning to crack in places, and I like to imagine it glints with the remembered laughter of hundreds of family celebrations that took place with my loved ones sitting around it. It was at that table that my mother and her twin celebrated their Sweet 16 and, decades later, my own sister snuck her shrimp cocktail to me during appetizer courses at our grandparents' house. It's a one-of-a-kind, irreplaceable heirloom and one of my most prized possessions. 
In the living room adjacent to the dining room sits the newest addition to my small but meaningful collection of prized heirloom furniture: a diminutive green secretary desk with the tiny green chair that goes with it. Family heirlooms are typically free and, actually, there's usually an excess of items that nobody wants that the family is saddled with getting rid of. I also realize, from experience, that holding on to too many things that belonged to family members who are no longer with us can lead to clutter that's really hard to get rid of because of its sentimental value and history. Sometimes, though, a certain heirloom means so much that it's worth a great deal of effort and a significant sum to hold on to. That was the case with this little desk. 
Over the summer, my mother's cousin, who lived in Arizona, passed away and we had to decide if there was anything of hers we wanted to keep. Immediately, I thought of the desk, which I'd always loved, but when it came to obtaining it, things were complicated. We found out about an estate sale that was occurring in two days, giving us barely any time to arrange how to see or get any items we wished to keep. I actually found the sale listing online and seeing so many items that had surrounded our childhood gatherings splayed out for sale to strangers was pretty upsetting. 
Thankfully, we were able to get in touch with the person running the estate sale, who said she "might" be able to get the desk (and a couple of other items) before the sale began. We were so relieved when she was able to get her hands on them before they were sold. She was kind enough to arrange for shipping the items, but there was a catch: I'd have to pay the shipping costs. 
To package the desk and have it FedExed from Arizona to Tennessee cost a whopping $1,000. It was a big pill to swallow. But when the desk arrived and I unpackaged it and set it up gingerly in the corner where I'm convinced it was meant to be, I knew I'd done the right thing. Even though I'd added another "thing" to my house, this desk that I'd admired so much when I was a child felt like it belonged with me. Looking at the desk now makes me feel connected to my past and makes my home feel so much more like mine. 

The desk represents such an important piece of our family's history: My great-grandmother had brought it on the ship with her when she immigrated to the United States from the Netherlands. It had been in San Francisco for about 90 years and I first remember seeing it in my great-aunt's bedroom, in the house where the kids got to sit at the adult table for Christmas Eve and I watched my grandmother beat everyone at charades. The desk then moved with my mom's cousin to Arizona for another 20 or so years. 

Now it sits quietly, full of meaning — its history a part of mine and its story being continued in my own family's home.