Scott & Kristan's Inspiring Arts District Loft
We independently select these products—if you buy from one of our links, we may earn a commission. All prices were accurate at the time of publishing.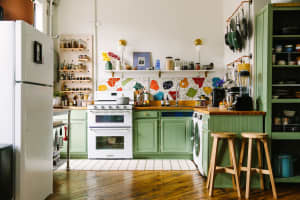 Can't-Miss House Tours Straight to Your Inbox
Keep up with our latest house tours each weekday with our House Tour of the Day newsletter
Name: Scott Jarrell and Kristan Cunningham, owners of Hammer + Spear
Location: Downtown Arts District; Los Angeles, California
Size: 3,500 square feet
Years lived in: 4 years; Rented
Follow Topics for more like this
Follow for more stories like this
Kristan and Scott's showroom Hammer + Spear has been a fixture of the DTLA Artist District for the past year. Their store is perfectly edited and styled with unpretentious perfection, so it's no surprise that their home is a wonderful mixture of smart DIY solutions and collected vintage charms.
Kristan reminisced about meeting Scott 16 years ago at a Super Bowl party and said it was love at first sight…and a great stylistic match. "Our aesthetic is the result of living in a multitude of different architecturally styled homes. We've lived in a Buff and Hensman in Pasadena, a faux Normandy on the canals in Venice, and a storybook revival in the hills of Los Feliz — to name a few. Each time we moved, our favorite pieces from that home would make the cut and move with us. The result is a mix of styles, periods and materials, bound together by a neutral color palette. As we've gotten older, lived part time in New York, and bounced between East and Westside, we've learned the importance of neighborhood. You can buy the sickest house, but if your neighborhood sucks and the people around you are boring, your life becomes stale. We can turn any shelter into a pretty home, but finding the right hood changes everything. Our aesthetic has become more casual as we've adapted to a more casual lifestyle."
Their loft functions as a space to entertain, host out of town guests, and and also as a workspace for their design firm. Maintaining a home that is not only beautiful but a space for friends to make themselves cozy is one of their main goals. For Kristan and Scott, if their friends feel comfortable enough to put on a record and curl up with a glass of wine on their Chesterfield, they feel their job is done. "For us, it's comfort and vibe. We love it when people immediately feel at home in our space."
Apartment Therapy Survey:
My Style: Collected, personal, dog Friendly.
Inspiration: Roman and Williams, the best husband and wife team in the game.
Favorite Element: Leather and chrome dining chairs by Mariani for Pace.
Biggest Challenge: Making a 3500 square foot box seem proportional and cozy.
What Friends Say: Our friends have always tried to buy our furniture and belongings. "Just sell it to me. You'll find another one." is a common plea. It actually inspired us to open Hammer & Spear.
Biggest Embarrassment: Our design firm operates out of the loft and the dining table is mission control. Its always a mess of Macbooks, product samples and empty Health Ade Kombucha bottles. The clutter drives Scott crazy.
Proudest DIY: Our room dividers were created using gondola shelving salvaged from a Wal-Mart. We trimmed it out using 2×4's, painted it black, and added vintage art lights.
Biggest Indulgence: 15 years ago, we made our first major purchase from an interior designer whom Kristan was assisting. She sold us the antique french wine tasting table in the middle of our space for a staggering $500. It felt like a very grownup splurge. It sits center stage in our vast space and still fells like the fanciest thing we own.
Best Advice: Take your time.
Dream Sources: Our favorite aspect of "picking" is the stories you acquire along with the product. I would love to take a few months to go picking in Europe. I can't begin to imagine the stories we would collect.
Door Casings: Behr, Olive Leaf
Doors and Windows: Behr, Broadway
Entry Wall: Behr, Thorny Branch
Vintage Trunk, Melrose Flea Market
Vintage African Rug, Ebay
Lava Lady Photograph, Artist Unknown, Gift from Friend (side note- Kristan is obsessed with the Lava Lady)
Swiss Military Map Basket, A Gift From Momma Jarrell- West Virginia Antique Shop
Antique Wooden Tool Box, West Virginia Antique Shop
Large Striped Rug, Ebay
Antique Wine Tasting Table, Hustled from the Boss Lady
Black Pot with Branches by Conrad Buff, Acquired from the Buff and Hensman home we owned in Pasadena (even though we should have been nice people and left it for the new owners… hope they don't read this!)
Iron and Leather Stools, The Market, Brunswick, GA
Wooden Game, Todd Sanders
Vintage Lights on Posts, Ebay
Vintage Military Cots, Acquired at separate estate sales
Stacked Wine Barrels as Planters, Lowe's
Eames Chair, DWR
VintageChapman Brass Tortoise Sconce, Estate Sale
Vintage Striped Runner, Melrose Flea Market
Pool Table, Craigslist
Pool Table Light, Brothers of Industry
Hanging Rattan Chair, Some Thrift Store in Pittsburgh
Brutalist Lamp, Rose Bowl Flea Market (shade from Restoration Hardware Outlet)
– Obelisk Lamp, Purchased at Auction (shade from Restoration Hardware Outlet)
Brass Stag Tables, Thrift Store, somewhere deep in the Valley
Black and White Abstract Painting, Artist Unknown, Estate Sale Find\
Kiyoshi Saito Woodblock Print, Estate Sale Find
Heywood Wakefield Chaise, Lawson Fenning
Rosewood Coffee Table, Gift from our Danish Furniture Dealer Friend
Boat Chain Table, Old Goode Things at the Santa Monica Flea Market (their stuff is cheaper there)
Armoire, Oasis in Malibu
Vintage Beni Ourain Rug, 1st Dibs
Sectional, Orange (Purchased as a floor model, 10 years ago and have reupholstered several times since)
Vintage Paul Kingma Coffee Table, Estate Sale Find
Vintage John Widdicomb, Honeycomb table, Palm Springs Consignment Shop
Iron Base end Table, World Market
Vintage Black Leather Danish Chairs, MidcenturyLA
Teak Wall Unit, MidcenturyLA (we added teak veneer to the backs for amore finished look)
Mariani for Pace Chairs, Online Auction
Table, Vintage from Room 107 (the shop the Lawson Fenning guys owned before there was a Lawson Fenning!)
Overhead light, Restoration Hardware Outlet
Vintage Neutral Landscape Painting, Funnel (sadly, now closed vintage shop)
Brass Touch Lamp, Casa Victoria in Silver Lake
Desk, Purchased on Kristan's first Buying trip 15 years ago when she was a showroom manager 15 years ago
Lucite Stool, Ebay
Silver Ice Bucket, Wilshire Grand Liquidation Sale
Dry Erase/ Black Board, BillyBoardsmfg.com
Vintage Overhead Chicken Feeder Lights, Brothers of Industry
Vintage Rug, Wertz Brothers
Vintage Settee, Goodwill (we reupholstered)
Vintage Table, Rose Bowl Flea Market
Vintage Blanc de Chine Lamps, Craigslist
Burlap Shades, Target
VintageCulver City Operator Print, Long Beach Flea Market
Leather Pulls, Scrap Pieces and Rivets from SavMor Leather
Pair of Paintings, Pasadena Thrift Store
Vintage Piston Wine Opener, Chelsea Flea Market
Pair of Vintage Brass Beds, Craigslist
Bedding, Rachel Ashwell for Target
Striped Bolster, Kristan made
Skull Ink Drawing, Estate Sale
MP Bike, Felt Bicycles
Dropcloth Enclosure, Jill's Paint's, Atwater Village (their drop cloths are the only ones that don't look grey and hideous. wash once, lay out to dry, and they're wonderful. the perfect warm linen color).
Nightstand on Left, Wertz Brothers
Nightstand on Right, Ballard Designs (Terrific Trio, Burlap Skirt)
Folding Screen, Stock Hollow Core Doors from Lowe's (they were already primed the perfect off-white)
Iron Stand, H.D. Buttercup
Blanket, Pendleton Outlet in Lake Arrowhead
Black and Cream Dash Pillows, Made by Kristan
Bedside Lights, Anthropologie (one purchased in store for full price, one purchased on Craigslist for $10)
Mastercraft Cabinet, Craigslist
Center Dresser, Craigslist
Dressing Table, Orange (Was our dining table in Pasadena years ago, before we put casters on it and drilled a hole in it for a mirror)
Vintage Military Filing Cabinets/ Makeup and Jewelry Storage at Dressing Table, Wertz Brothers
Vintage Bread Cart/ Shoe Storage, 88 Store Fixture
Mirror, Restoration Hardware Outlet
All Copper Elements, Made by us with off the shelf parts from Home Depot
Vanity, Pasadena Architectural Salvage
Shameless Ripoff of BDDW Mirror, IKEA (Painted black and hot glued with belts from Goodwill).
Ghost Car Art, Long Beach Flea Market
Photo of Hasil Adkins, Gift from Photographer Beth Herzhaft
Oil Painting of Priest, Chelsea Flea Market
• HOUSE TOUR ARCHIVE: Check out past house tours here.
• Interested in sharing your home with Apartment Therapy? Contact the editors through our House Tour Submission Form.
• Are you a designer/architect/decorator interested in sharing a residential project with Apartment Therapy readers? Contact the editors through our Professional Submission Form.
Updated daily with fresh tours full of photos for you to pin & enjoy!