Scott & Jessica Merge Their Styles With Ease
We independently select these products—if you buy from one of our links, we may earn a commission. All prices were accurate at the time of publishing.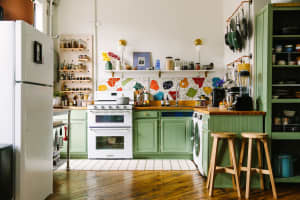 Can't-Miss House Tours Straight to Your Inbox
Keep up with our latest house tours each weekday with our House Tour of the Day newsletter
Name: Jessica & Scott O'Brien
Location: Robertson / Pico area — Los Angeles, California
Size: 750 square feet
Years lived in: 3 years — rented
From my own experience, moving in with your significant other can be tricky, especially if your decorating tastes are not aligned (we're polar opposites). But what I absolutely loved about Scott and Jessica's home is how they seamlessly managed to display one another's interests through the decor. And although the couple is still in their newlywed phase, their deep, mutual respect is reflected throughout their inspiring home.
Los Angeles was experiencing its first of many rainy days when I stopped by Scott and Jessica's home to take photos. And while the sky was gloomy, the atmosphere indoors read cozy and warm. The pair took time away from their busy work schedule to welcome me; Scott owns The Green Life in Santa Monica and Jessica heads up marketing for fashion and retail events in addition to keeping up her own fresh blog. It's apparent that the twosome have a background in all things home–leaving me a tiny bit envious of their put-together style. My favorite spot hands down is the chic and polished office space (I'm a pushover of all things striped). I also loved the repeated glass elements found in the magazine organizers and card containers which echo the large desktop beautifully. A few pops of bright orange color from the flowers and framed concert posters balance the classic office space.
Apartment Therapy Survey:
Our Style: Mid-century modern with a touch of hippie chic + punk rock. My main goal is that it looks like "us." No matter what style, I strive for it to always have pieces of Scott's Cleveland roots + love of music, and my love of big-city glamour + flea market adventures.
Inspiration: Fashion. Los Angeles street art + city living in general. "Domino," Lonny.com, + Apartment Therapy.
Favorite Element: The pieces that have a story, such as thrift store and flea market finds or special artwork. For example, when I asked my best friend (whose zodiac sign is the Cancer / crab) to be my maid of honor, I gave her the "Battlecrabs in Love" print + purchased one for myself as well. Similar to an old-school friendship necklace that little girls wear, we each have a piece. I also cherish the framed note from our upstairs' neighbor, Jacob, a 95-year-old man. After getting our marriage license, he wrote this one about getting his own, 68 years prior.
They're beautiful on their own, but being able to look at them and have a memory connected, especially with someone we love, gives them so much more depth and significance.
Biggest Challenge: Reeling in my perfectionist tendencies. I'm likely to hold onto a "so-so" piece while holding out for a "perfect" replacement. I could more easily complete my vision if I settled for a "good enough" or even "great" one, but I don't let myself. In the end I'll be happy, but it's annoying to see spaces I design for clients + friends, come together quicker than my own!
What Friends Say: It's "grown-up"
Biggest Embarrassment: Any of the art "without soul," as I put it, meaning mass-produced prints or those from IKEA. Now I only buy vintage works or emerging artists I can afford. Also, since we cancelled cable TV, the huge flat screen is a bit ridiculous.
Proudest DIY: I view myself as pretty crafty, but there aren't many DIYs around the apartment! I do think the sideboard in the dining nook was a good fix-up. I found it in my apartment complex's laundry room, being stored in the corner, covered in dust. After leaving a note on it, my neighbor sold it to me on the cheap. A good clean-off + new knobs and it looks like something I'd buy new!
Biggest Indulgence: The most expensive piece is the couch, but I found that more a necessity than an indulgence. Otherwise, nothing "indulgent" – I fully believe investing in creating a beautiful, functional, happy home is worth every penny + bit of effort.
Best Advice: That I've received? "Design for your life." I'm often tempted by gorgeous magazines + design blogs but in the end, we live here + I want it to be comfortable + functional. If I stray from that, my husband definitely makes it heard that I need to come back over to the more practical side!
Most of the beautiful visual elements still have a functional purpose, such as the decorative boxes on our console table behind the couch – the bowl holds BAGGU reusable shopping bags (to grab as we head out the door), while keys + quarters (for laundry), are stowed in the box.
Dream Sources: A larger bank account! Or, pieces from my late grandma's home, which I sadly didn't understand the value of when they were let go.
• Mirror: Crate & Barrel
• Console Table: CB2
• Couch: Room & Board
• TV Stand & Coffee Table: IKEA
• Ottomans: Crate & Barrel
• Herb Garden: Potting Shed Creations from The Green Life
• Art: Blue Horse Batik, thrift store; "Battlecrabs in Love" by Tugboat Printshop (available on Etsy.com); "Frankly" by Sue Beyer (via a now-defunct Etsy.com shop)
• Chairs: IKEA
• Sideboard: vintage by Harmony House – a line from Sears produced mid-century
• Paint: Benjamin Moore "Kingsport Gray"
• Artwork: "white with red no. 2" by W. Levi Meyers. I found this work by reading his girlfriend's blog, where she featured it. After commenting, I met them at a coffee shop + bought it on the spot!
• Table: CB2 Silverado
• Clock: Z Gallerie
• Dresser: Floor Plan on West 3rd St, Los Angeles
• Rug: IKEA
• Chairs: Craigslist, soon to be reupholstered
• Artwork: Yeah Yeah Yeah's gig poster, The Heads of State; Sun Kil Moon gig poster, The Small Stakes; "Half 09" print by Patrick Andrew Adams from Etsy.com
• Bedding: Coyuchi Ivory Duvet Cover, The Green Life
• Nightstand (R): second-hand from Melrose Trading Post
• Lamps: Target
• Mirror (on credenza): Homegoods
• Artwork – Above Bed: "Everything Is Going to be Alright" photograph, my own; moon photograph, Stefan Kloo / "Lord Jim" on flickr.com; metal crest, vintage from flea market; painting, vintage from Long Beach Flea Market; Gyotaku fish rubbing, Barry Singer / "fishfanatic" on Etsy.com; "Unreal" by Michael Cole / "mikecole" on flickr.com; red woman, unknown postcard; "And all the things I used to see." by Michael Cole / "mikecole" on flickr.com; "Ball of Twine" print by Roy Lichtenstein; pen drawing, unknown, from garage sale
Thanks, Scott and Jessica!
• HOUSE TOUR ARCHIVE Check out past house tours here
• Interested in sharing your home with Apartment Therapy? Contact the editors through our House Tour Submission Form.
• Are you a designer/architect/decorator interested in sharing a residential project with Apartment Therapy readers? Contact the editors through our Professional Submission Form.