I Sent a Stager Photos of My Entryway — Here's What She Said to Toss
We independently select these products—if you buy from one of our links, we may earn a commission. All prices were accurate at the time of publishing.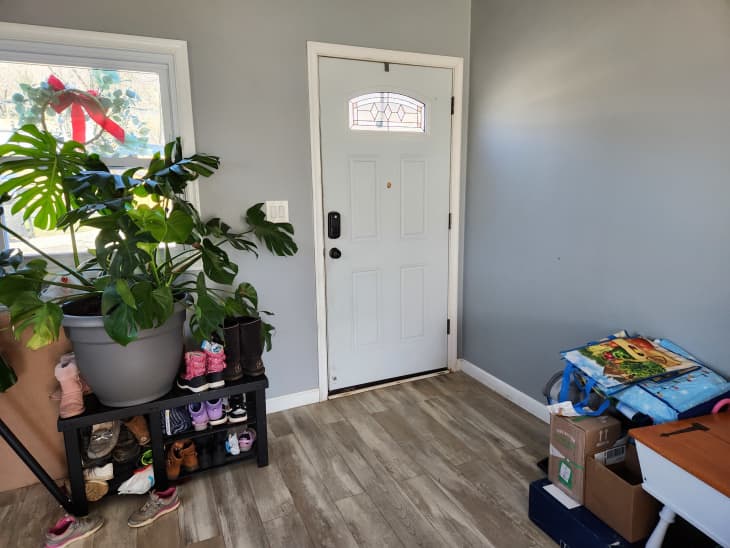 As I get ready to list my home for sale, I find myself looking around at all the areas that could possibly send potential buyers running the other way. And while there are only a few genuine areas of concern — our creepy unfinished basement among them — I keep coming back to our (lack of an) entryway and how I could possibly make it look more enticing to house hunters. 
Our front door sits in the middle of our living room with no built-in storage anywhere near it, so I came up with what was meant to be a temporary fix years ago and bought an open shoe rack. But now that we're getting ready to sell, I know I need to up my game to make the next family feel like they can put the space to some serious use if they decide to buy. 
To get a better idea of just how to do that, I sent interior designer and home stager Francesca Grace two photos and asked her what I needed to do. Here's what she said.
When it comes to storage in an entryway, Grace says her first suggestion is always to switch to an enclosed storage solution and take advantage of any corners. "What you have now under the window is too small (which you know, of course), so getting a cabinet that fits the width and height of that entire wall under the window would feel better in the space and also offer more storage," she explains.
For shoe storage (our family's biggest issue), she says you can't go wrong with a cabinet that doubles as a bench, as it makes putting on and taking off shoes as soon as you enter or leave the house a breeze.
Take the rest of the storage vertical.
I clearly don't have much floor space to work with, which is why Grace says I should look at the real estate above the floor. "For the other wall, because the door opens to that wall, you don't want to place any obstructive furniture. So I would suggest wall hooks," she says. "They won't be in the way and you can have fun with the many options of different styles to choose from."
If I wanted to skip the potentially cluttered look of wall hooks (hanging coats or backpacks for three small children and two adults would definitely make it more obvious how little space there is there), she suggests options for an entry console with baskets instead. "Place a nice large mirror on top to make the space feel larger, and a table lamp to add some character and warm lighting."
Dress it up without cluttering it up.
Since we hope to sell sometime this summer, keeping the area clutter-free is a must, which is why Grace says we should stay on top of keeping anything that can be tucked away out of sight. "Add small decorative touches, like pillows on the storage bench, and flowers on the entry console," she says, adding that we should remove any personal items like family photos or accessories. "Keep it simple, depersonalized, and free of any heavy furniture."
While I was hoping to avoid buying anything for staging purposes, I think the shoe bench is going to be a must-have. Not only will it make the space look more open, but it will also help us stay on top of our clutter until we move, which will make life easier on all of us for the next few months!