A Look at the Haunting Aquatic Spaces of The Shape of Water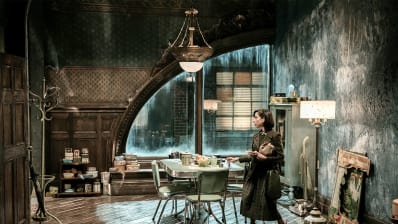 (Image credit: FOX Searchlight)
The Shape of Water—Guillermo del Toro's latest film and nominated for seven Golden Globes—is a modern aquatic fairy tale, the story of a mute woman who falls for a fish-man. Set against the backdrop of the Cold War, the interiors provide a peek into the past, the past's vision of the future, and insight into its memorable characters, who struggle daily with the injustice in being any kind of an Other. Elisa is unable to speak and her friends are not allowed, but love and defiance trickle and flood in-between the cracks and canals: the places these monsters and men inhabit speak of quiet, romantic revolution.
(Image credit: FOX Searchlight)
The Apartments
Our central protagonist and her close companion live above a movie theater. Already a temple to escapism, the cinema resembles a church — a place that can mean transformation and possibility, or repression and fear. Their cozy domiciles butt up against each other at quirky angles: Elisa's spare existence contrasting with Giles' passion for camp and flash; her furniture and decorations are minimal, while he fills his space with fashion magazines, art books, and cats. Although they live alone they are often seen in the same residence, coming together between walls of green and blue (Elisa) and mustard-yellow (Giles).
(Image credit: FOX Searchlight)
The Government Building
The high-security facility where Elisa and Zelda work represents a 1960s vision of progress: big machines, bigger computers, and lots of gray. White men in white coats stride around in the name of America, which to them means concrete walls and harsh decisions. It feels cold and impermeable. And yet, within this capsule of conformity, there are cyan tiles, emerald hand soap, and teal hallways, which lead to the story's beating blue-green heart.
(Image credit: FOX Searchlight)
The Laboratory
Entering the most classified area, sterility gives way to moisture and moody green. Heavy chains bind and iron pipes funnel but ultimately, the creature cannot be constrained: rising out of gold-flecked algae, he sends waves across the water, making ripples that disrupt his surroundings. Blue and green and water themes suffuse everything in this room, echoing back to Elisa; from her ocean wallpaper to her turquoise uniform to her bus ride. Or maybe it's the other way around. Either way, what happens next seems only natural, and beautiful, and magical yet real.