This Ultra-Powerful, 3-in-1 Vacuum Keeps My Floors Dog-Hair Free (and Makes Cleaning SO Convenient!)
Apartment Therapy received compensation for this post, which was written and edited independently by our editorial team.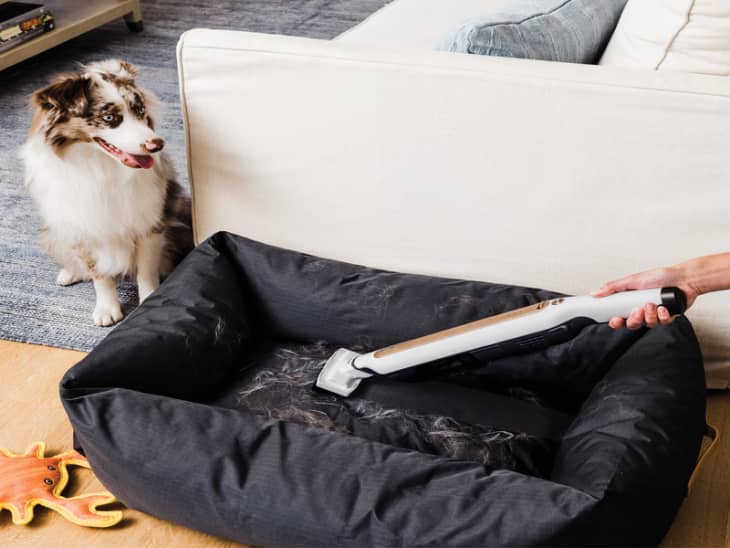 When it comes to housecleaning, one of my most used items is my vacuum. Between me and my pup, the floor gets a lot of traffic from morning to evening with playtime, meals, and walks throughout the day. For a while I used an old hand-me-down vacuum that was gifted to me when I moved into my first apartment many moons ago. When it came time to replace it, I couldn't make a decision on a new upright vacuum with so many out there to choose from. My best friend has recommended Shark vacuums to me for as long as we've had our own homes. She has one, her mom has one, and she even convinced me to add one to my Amazon wishlist! I was halfway sold, so obviously, when an opportunity came along to try a Shark vacuum for myself, I couldn't pass it up. The brand sent me their new Wandvac Self-Empty System to test out in my apartment, and I was blown away by the results.
Follow Topics for more like this
Follow for more stories like this
The Shark Wandvac is so easy to put together that I skipped reading the directions to do so (Note: Reading the short instruction manual is recommended). The vacuum comes in three pieces that show its three different forms: a lightweight upright vac, an extended wand vac, and a convenient handheld vac. It also comes with two attachments — a multipurpose pet tool and a duster crevice tool — that assist with more detailed cleaning to get nooks and crannies cleared from pet hair, crumbs, and other debris. The entire vacuum docks on a pre-assembled base that automatically empties it for you as well as charges the vac, so it's consistently ready to be used again. Once the vacuum is placed on the base, the 10-second evacuation cycle begins, pulling everything from the dust cup into a sealed HEPA container that can go up to 30 days before needing to be emptied.
The Wandvac's dock really deserves its own praise. It's a compact self-emptying system that is not only small space-friendly, but isn't an eyesore if you have it out in the open. In fact, it's super convenient to place it somewhere you can reach right away for any quick cleanups. Though it's not currently in its permanent spot yet, I currently have my vacuum between my couch and front door, and it's so easy to grab and go that I never have outdoor dirt or dog hair on my floor for long. Plus, I'm spared the steps of manually dumping out the trash since the vacuum doesn't have to be emptied manually every time I use it. I'm also able to temporarily disable the evacuation cycle of the base, if necessary, with the press of its mute button at the top. Most of the time, I leave it active, but in case I need it to be quiet after docking the vacuum, I can make that happen in a second.
As for the vacuum itself, the Shark Wandvac certainly lives up to the brand's hype. One of the first things I noticed when I began using it is the strength of its suction. While vacuuming, I would see dust, dirt, and more being pulled toward the device before I physically reached it. I also couldn't believe how much dog hair it pulled out of the fibers of my carpet with the help of its PowerFins brushroll, which works on carpet and hard flooring (both of which are in my apartment). I knew my dog shed a lot — it's why I vacuum so often in the first place — but the Wandvac was able to dig deep and grab dirt that my old vacuum totally missed. My living room floor has honestly never looked better, and I moved in two years ago!
Along with how effective and efficient the vacuum is, it's also incredibly versatile. In its extended wand form, I'm able to reach high to clean my ceiling fans and get rid of dust, cobwebs, and more without awkwardly moving around furniture or having to use a step stool (I'm only 5'2" after all). I can also convert it into a smaller handheld vac for closer cleanings on upholstery, shelves, and tabletops. Bonus: If you've ever had a top-heavy vacuum that had to hang or lean against the wall, you'll be happy to know that the Wandvac stays upright even when it's not docked.
Three LED lights on the front of the Wandvac keep you aware of how much it's charged at any given time. It takes about three and a half hours to fully charge from zero, and all three lights are illuminated when it's full. When docked, the lights shut off five minutes after reaching a full battery. When you're using it, the lights go from three to zero as the charge decreases, blinking with a single light to alert you that it's nearly empty. I've never used the vacuum to the point of running the battery low, but on a full charge, it can run for 17 minutes straight. Since it's cordless, I can take it anywhere in my apartment at any time to clean up uninterrupted, which is just another plus in my opinion.
If you're anything like me and have been going back and forth over a Shark vacuum, stop what you're doing, and go for it! I personally love the Wandwac because it doesn't take up a lot of space, stays charged, and is so easy to use. As my first Shark vacuum, I couldn't be happier with it.