I Thought This $6 Kitchen Tool Was Unnecessary, Until I Actually Listened to My Mom
We independently select these products—if you buy from one of our links, we may earn a commission. All prices were accurate at the time of publishing.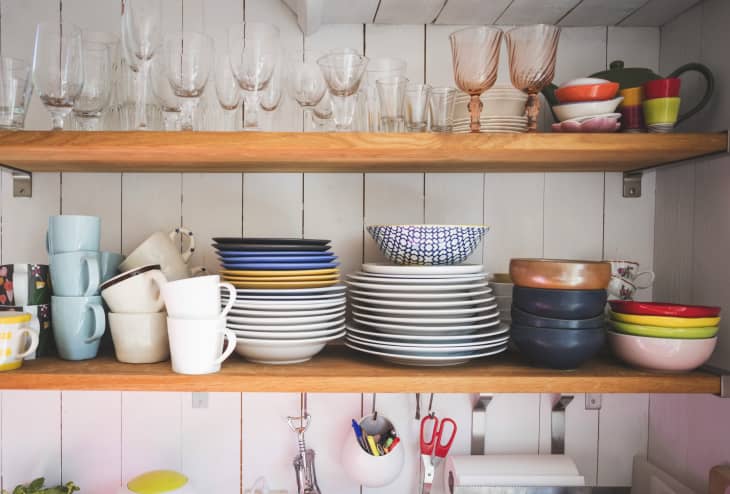 I'm in the midst of moving into my first solo apartment, which means one important thing to me: I can organize it to my heart's content. As plates and bowls and cups and spoons arrive at their rightful place in cabinets and drawers, it's as if all of my years of watching (and writing) about this topic are being put to the test. 
Follow Topics for more like this
Follow for more stories like this
Within days of getting the keys, I already had clear containers corralling serving utensils, and storage racks for every piece of dinnerware. There was a spot for my kitchen scissors — not to be confused with my office scissors — and a corner for my mixing bowls. My pantry already looks like The Home Edit team stopped by to work their magic. 
But all of that changed when my mom came over last Saturday. 
In the lead up to her visit, she asked if I could pick up a few packs of shelf liners from Target (which, at the moment, happens to be my primary residence). As a typical daughter, I sighed. "That's OK, you don't need to help me with that, mom," I said. "I don't think it's necessary." She then reminded me of what we discovered a couple of years ago during a pandemic-fueled clean out. 
My parents' house has built-in cabinets beside a kitchen nook where they proudly display the dinnerware of our shared memories behind glass panes. It isn't used often, but it's visible every day. These built-ins have the champagne flutes they served at their wedding almost 40 years ago, and the capiz shell case a beloved aunt made as favors to guests of their big day. Platters and serving bowls brought out at Thanksgiving are also stacked here, as are the delicate cocktail drinkware my dad always describes as "more expensive than I care to admit." But as I stared at this collection in the midst of lockdown, all I saw was an organizational project. 
Random souvenir mugs and stacks chipped, cheap plates had weaseled their way into this display when we weren't paying attention — alongside other knickknacks and impulse buys — making the area look much more cluttered than it needed to be. There was only one problem: When we tried to pick and choose which items we intended to donate, everything stuck to the shelves. 
"Remember how hard it was to remove everything?" my mom asked me in my new home. "If I had lined those shelves like I lined my kitchen shelves, we wouldn't have had a problem."
She noted that Los Angeles' hot temperatures would likely make my glasses stick to the surface of the cabinets without them, which could happen even in the winter if I had a heater blowing. She added that liners would also act as a layer of cleanliness, considering I live in an old building. More than anything, though, a $6 roll of contact paper would provide peace of mind. 
My mom graciously did most of the measuring and cutting required for the job, but I played disco and funk so that she could at least sing and dance while it happened. Once the liners were in place, they disappeared within the cabinets themselves — I chose a classic white finish with that in mind, but there are bolder patterns to try, too. When the project was finished, I put everything back in its proper spot as if nothing had ever happened.
A hairdryer set on a high heat will help remove these liners from the cabinets when I move, but as for right now, I'm glad my mom gave me this tip. It's one small but significant way I'm hoping to turn this apartment into a comfortable home.