The $21 Shoe Organizer That'll Double Your Storage Space in Seconds
We independently select these products—if you buy from one of our links, we may earn a commission. All prices were accurate at the time of publishing.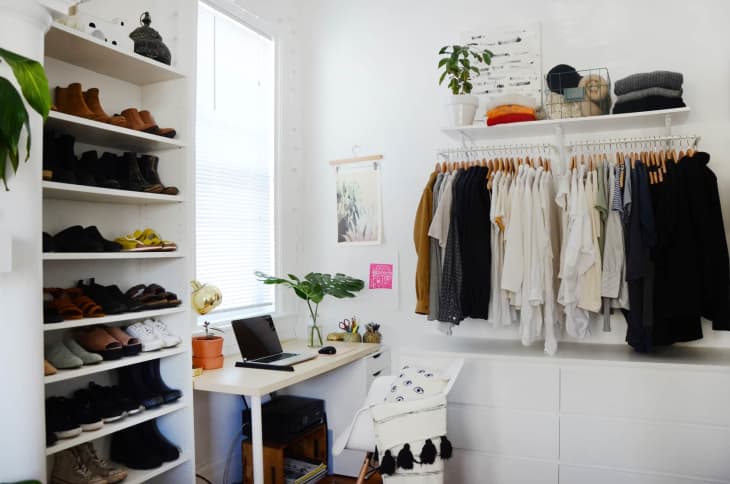 It's no secret that small-space living isn't for the faint of heart, especially when it comes to storing things like clothing, accessories, and — most importantly — shoes. When you live in a small space and love fashion, things like proper shoe storage can be hard to come by —I mean, not everyone can have a Carrie Bradshaw-esque closet, now can they? That means you must be strategic about how you store your footwear. From racks and hanging organizers to boxes and dedicated shoe cabinets, shoe storage solutions can vary. That being said, it's still very rare that I come across an organizer that truly knocks my socks off with its ingenuity, but this is exactly what happened when I came across one of the most innovative organizers I've ever seen during an everyday scroll through Amazon. So naturally, dear reader, I had to tell you all about it: say hello to Shoe Slotz.
Shoe Slotz has one mission: to double your shoe space in an instant. Ambitious? Yes. Impossible? No way. Here's how it works: by neatly stacking shoes one on top of the other, this handy organizer lets you store a pair of shoes in the same amount of space it would normally take to store just one shoe, thus doubling your storage in seconds. Not only that, but by displaying each of your shoes, you get an organized look at all of the shoes in your collection at a quick glance, making sure no shoes are forgotten or lost at the back of your closet. We call that double win!
With more than 1,000 five-star reviews, Shoe Slotz is also beloved by customers. One happy shopper raved, "[I] love these! Not only do they look beautiful but they give you more space. I used them on shelves that would normally hold 3 pairs of shoes but now I can fit 6 with these lovely shoe slots." Another went on to share, "It has made my closet so much tidier and I can store twice the number of shoes in the same space. Super glad I came across these!" And if you're wondering if the whole family will get a kick out of these organizers, reviewers confirm this with one writing, "As an admitted shoe fanatic, this really comes in handy! It just about doubles the capacity of shelves for shoes and it works for both men's and women's shoes. Definitely worth the price."
Starting at $20.95 for a pack of six, Shoe Slotz are available in sets of six, 10, 20, and 40 so even the biggest shoe collectors can get it on organizing fun! So whether you're in need of some more space or are simply tired of your tired of messy shoe storage, Shoe Slotz can help. Now if you excuse me, I have an order to place.