6 Tips I've Learned About Shopping for Home Goods in Turkey's Bazaars (and Beyond!)
We
independently
select these products—if you buy from one of our links, we may earn a commission. All prices were accurate at the time of publishing.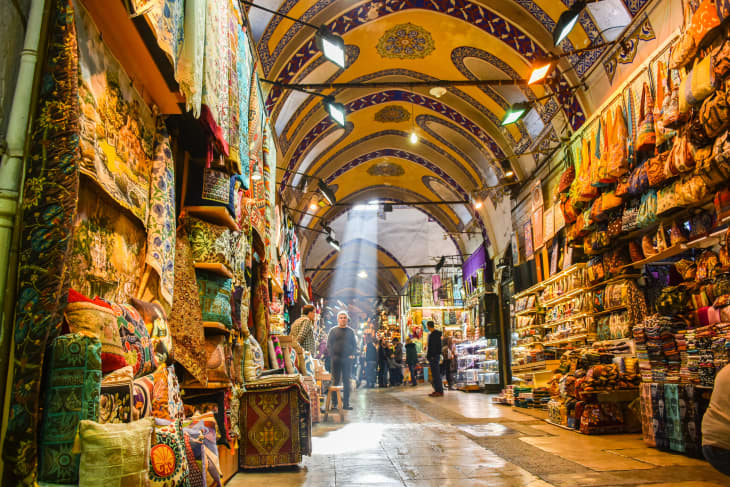 Turkiye (the official name of Turkey, as of June 2022) is a magical place to visit for so many reasons, but it's particularly fantastic for hunting for unique home goods in its various alleyway shops, antique markets, and covered bazaars. Situated in both Europe and Asia, a shopper's paradise awaits in Istanbul and beyond, where anyone looking for interior decor can find interesting goods, most of which are handmade in Turkiye.
The famous covered bazaars like the Grand Bazaar and the Egyptian Spice Bazaar in Istanbul are popular because of their historical importance, central location, and dizzying amounts of stalls carrying everything from incredible vintage wool carpets, to handmade soaps, to Turkish cotton linens, and hand-tinned copper cookware.
I've been a tourist as well as a resident in Turkiye, so I've experienced what it's like to be both a yabanci (foreigner) and a local. I've had the time to explore many avenues of shopping and learn some savvy bargaining skills that have helped me purchase unique and beautiful home goods without breaking the bank. 
For collectors, designers, decorators, and homemakers, Turkey is a must-visit for curating a personalized space with uniquely sourced products. But I've learned plenty of tips you can apply wherever you shop, whether in person or online — here are six of my top lessons learned.
Put on your negotiating hat. 
Bargaining in person in other countries is a lot of fun (especially when you know a little of the local language) and shop or stall owners typically expect it from shoppers. And the same goes for online shopping close to home on neighborhood apps such as OfferUp, Let Go, and Facebook Marketplace. I've found that most sellers raise their prices slightly to give wiggle room for negotiation, so it doesn't hurt to give it a shot. The worst anyone can say is, "No, thank you."
Something I've learned from shopping in an array of covered bazaars is that it may look like there's just a lot of the same thing, but without asking you'd never know that most vendors have a stash of different colors, styles, and designs elsewhere — they've simply put on display what they think will be the most popular items. When you ask, you'll not only find out what else they have, but also what they can source for you specifically and if they can customize something to your liking. I've found this to be true in particular for textile vendors who are also tailors making curtains, pillows, table runners, and the like. You'd be amazed at how much access to textiles tailors everywhere have, since they're tapped into wholesale sources — and I've found this to be true pretty much everywhere I've ever traveled. 
Visit the textile district. 
If you're particularly interested in making your own textiles or clothes, you should find out where the wholesale fabric or textile district is located in the city you are visiting. I've done this in Paris, Istanbul, Chicago, and many other places which have been incredible sources for interesting fabrics, buttons, zippers, pins, as well as ready-made items like scarves. Sometimes vendors will sell smaller amounts of their products, but it really depends. Use some good negotiating skills to find a price everyone is happy about — no one wants to lose a sale.
The best part of shopping local is getting to communicate with the actual maker of the artwork, textiles, and materials on display. You can discuss their best price, minimum order quantities, whether they would throw in shipping, if they will give you a deal on multiple orders or a frequency of orders should you become a regular customer. Basically, it gives you an opportunity to develop a relationship with the vendors and creators of the products you're buying. It's an incredible way to curate your online or in-person shop, or just find a solid source of beautiful items for your home. 
Knowing when to shop is also important. Not only can different seasons bring new items, but also new prices. It's crucial to know what is available in the location you're shopping, but also the average prices for the things you're looking to buy at that time of year. This will help you avoid overpaying and walk away feeling like you got the best deal on what you really wanted. 
If you still want to source some beautiful, unique items, here are just a few of my favorite things bring back that will actually fit into a suitcase or be easily shipped home for you by vendors: 
Natural olive wood utensils, bowls, and mortar and pestles, cutting boards, and more 
Embroidered curtains, tablecloths, and runners 
Copper cookware (be sure it is properly weighed before you buy)
100 percent wool handmade rugs and carpets, pillow covers 
Coffee sets with Turkish art
Turkish tea sets made from stainless steel or ceramic 
100% cotton foot towels
Handmade baskets (particularly found in the Aegean coastal cities and towns as well as the Black Sea region)
Vintage Ottoman water spouts, often found in shops at the Grand Bazaar. Be reminded that we are not talking about "antiques", as an "antik" is not allowed out of the country, but vintage products are.