The Simple (But Super Fun) Game My Husband and I Play Whenever We Have Time to Kill
We
independently
select these products—if you buy from one of our links, we may earn a commission. All prices were accurate at the time of publishing.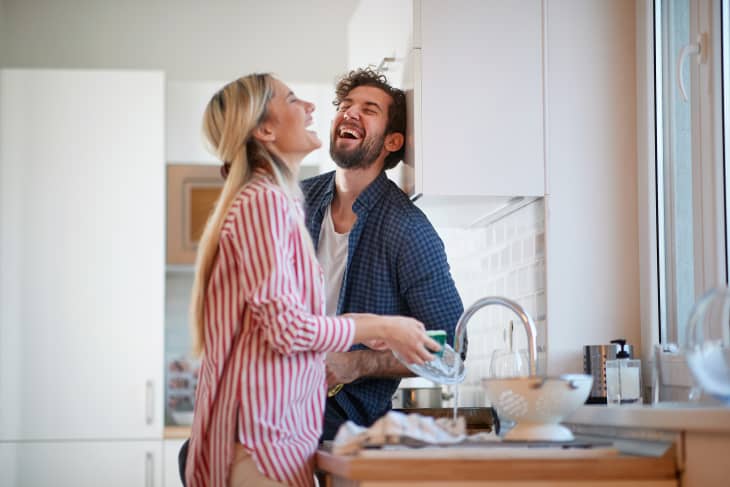 There are some universal places no one ever wants to be. The line at the DMV; at your flight's gate, listening in disbelief as delay after delay is announced on the intercom; stuck in an elevator with a bunch of panicking strangers. Over time, thanks to countless airline issues and road trips across the dull, flat landscape of Illinois, my husband and I developed a method for counteracting the boredom and frustration of these moments. And that, readers, is the Reboot Game. 
Admittedly, I am not a fan of games. I hate competition, and I get heated, which has relegated me to cooperative games only. Thankfully, our Reboot game falls into this category, and could even be described as a creative thought experiment. This is how it works: My husband and I choose a notable film, whether it be a cult classic, a Razzie winner, or an iconic blockbuster, and together we work to reboot it with a brand new cast. 
For instance, let's use "Clueless." (Disclaimer: Please, powers at be, NEVER actually reboot this film. This example is to be utilized solely as an example! Heed my plea, Amy Heckerling and Paramount Pictures!) But let's say we were sick maniacs who wanted to try to further optimize something that's already perfect. Both of us would consider our choices for a rebooted cast, then share those names, hoping to wow each other with a cast as star-studded and ideal as the "Knives Out" films' rosters. For my hypothetical "Clueless" reboot, I'm casting Yara Shahidi as Cher, Olivia Rodrigo as Dionne, Megan Stalter as Tai, and heck, why not Harry Styles as Christian! (I learned nothing from "Don't Worry Darling"). 
Chances are, your reboot list would have a name on it that would make me say, "Oh, that's so good." And maybe one that makes me say, "Hmm, that's absolutely incorrect, but okay!" I imagine your Reboot list casts Donald Faison, the original and eternal Murray, as Yara Shahidi-as-Cher's father, the loving but distracted Mel Horowitz. What a genius selection! You're good at this!
Another way to play the Reboot game that will ignite less controversy among your loved ones (or all the worried strangers, now your new best friends, stuck in that elevator with you) is what we call "The Usual Suspects." Think of all those famous directors who always manage to find a role in their films for their favorite actors. Martin Scorsese frequently collaborates with Leo DiCaprio and Robert DeNiro. The Coen Brothers have close relationships with John Goodman, Steve Buscemi, and Frances McDormand (whose close relationship includes marriage to Joel Coen!). And everyone knows Wes Anderson keeps Bill Murray, Jason Schwartzman, and Owen Wilson on speed dial. 
For "The Usual Suspects," you and your pals each share your Usual Suspects: the actors you'd gladly cast in any and all your big feature films. For me, that list is easy: I'm casting Sharon Horgan, LaKeith Stanfield, Joan Cusack, Randall Park, John Leguizamo, Sheryl Lee Ralph, and Nathan Lane in anything and everything. And maybe a little Jeremy Allen White, just for me. (Thus, by the laws of Reboot, I have to select from among my Usual Suspects for the "Clueless" reboot and thus Joan Cusack is the new Miss Geist.)
Next time you find yourself bored to tears and struggling to find a way out of the unending labyrinth of your local airport's TSA, take a seat in your director's chair and get creative!