5 Sleep-Boosting Essential Oils You Should Know — And How To Use Them
We independently select these products—if you buy from one of our links, we may earn a commission. All prices were accurate at the time of publishing.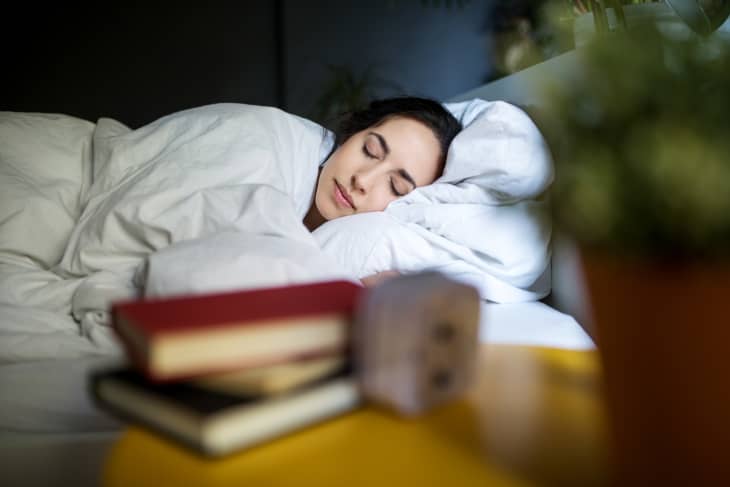 Follow Topics for more like this
Follow for more stories like this
While essential oils are in no way a substitute for medicine, aromatherapy is an excellent way to help relax your mind and body as you wind down for the evening and can help ease you into a good night's rest. Jane Gee, a certified Master Holistic Esthetician, aromatherapist, and flower essence practitioner knows a thing or two about oils, and I sat down with her to chat about all things essential oil and sleep. Here are the five sleep-boosting essential oils Gee recommends — and how to use them.
Perhaps the most common oil associated with sleep is lavender. "Lavender helps with anxiety, stress, and it calms the nervous system down," Gee says. This versatile oil helps create a peaceful environment, and can be found in most oil blends for sleep and relaxation. Before bed, apply a roll-on to pulse points like your wrists and temples, or spritz your pillow by combining a mixture of lavender and distilled water into a spray bottle. Just be sure to dilute the oils properly! Gee recommends just five to six drops of essential oil to one ounce of carrier oil like jojoba or coconut oil for a homemade roll-on, or 10 to 12 drops for a homemade pillow spray. 
Gee suggests not only breathing in lavender's sweet and floral scent right before bed, but throughout the day as well, to promote restful sleep. "Breathe it in throughout the day to keep your nervous system calmer," she says, "so by the time you're ready for bed, it will work even better." Having an aromatherapy inhaler on you is a great way to stay calm throughout the day — simply fill the inhaler with your choice of oil and hold it in front of your nose to inhale the aroma. 
Citrus oils are uplifting, and while grapefruit essential oil can keep you awake and alert, for some, orange and lemon can help de-stress. "Orange creates a space of peacefulness and it's really good for alleviating anger, anxiety and depression, and lemon is very similar," Gee explains. She's created her own sleep essential oil roll-on and blend that is a mixture of lemon, lavender, and marjoram — perfect for winding down right before bed. 
If you prefer to not put oil on your skin, adding a drop to an essential oil diffuser is another option. "You need one drop, and you diffuse it in the air," Gee suggests. Many diffuser blends you may see on sites like Pinterest include many drops of multiple oils, but Gee recommends using oils sparingly when you're diffusing, for the sake of being kinder to the planet, and for a subtle aroma that's not overpowering. "You don't want to over saturate your space," she explains. "In a diffuser, one drop is all you need. In that drop, there could be ten acres of oranges! There's only so much oil that can be produced, so you have to be respectful." 
Gee also points out that essential oils and their aromas, much like regular perfume, are personal to the individual. Trying them out is the best way to see what oils work for you, and which ones don't. "Orange and lemon can de-stress one person and create anxiety in another. You have to experiment and figure it out for yourself," she said.
An oil that I personally had never heard of before Gee's suggestion was rose geranium — a type of geranium plant with leaves that smell like roses. The oil has a soft, floral scent that promotes restful sleep by lowering your heart rate and creating a calming effect. One of Gee's favorite ways to unwind with this oil is in the bath. "You'll come out with your skin feeling like silk, but you also come out feeling like you're melting," Gee shares with a grin. She uses a rose geranium body oil that doubles as a bath oil — you simply put a little in the tub as you're drawing a bath and enjoy. 
For those of us without tubs, or for anyone who prefers a shower, you can also use a shower bomb instead — which is similar to a bath bomb. Place one in your shower to create a steamy, spa-like experience, as the bomb will fill your shower with scent. If you'd like to get the most bang for your buck, Gee opts for placing them on a shelf instead of on the floor.  "If you put them on the floor, they'll dissolve really quickly," she shared. "Put a shower bomb tablet on a shelf instead, that way you'll get three or four sessions out of it."
Jasmine is known as a natural sleep remedy and jasmine essential oil can help you get some very deep and restful sleep. "Not everyone can handle the scent, but it's a serious promoter of sleep," Gee says. "It cuts down restlessness, and it's more effective than lavender in my experience." 
You can, of course diffuse, use a roll-on, add the oil to a bath or shower, or one final way to include essential oil in your bedtime routine is by adding it to lotion. Keeping an overnight hand cream on your nightstand and moisturizing your hands, especially with winter on the way, is a great final step to do before settling into sleep. Try adding a drop of oil to your favorite hand cream, and cup your hands in front of your face to breathe the aroma in.