These Hour-Long Pop Songs Are Here to Help You Fall Asleep
We independently select these products—if you buy from one of our links, we may earn a commission. All prices were accurate at the time of publishing.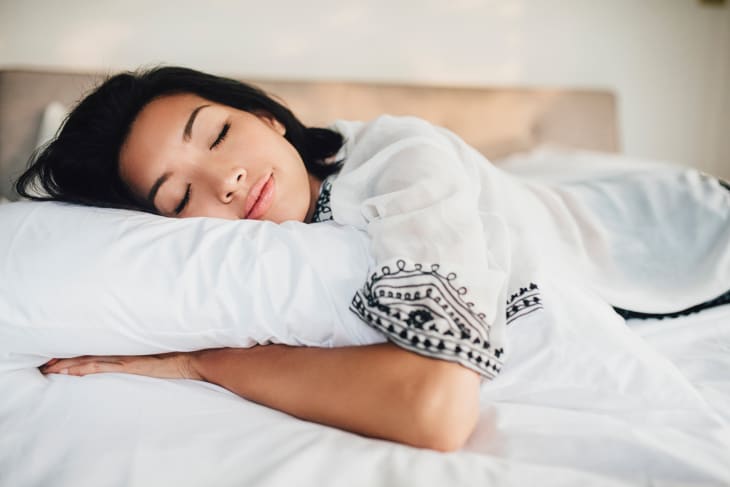 If a solid night's rest is hard to come by these days, Calm is here with a new offering that might just be the ear candy your soul needs to fall — and stay — asleep. The popular meditation app just announced a first-of-its-kind partnership in honor of World Sleep Day (that's today, by the way) serving up hour-long "sleep remixes" of your favorite songs by Ariana Grande, Kacey Musgraves, Katy Perry, and more.
Follow Topics for more like this
Follow for more stories like this
The Calm exclusive Sleep Remix Series turns seven hit songs into relaxing, rest-inducing lullabies, giving you one new option for each night of the week, if you choose. The songs included on the playlist are "Breathin'" by Ariana Grande, "While We're Young" by Jhene Aiko, "Golden Hour" by Kacey Musgraves, "Double Rainbow" by Katy Perry, "Sola" by Luis Fonsi, "Circles" by Post Malone, and "Wonder" by Shawn Mendes.
Each track from the playlist will be available on the Calm app for three months, after which time the artists' teams can decide whether or not to move them to other streaming platforms, notes Rolling Stone.
Music designed for sleep is hardly a new phenomenon — in fact, the app is already chock-full of them, including piano covers of hit pop songs and even a Disney piano playlist that will sprinkle some pixie dust on your pillow as you drift off to sleep. But Calm co-founder and co-CEO Michael Acton Smith explained the one major issue with most songs: they're too short.
"The problem with most music is it's quite short: When built for the streaming era or even the radio era, it's three or four minutes long," Acton Smith told Rolling Stone. "Even if something is really soothing, you can't always get into a flow state and drift off to sleep. You have a song for a few minutes and then you go onto the next one and the next one."
By reimagining these songs and making them last for an hour, a dozing person's brain can more easily become distracted and stay that way, making for an optimal sleep situation. The goal, as Acton Smith explained, is to engage the brain enough that you're not bored, but not so much that you're overstimulated, which will put you in prime position to drift off to sleep and stay that way through the night.