Small Space Solution: The Best Air Mattresses for an Instant Guest Bed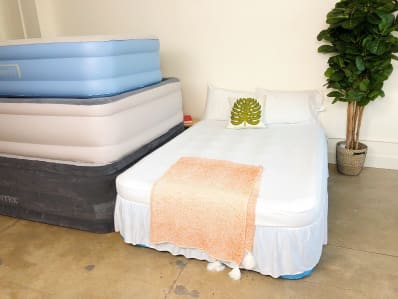 A relatively new invention that has profoundly improved the ability to host guests around the world, the humble air mattress has been nearly perfected and prices have certainly come way down. After a week in our lab, we gave the top pick to Intex Comfort Plush for its equal comfort, advantageous size and remarkable price.
Every week we bring new products into our "test lab" and have the whole office vote on their favorites, based on quality, appearance, and price. The winners become the Top Picks of our Annual Guides, which showcase the best products of the year.
Maxwell Ryan, our Founder & CEO, chooses his own Top Pick as well, and demonstrates his favorites in our Annual Guide videos and weekly Instagram story series. Come back every Thursday for a new Annual Guide and Maxwell's Top Pick Instagram story!
Best Air Mattresses 2017: Watch the Video
---
Maxwell's Top Pick
While I grew up with Aerobeds and thought that the prize would go in this direction, I was surprised by how crowded the field has become and how similar so many of the beds are, Aerobed included. The Intex Comfort Plush walked away from the competition, winning the office vote as well, because it slept just as nicely as all the others and costs less than half as much. This queen-sized mattress is, according to one reviewer, "better than many standard beds". It sits 22 inches off the floor (just a few inches shorter than my own bed, which I just measured). The quality of the construction, while we didn't attack it with sharp instruments, but we did throw it around the room during the week, felt as tough as all the others we tested. AND, personally, I found the flat top surface the most comfortable of the lot.
---
LOW
Intex Deluxe Single-High Queen Airbed
If you're only looking to spend a few dollars on an air mattress, you could do worse than this one, which gets decent reviews, and will take up less space in your closet than flashier options that sit higher off the ground. Note that the pump is not included, so that'll be an additional expense if you don't already have one.
---
Intex Dura-Beam Series Elevated Comfort Airbed
Another Intex option, this bed's 16" height makes it easier to get in and out of. It also comes in a dark green color as well as the usual gray if you'd like a little variety for your guests.
---
At 13" tall, this mattress is a little higher off the ground than your standard airbed, but at a price that won't break the bank. The built-in pump makes this one a major deal, although it doesn't come in any size higher than a full.
---
MEDIUM
An Apartment Therapy favorite, this mattress has a coil beam construction for extra support and adjustable air inflation, making it one of the best deals on our list. It can also hold up to 660 lbs depending on inflation time.
---
"Sleep Restoration" seems like a pretty lofty claim for an inflatable mattress, but this one gets rave reviews, both for its ease of setup and comfort while sleeping. Some top points: it's 18" high, built with a flocked top coil system that distributes weight evenly, and is made of puncture-resistant material.
---
HIGH
This air mattress comes recommended by Arlyn, our Design Editor, and is also a favorite with reviewers on Amazon. It can be inflated at the flip of a switch thanks to the built-in pump, and is designed with 40 internal internal air coils for maximum comfort. Another perk is the "sure-grip" bottom that prevents unwanted sliding.
---
This air mattress comes with a hypoallergenic fitted sheet with bed skirt. This means that you can be sure the sheet will stay put during the night, and once it's on, the air mattress looks just like a real bed. It's also one of the firmest airbeds on the market with an anti-stretching top material.
---
The AeroBed option has many luxury features, including remote-controlled inflation and a firmness-adjustment button. If you're expecting to get a lot of use out of your air mattress then the antimicrobial surface of this one might make it the winner.
---
Very highly rated, this mattress comes with an LED remote and auto-shutoff to ensure convenience and safety. You can choose from seven remote settings to get your ideal firmness, and with a 500 lb weight limit you can easily sleep more than person on here without worrying.
---
This bed, which comes recommended by Andrew, our Audience Development Manager, has some pretty neat features. Once the mattress is inflated to your choice of plush, medium, or firm settings, a secondary pump, outfitted with a sensor, will automatically turn on to maintain the mattress's firmness throughout the night.
---
If you've got a little cash to spend on an airbed, and you frequently have overnight guests, consider this guy, which is really the Cadillac of air mattresses. Like the Neverflat, it has pre-set firmness settings, and an auxiliary pump which automatically kicks in to keep the mattress at a consistent firmness throughout the night. It also has some of the best reviews I've ever seen for an air mattress—people are really, really happy with this thing.
---
Tips for Creating an Impromptu Guest Space
Make a quick DIY headboard. Make your air mattress look like the real thing by adding a makeshift headboard to frame your guest's space. Stacking up the pillows works just fine, but if you want to go the extra mile try hanging up a thin blanket or tapestry.
Give your guest some privacy. To make your guest feel like they're in a private room instead of a shared space, use a tension rod to hang curtains and quickly divide the room. This way your guest will have a cozy nook whenever they need some privacy, and you won't feel like you're sacrificing all your space.
Add some homey comforts. Instead of just blowing up an air mattress and calling it a night, add some small pieces that will make your guest space as cozy and inviting as possible. Candles and extra blankets are always a good call, as are books and magazines in case your guest has some downtime. Placing a small stool or crate next to your air mattress is another good idea - your guest will have a place to put small items like cell phones, wallets, and jewelry that otherwise could get lost.
---
Our Best Guest Bed Posts:
---
Other Good Resources:
Edited from a post that originally appeared 8.27.2012. - NL
Apartment Therapy supports our readers with carefully chosen product recommendations to improve life at home. You support us through our independently chosen links, many of which earn us a commission.