I Live in a Tiny Apartment and This Ridiculously Comfortable Seating Find Takes Up So Much Less Space Than a Sofa (And It's on Sale for Cyber Monday!)
We
independently
select these products—if you buy from one of our links, we may earn a commission. All prices were accurate at the time of publishing.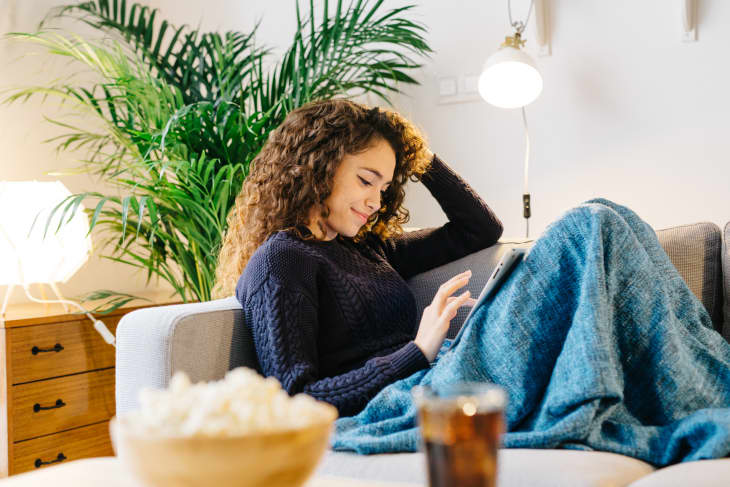 When I first moved into my apartment, I knew there was no way I'd be able to fit a couch into the room I'd be using as my office. Why would I even consider a sofa for an office? Well, truth be told: It's not just my office. My apartment only has so much space in it, so the office has a dual-function of also being the rec room. One half of it functions as a dedicated workspace and the other is where I go to chill out when I don't necessarily want to be in my bedroom or the living room. It's got my record player and music, books, collectibles, and more. Some might even say it's where my personality shines the brightest. But it was desperately needing seating other than my desk chair. Rather than a sofa, I settled on the idea of getting an oversized chair of some sort, but wasn't sure of the type until I thought about the Lovesac furniture that my family loves. Lovesac sent me a Citysac to try, and it turned out to be exactly what I needed. 
Bonus: Lovesac is having a huge Black Friday Event through November 27, where you can get Sacs for 30 percent off and Sac Bundles for 35 percent off.
Lovesac's Citysac may look like a bean bag chair, but it's far from it. Instead of beads, the seat is filled with supportive shredded Durafoam that absorbs your weight evenly and doesn't flatten out. If you've ever sat in a bean bag chair, you'll be able to tell the difference immediately as the Citysac is infinitely more comfortable and less noisy. Lovesac's Citysac insert gets delivered compactly in a reusable duffel that comes in handy for storing blankets, transporting laundry, and so much more. I loved the no waste aspect, and promptly used the bag for some items that needed to be stored but were without a bag or box to contain them. Getting the Citysac insert out of its duffel bag was tougher than expected due to the zipper getting stuck, but should you not run into any unzipping mishaps, it's a pretty simple and straightforward process. Plus, Lovesac provides you with all of the introductions to get the chair unpacked and set up. Once my insert was freed from the bag, it was time to fluff it in order to loosen the foam and allow it to expand. You can see the results right away as you roll the Citysac and press into it to separate its fill, giving you the near-instant gratification of seeing the seat in all its glory. However, the icing on the cake is its cover.
The washable cover can be put on the Citysac after you fluff it out and before it's fully expanded. I can say from experience that putting the cover on a Lovesac Sac is extremely easy and takes only a few minutes. You aren't tasked with trying to shove this massive pillow into a small opening. Instead, the cover unzips well over half its diameter so you can cover the Citysac with it, start zipping, and adjust the insert as needed to ensure it's all closed inside. It took less time for me to put the cover on than it did to get the insert out of the duffel bag! I was fortunately able to get my hands on a Flower Garden cover, one of two designs that was released in Lovesac's collaboration with alice + olivia for New York Fashion Week. It fits perfectly in with my other colorful decor without overpowering the space, and I couldn't adore it more. Lovesac's customizable covers include chenille, faux fur, denim, microsuede, velvet, linen, tweed, weave, twill and more in a wide range of colors and patterns. Once I got the cover on, it was so tempting to drop down on it and relax, but I waited the minimum 24 hours for it to settle into its size before I made myself comfortable. 
The Citysac measures 3′ x 3.3′ and seats one adult comfortably. Looking at it, two small children could probably share it, too. What I love about it compared to old bean bag chairs from my past is that it's so much more durable. Before I had my own Citysac, I'd had the benefit of enjoying Lovesac Sacs and a Sactional at my brother's house with his family. My nieces are five and younger, and we've spent so much time playing and lounging in Sacs without worrying about them "deflating" or bursting. Obviously, you shouldn't go out of your way to test their strength, but for everyday plopping down, the Citysac and other Sacs hold up really well. Additionally, being able to swap out covers extends the lifespan of the product so you can have them for years before ever needing to replace the insert, if you need to think about replacing it at all. My brother's family has had theirs for over five years and they're as comfy as ever.
Although the Citysac comes with a hefty price tag, the longevity of the product more than makes up for it. They're a fantastically fun splurge if you want to add seating to your space that's not necessarily a sofa or traditional accent chair. Lovesac also has stylish accessories to go along with them, such as the Squattoman, which functions both as an ottoman and a side table for the Sac that you can match with it or dress up with a different cover for a creative contrast.  The Sacs are also available in larger and smaller sizes than the Citysac, so you can pick one out that truly fits your space. One of the best parts of my day is kicking back in the Citysac when I actually have time to relax, read, or do some creative writing. Years ago, I never thought I'd go back to bean bag-style seating at home, but Lovesac is a huge upgrade from those that pays itself off in the long run. It really is the best seat in the house!