How TV Shows with Small Town Charm Provide the Ultimate Comfort
We
independently
select these products—if you buy from one of our links, we may earn a commission. All prices were accurate at the time of publishing.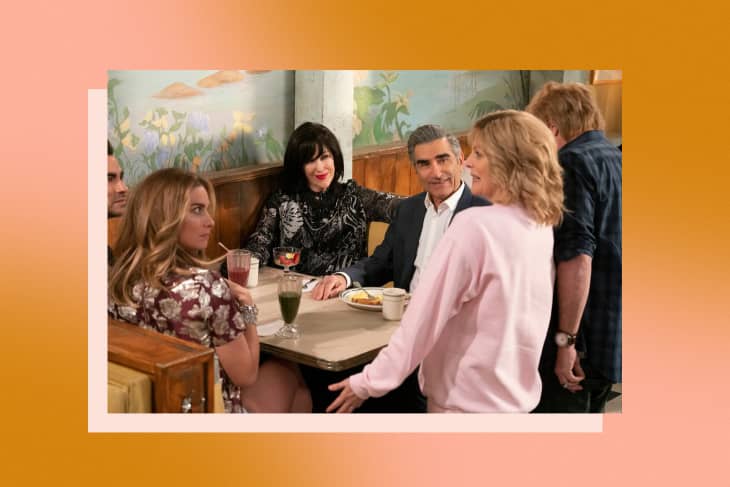 Raise your hand if you've watched (read: binged) any show on Netflix during any lockdown phases of the pandemic. For me, working from home and fewer social commitments allowed for increased television time.
Although there were a number of new releases that temporarily provided solace while I remained parked on my couch, there were my go-to sense of community. But as a viewer, why do I — and many others — find comfort in these fictional shows that promote this lifestyle?
Emmy Brunner, a transformation coach, author, and psychotherapist based in London, says that these TV shows connect us to the comfort and warmth that we crave as human beings. "From a really primitive perspective, we take comfort in the familiar because it's 'known' and therefore less likely to hurt us," Brunner told Apartment Therapy. "Sometimes, we watch TV because we want to be enthralled and stimulated, but mostly because we want to be calmed and warmed. 'Safe' TV provides us with a strategy to disconnect."
During my fourth time rewatching "Gilmore Girls," I found myself itching to go to Luke's Diner. Sure, there were plenty of coffee shops and restaurants that existed outside my New York City apartment door, but all I wanted was a cup of coffee and a stale chocolate donut from this close-knit diner in the fictional town of Stars Hollow, Connecticut — and any "Gilmore Girls" fanatic understands why.

Luke's Diner is the center of the town gossip, where people gather to program key town events, and also where couples break up or profess their love for one another. Aesthetically, Luke's Diner is an abstractionist's dream: the mismatched chairs, tables and furniture, the casualness of the fast food, and the vintage decor all add to the novelty, accurately fitting into the frame of the "small-town charm." It's cozy, tiny, rustic, and a beloved staple — so much so that there's a real demand for its dining decor.
The comfort that small towns foster is not limited to "Gilmore Girls." Another popular and more recent series "Ginny & Georgia" takes place in fictional Wellsbury, Massachusetts, the perfect backdrop for mother Georgia and her daughter Ginny to work on their mother-daughter relationship and restart their lives.

Set in an idyllic small town, everyone knows each other's business and what's happening in town, much like in Stars Hollow. Despite the lack of privacy, there is a solid community that grows out of close proximity and town traditions. After all, what better way to bond than to divulge town secrets and establish traditions with your neighbor over a glass of wine at the local Blue Farm Cafe?
Community tradition is one of the small town aspects that makes the series "Schitt's Creek" a crowd favorite. Set in the fictional town Schitt's Creek, the Rosebud Motel serves as the Rose family's safe haven after they find themselves broke and stripped of their previously lavish lives. Despite the stark juxtaposition of prior luxurious lifestyles, they learn to fit in (and appreciate) the intricacies of the small-town life and learn to appreciate the town's customs, holiday gatherings, local politics, and small business launches.
These shows glamorize small towns and the slower, familiar pace of life. Given the pain, loss, and distress that real life often comes with — especially in the past 18 months due to the pandemic — Brunner explains that these TV shows also provide us with positive outcomes we need in challenging times.

"So many of the light-hearted TV shows that we are drawn to allow us to witness the challenges that many of us are faced with in life but in the main, they are ultimately resolved in a positive way," Brunner said. "There is enough low-level jeopardy to keep us engaged but not enough for us to become distressed or upset."
The familiarity and comfort that stems from small-town charm can have a positive impact on all ages. Dr. Zabina Bhasin, a non-practicing child psychiatrist, says that children can mentally benefit from watching shows set in small towns, too. "The small-town charm has both benefits and implications for children," Dr. Bhasin explained. "Shows like 'Paw Patrol,' 'Tiny Toon Adventures', and 'Bob the Builder' show that a community will always be there and allow children to imagine what a small town can do and build together."

Regardless of what's going on in the outside world, TV shows with small-town charm can offer the comforting sensation of community and that it's all going to be okay — a reminder that we all need sometimes.