The 8 Smartest, Most Stylish Small-Space Decorating Ideas We've Seen This Year
We independently select these products—if you buy from one of our links, we may earn a commission. All prices were accurate at the time of publishing.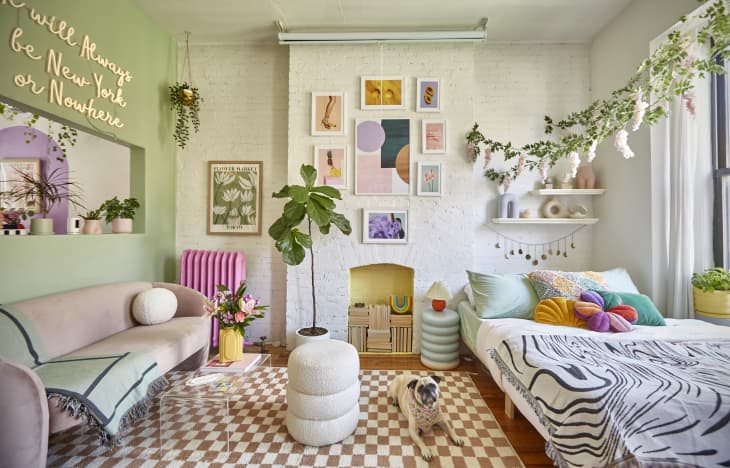 A home doesn't need to be large to be equal parts stylish and functional — in fact, some of the best decor wins are ones that really stand out without making a small space feel too crowded. With that in mind, I've taken a look back at some 2022 house tours to round up eight small-space decorating solutions I found to be particularly inspiring. Studio- and one-bedroom dwellers, take note — though really, these ideas are smart for any size or style of home if you just want to use your space more effectively and efficiently.
Columnar shelves make the best storage spots for books
By no means does living in a small space mean you have to part ways with all of your beloved books. Instead, consider ways in which you can store your favorite reads without compromising valuable square footage. In this Milwaukee apartment shown above, wall-mounted shelves create the look of a floating stack of volumes. The end result almost looks like sculpture for the wall. Even better, no clunky bookcase is necessary here, which makes the room appear more streamlined. Plus, these renters also found a way to use that small bit of bumped-out wall next to their living room doorway.
Follow Topics for more like this
Follow for more stories like this
Create a corner gallery wall
Art lovers, this one's for you! Even if your home or apartment layout makes hanging a large, statement gallery wall impossible (hello, open concept!), other solutions exist for making your framed pieces shine. I love the corner gallery wall present in this Paris apartment. A setup like this would look excellent in a dining nook, reading corner, or bedroom and allows you to hang multiple works without having a huge stretch of uninterrupted wall in any given room. This configuration also allows you to fill an empty corner, so in my book, it's a win-win.
Work your closet doors
Another innovative way to display artwork? Mounting it on your closet! No wall space goes to waste in this maximalist Washington, DC, studio apartment. Not sure how to go about securing art to thick doors? Adhesive or Velcro strips (in lieu of traditional nails) are a great place to start.
Station a pet area inside your non-functional firebox
If you have a non-functioning fireplace in your apartment and aren't sure how to best utilize this fun architectural feature, take a cue from this New York City abode, where the firebox opening accommodates a pet bed and food station. Now, your furry friend has a charming space for cuddling up without cutting into your precious floorspace. Of course, this idea only works for dogs of a certain size (unless you have a massive fireplace), but you get the idea. If you have a way to make use of this area, that's the equivalent of finding space in your place.
Think outside cabinets in terms of kitchen storage
Plates, pots, pans, coffee mugs — you can't live without 'em! So what's the best storage solution when your cabinets are lacking? Displaying key kitchen supplies on a shelf, as seen in this New York City apartment, which means you don't have to part with any of your favorite dining pieces. Style the shelf however you wish; you can even incorporate bar accessories and cookbooks, as seen here. Everything's right within reach when you need it, and this idea works best if you find a piece that fits snugly where you want to put it — so much so that it appears like it was designed precisely for your space.
Station a desk against an open "window"
If your apartment, like this New York City studio, contains a "window" or interior opening (here separating the bedroom from the kitchen) but you're just not loving the look, follow this renter's lead. You can easily downplay this feature by setting up a desk station on one side of the window, which will become the focal point instead of the opening above it. Best of all, the person working at the desk above can enjoy the natural light that streams in from the other side of the interior opening.
Try a stool as a nightstand
Maybe you would prefer to incorporate a full or queen sized bed into your apartment by forgoing nightstands. That's totally okay, of course, but sometimes you might find it helpful to be able to set a beverage, book, or cell phone down beside your bed. In that case, try a cute step stool in lieu of a bedside table, like the setup seen here in this Washington, DC, apartment. It can function as a side table when needed, but it's lightweight and can easily be relocated to other parts of the apartment throughout the day whenever you need a surface (or step) handy. Choose a stool that complements your bed style, also as shown here, for a visually seamless look.
Think strategically about furniture orientation
Sometimes, your furniture's orientation can really make or break a small space. Here, a portable island and some accent chairs help divide the "kitchen" from the "living room" in this small Chicago studio. An island like this one is a particularly smart design solution in a tiny place, given that it can play the role of a dining table, turn into a perch for Zoom calls, and be styled as a buffet when entertaining. Find one on wheels (or add your own) for ease in moving it around your home.